Twilight of the Bombs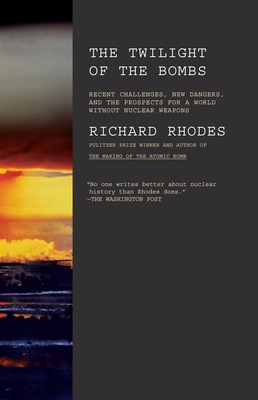 Twilight of the Bombs
Recent Challenges, New Dangers, and the Prospects for a World Without Nuclear Weapons
Vintage, Paperback, 9780307387417, 480pp.
Publication Date: September 6, 2011
* Individual store prices may vary.
Buy at Local Store
Enter your zip code below to purchase from an indie close to you.
or
Buy Here
Description
The final volume in Richard Rhodes's prizewinning history of nuclear weapons offers the first comprehensive narrative of the challenges faced in the post-Cold War age.
The past twenty years have transformed our relationship with nuclear weapons drastically. With extraordinary depth of knowledge and understanding, Richard Rhodes makes clear how the five original nuclear powers--Russia, Great Britain, France, China, and especially the United States--have struggled with new realities. He reveals the real reasons George W. Bush chose to fight a second war in Iraq, assesses the emerging threat of nuclear terrorism, and offers advice on how our complicated relationships with North Korea and South Asia should evolve. Finally, he imagines what a post-nuclear world might look like, as only he can.
About the Author
Richard Rhodes is the author of 22 books, including novels and works of history, journalism, and letters. His "The Making of the Atomic Bomb" won a Pulitzer Prize, a National Book Award, and a National Book Critics Circle Award.

Praise For Twilight of the Bombs…
"No one writes better about nuclear history than Rhodes does, ably combining a scholar's attention to detail with a novelist's devotion to character and pacing." —The Washington Post
 
"Rhodes explains both the science and the culture of the nuclear age.  He does so with the wisdom of the historian and the morality of the ages." —The Boston Globe
  
"Remarkable . . . Subtle . . . brims with intriguing anecdotes . . . Rhodes speaks . . .  with great eloquence." —Los Angeles Times
 
"Exciting . . . Cool and evenhanded . . . Rhodes owns this territory, and there's a lot of it to cover."--Bloomberg

"[Rhodes] writes with remarkable confidence and clarity about these terrible devices. . . He's a rare writer who can explain why the short half-life of tritium gas means that we no longer need to worry about suitcase bombs stolen from the old Soviet Union."--The New York Times Book Review
 
"A triumph of information-gathering, narrative drive and philosophizing . . . Rhodes's reporting about averting calamity in the former Soviet Union will resonate months and probably years from now."--The Denver Post
 
"Rhodes's soaring and swooping eagle eye has noticed features in the political landscape of the last 20 years that most of us have overlooked.  Few judgments have the authority and clarity Rhodes can bring to bear as he sorts through the aftermath of the age of the superpowers."--The Santa Fe New Mexican
 
"Moving . . . Rhodes makes a good case for the optimistic interpretation of this history—up to a point."--San Francisco Chronicle
 
"The Twilight of the Bombs is an apt conclusion to an epic undertaking . . . At each step Rhodes offers fresh perspective on the historical record."--The Kansas City Star
 
"Urgent advice from a sage commentator."--Baton Rouge Advocate