Real World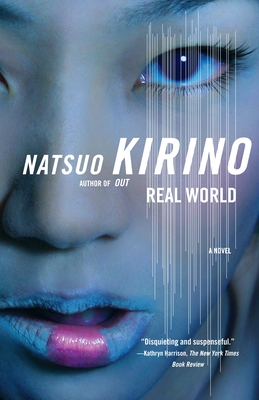 Real World
Vintage Books USA, Paperback, 9780307387486, 208pp.
Publication Date: July 14, 2009
* Individual store prices may vary.
Buy at Local Store
Enter your zip code below to purchase from an indie close to you.
or
Buy Here
Description
In a crowded Tokyo suburb, four teenage girls indifferently wade their way through a hot, smoggy summer. When one of them, Toshi, discovers that her nextdoor neighbor has been brutally murdered, the girls suspect the killer is the neighbor's son. But when he flees, taking Toshi's bike and cell phone with him, the four girls get caught up in a tempest of dangers that rise from within them as well as from the world around them. Psychologically intricate and astute, Real World is a searing, eye-opening portrait of teenage life in Japan unlike any we have seen before.
About the Author
Natsuo Kirino, born in 1951, is the author of sixteen novels, four short-story collections, and an essay collection. She is the recipient of six of Japan's premier literary awards, including the Mystery Writers of Japan Award for "Out," the Izumi Kyoka Prize for Literature for "Grotesque," and the Naoki Prize for "Soft Cheeks," Her work has been published in nineteen languages worldwide; several of her books have also been turned into movies. "Out "was the first of her novels to appear in English and was nominated for an Edgar Award. She lives in Tokyo.
"From the Hardcover edition."
Gabriel is assistant professor of Japanese literature at the University of Arizona.
Praise For Real World…
"Disquieting and suspenseful."
—Kathryn Harrison, The New York Times Book Review
 
"Brilliant feminist noir. . . . Sleek, assured and disturbing. . . . Reads like Little Women in an acid bath. . . .You won't want to miss it."
—The Plain Dealer
 
"Transfixing. . . . Kirino touches on much deeper issues than unlocking teenage diaries. . . . A psychologically complex story told in a breezy, adolescent way, reminiscent of Bonjour Tristesse."
—The Philadelphia Inquirer
 
"Kirino demands total submission to her characters' inner lives. . . . [Real World] challenges readers to confront the truth of human nature, to release judgments about violence and see beyond the act to its roots."
—The Miami Herald
 
"Instead of one lone maniac, Kirino makes adolescent ennui and detachment the villain, tracing out a spooky cultural phenomenon that makes this new translation a purely psychological thriller."
—Time Out Chicago
 
"Jealousy, solipsism, fear, arrogance–the mind of an adolescent can be a frustrating and scary place. . . . [Real World] takes us deep inside the heads of these kids." —Los Angeles Times Book Review
 
"If Real World is indeed a work of social realism, Kirino is either a masterful cynic or the cartographer of a very scary side of reality."
—The New York Sun
 
"It's rare to come across a book that is unlike anything you've ever read. Real World is such a book. . . . Kirino's mix of the savage and the mundane is masterful. . . . Hers is a fresh, contemporary voice that captures the attitude of youth culture around the world. . . . An addictive, compelling read."
—Daily Camera (Boulder)
 
"Disturbingly intimate. . . . [Kirino's characters] speak as one voice of youth in an utterly hypnotic, illuminating narrative."
—Paste
 
"A novel that looks at the emotional vacuum of teenage culture, one less affected by a brutal murder and its emotional aftershocks than by the glow of its association with a manufactured outlaw. . . . Kirino delves deeply into the feelings of isolation and hopelessness that each girl shares. . . . She works to understand how the girls can become so disassociated from their own moral center, ultimately insinuating that after being raised in a culture of texting, reality shows, etc., they're looking for any connection to the feeling world."
—Providence Journal
 
"Impressive. . . . [Real World's] sinister plot provides Kirino with plenty of welcome occasions to render the acute psychosexual portraiture at which she so excels. . . . Kirino's high-toned crime-fiction is, above all, morbidly fascinating."
—The Tennessean
 
"[A] taut thriller. . . . [Kirino] has a knack for portraying the lives of teenage girls."
—More
 
"Kirino creates a fictional universe in which the normal rules of engagement no longer apply. Through Worm, she chronicles the toxic fall-out of an educational system that fosters conformity above individualism. . . . And Philip Gabriel's excellent translation helps to bring this lurid tale into even sharper focus."
—The Independent (UK)
 
"Kirino has written a kind of anti-coming-of-age-novel. . . . Noir and coming-of-age are traditionally polar opposites, but Kirino brings them together brilliantly, showing that learning about yourself is not always a meaningful experience. Readers of Haruki Murakami's After Dark will feel right at home here."
—Booklist (starred)
 
"Bleak, exquisitely imagined. . . . Real World is not a whodunit but a disturbing whydunit. . . . A novel of murder most creepy."
—The Georgia Straight (Vancouver)
 
"Real World is unusual: a thriller with a strong moral overtone, it begins with violence and ends with regret. . . . It's [Kirino's] portrayal of typically teenaged double-triple lives that makes this story so successful and so disturbing. It's not the murder, but the reaction to it that will strike fear into the hearts of readers. . . . As strange as this is to say about a novel dealing with matricide, Real World might be a good book for parents and adolescents to read together. It covers a lot of big issues in a way that is truly captivating. This is Christopher Pike with a conscience. . . . Real World has wide appeal. It will engage people everywhere–men and women, young and old–because Kirino is an extremely talented writer with a style that is unmistakably her own, even in translation."
—The Gazette (Montreal)
 
"Kirino unflinchingly describes the contemporary social conditions of teenagers from their point of view . . . [and] honestly depicts the blatant as well as subtle acts of violence done by and to teenagers in modern Japan. . . . Highly recommended."
—Library Journal