The Man Within My Head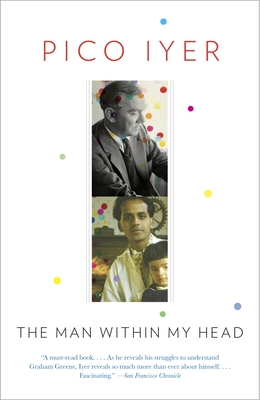 The Man Within My Head
Vintage Books, Paperback, 9780307387561, 241pp.
Publication Date: January 22, 2013
* Individual store prices may vary.
Buy at Local Store
Enter your zip code below to purchase from an indie close to you.
or
Buy Here
Description
Ever since he first discovered Graham Greene's work, Pico Iyer has felt a haunting closeness with the English writer. In The Man Within My Head, Iyer follows Greene's trail from his first novel, The Man Within, to such later classics as The Quiet American, examining Greene's obsessions, his elusiveness, and his penchant for mystery. The deeper he plunges into this exploration, the more Iyer begins to wonder whether the man within his head might not be Greene but his own father, or perhaps some more shadowy aspect of himself.
Drawing upon experiences across the globe, from Cuba to Bhutan, and moving, as Greene would, from Sri Lanka in war to intimate moments of introspection, this is the most personal and revelatory book yet from one of our most astute observers of inner journeys and crossing cultures.
About the Author
Pico Iyer has written nonfiction books on globalism, Japan, the Fourteenth Dalai Lama, forgotten places, and novels on Revolutionary Cuba and Islamic mysticism. He regularly writes on literature for The New York Review of Books, on travel for the Financial Times, and on global culture and the news for Time, The New York Times, and magazines around the world.
Praise For The Man Within My Head…
"Resonates deeply…In the hands of a lesser writer, the dueling father figures would dissolve into melodrama, but Iyer weaves them brilliantly." –Publishers Weekly   

"[Iyer] is a wonderful wordsmith, and he provides engaging stories." –Kirkus
 
"It may be that Iyer's beautifully contoured sentences embody all the landscapes he's absorbed as he's traveled the world, pen in hand. Iyer is always present in his celebrated books, but never to the extent he is here in this captivating memoir of an unsought, often unnerving affinity…Iyer's deep-diving expedition also illuminates the mystery and spirit of the literary imperative: 'A writer is a palmist, reading the lines of the world.'" –Booklist
 
"A contemplative, idiosyncratic book, a kind of side trip that diverges from the routes of Iyer's usual writing…as "The Man Within My Head" demonstrates, there's fellowship to be found in the community of eloquent strangers, an eternal literary companionship." –The New York Times Book Review
 
"A courageous, intriguing book, perhaps better described generically not as a memoir but a confession." –The New York Review 

"As Iyer investigates Greene's life, he finds more parallels with his own, some superficial and some profound, which Iyer susses out in his usual composed, flowing prose." –The Daily Beast

"Iyer's rich and provocative book invites us to see the world in which we find ourselves today in a new and revealing light, and that's the real measure of his accomplishment. 'A writer is a palmist, reading the lines of the world,' Iyer says of Greene, but he could be describing himself just as well." –JewishJournal.com 

"[Iyer] is masterful at describing travel…a rewarding read." –Livemint.com 
 
"This book is an original, a literary feat, a kind of counter-biography and shadow-autobiography. I can't think of another quite like it...The Man Within My Head is Iyer's richest, wisest book to date." –The Hindu 

"Iyer writes admiringly and persuasively about Greene in ways that the novelist may have approved…an engrossing read." –Commenweal Magazine