Reality Hunger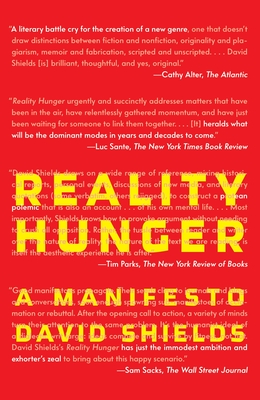 Reality Hunger
A Manifesto
Vintage Books USA, Paperback, 9780307387974, 221pp.
Publication Date: February 8, 2011
* Individual store prices may vary.
Buy at Local Store
Enter your zip code below to purchase from an indie close to you.
or
Buy Here
Description
A landmark book, brilliant, thoughtful (The Atlantic) and raw and gorgeous (LA Times), that fast-forwards the discussion of the central artistic issues of our time, from the bestselling author ofThe Thing About Life Is That One Day You'll Be Dead.
Who owns ideas? How clear is the distinction between fiction and nonfiction? Has the velocity of digital culture rendered traditional modes obsolete? Exploring these and related questions, Shields orchestrates a chorus of voices, past and present, to reframe debates about the veracity of memoir and the relevance of the novel. He argues that our culture is obsessed with reality, precisely because we experience hardly any, and urgently calls for new forms that embody and convey the fractured nature of contemporary experience.
About the Author
David Shields is the author of nine previous books, including The Thing About Life Is That One Day You'll Be Dead, a New York Times bestseller; Black Planet, a finalist for the National Book Critics Circle Award; and Remote, winner of the PEN/Revson Award. His work has been translated into fifteen languages. Visit his website at www.davidshields.com.
Praise For Reality Hunger…
"A literary battle cry for the creation of a new genre, one that doesn't draw distinctions between fiction and nonfiction, originality and plagiarism, memoir and fabrication, scripted and unscripted. . . . David Shields [is] brilliant, thoughtful, and yes, original."
—Cathy Alter, The Atlantic
 
"Reality Hunger urgently and succinctly addresses matters that have been in the air, have relentlessly gathered momentum, and have just been waiting for someone to link them together. . . . [It] heralds what will be the dominant modes in years and decades to come."
—Luc Sante, The New York Times Book Review
 
"David Shields draws on a wide range of reference, mixing historical reports, personal events, discussions of new media, and literary quotations (some verbatim, others rejigged), to construct a protean polemic that is also an account . . . of his own mental life. . . . Most importantly, Shields knows how to provoke argument without needing to crush all opposition. Rather, the tussle between reader and writer over the nature of reality, the nature of the text we are reading, is itself the aesthetic experience he is after."
—Tim Parks, The New York Review of Books
 
"Good manifestos propagate. Their seeds cling to journals and blogs and conversations, soon enough sprawling sub-manifestoes of acclamation or rebuttal. After the opening call to action, a variety of minds turn their attention to the same problem. It's the humanist ideal of a dialectic writ large: ideas compete and survive by fitness, not fiat. David Shields's Reality Hunger has just the immodest ambition and exhorter's zeal to bring about this happy scenario."
—Sam Sacks, The Wall Street Journal
 
"Shields's radical intellectual manifesto is a rousing call to arms for all artists to reject the laws governing appropriation, obliterate the boundaries between fiction and nonfiction, and give rise to a new modern form."
—Elissa Schappell, Vanity Fair
 
"I've just finished reading Reality Hunger and I'm lit up by it—astonished, intoxicated, ecstatic, overwhelmed. . . . It really is an urgent book: a piece of art-making itself, a sublime, exciting, outrageous, visionary volume."
—Jonathan Lethem
 
"Raw and gorgeous. . . . It's about time someone said something this honest in print."
—Susan Salter Reynolds, Los Angeles Times
 
"Reality Hunger is more than thought-provoking; it's one of the most beautiful books I've read in a long time."
—Jonathan Safran Foer

"Provocative, brain-rewiring. . . . A book that feels at least five years ahead of its time and teaches you how to read it as you go."
—Alex Pappademas, GQ
 
"Maybe he's simply ahead of the rest of us, mapping out the literary future of the next generation."
—Susan H. Greenberg, Newsweek 
 
"A work of virtuoso banditry that promises to become, like Lewis Hyde's The Gift for earlier generations, the book that artists in all media turn to for inspiration, vindication, and altercation as they struggle to reinvent themselves against the headwinds of our time."
—Rob Nixon, The Chronicle of Higher Education
 
"A rare and very peculiar thing: a wake-up call that is a pleasure to hear and respond to."
—Geoff Dyer
 
"This dude's book is the hip-hop album of the year."
—Peter Macia, Fader
 
"I don't think it would be too strong to say that Shields's book will be a sort of bible for the next generation of culture-makers."
—David Griffith, Bookslut
 
"One of the most provocative books I've ever read. . . . I think it's destined to become a classic."
—Charles D'Ambrosio
 
"Voracious and elegantly structured. . . . Entertaining, insightful, and impressively broad. . . . An invigorating shakedown of the literary status quo: recommended for readers, essential for writers."
—Scott Indrisek, Time Out New York
 
"Shields has put a bullet in the brain of our ridiculously oversimplified compulsion to think of everything as a narrative."
—Paul Constant, The Stranger
 
"Might be the most intense, thought-accelerating book of the last ten years."
—Chuck Klosterman
 
"Shields has a point. He gives a damn. He's trying to make a difference. He's using the best of his formidable talents to do that."
—Wayne Alan Brenner, The Austin Chronicle
 
"Witty, insightful, and compulsively readable. Every page abounds in fresh observations."
—Lydia Davis
 
"This is the book our sick-at-heart moment needs—like a sock in the jaw or an electric jolt in the solar plexus—to wake it up."
—Wayne Koestenbaum
 
"Absorbing, even inspiring. . . . The ideas [Shields] raises are so important, his ideas are so compelling, that I raved about this book the whole time I was reading it and have regularly quoted it to friends in the weeks since."
—Jami Attenberg, Bookforum
 
"Brilliant. It keeps the reader alert and attentive and excited through sheer intelligence, epigrammatic concision, wit, and sheer rightness, as when a pronouncement is so correct that it just pulls all the clouds aside. . . . There's a feeling of the imminence of violence in these perceptions. This is a great compliment."
—Charles Baxter
 
"Thrilling to read, even if you disagree with much of it."
—Zadie Smith, The Guardian (London)
 
"Shields says things here that I have thought, wished I thought, wished someone would say. A sparky, brainy, passionate, often very funny, and never small-hearted or pinch-minded book: rigorous, demanding but generous and searching and self-debunking."
—Patricia Hampl
 
"I love this book and am amused to see some of the hysterical reactions it's provoked—proof, I think, of its radical truthfulness. Shields is utterly uninterested in providing intellectual comfort; he bravely, uncompromisingly delivers the news."
—Walter Kirn