A Case of Exploding Mangoes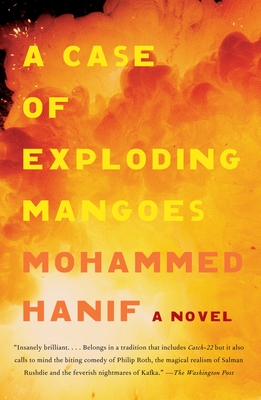 A Case of Exploding Mangoes
Vintage Books USA, Paperback, 9780307388186, 323pp.
Publication Date: May 5, 2009
* Individual store prices may vary.
Buy Now
or
Shop Local
Enter your zip code below to purchase from an indie close to you.
Description
A "Washington Post," "Rocky Mountain News," "Boston Globe" Best Book of the Year
Intrigue and subterfuge combine with bad luck and good in this darkly comic debut about love, betrayal, tyranny, family, and a conspiracy trying its damnedest to happen.
Ali Shigri, Pakistan Air Force pilot and Silent Drill Commander of the Fury Squadron, is on a mission to avenge his father's suspicious death, which the government calls a suicide.Ali's target is none other than General Zia ul-Haq, dictator of Pakistani. Enlisting a rag-tag group of conspirators, including his cologne-bathed roommate, a hash-smoking American lieutenant, and a mango-besotted crow, Ali sets his elaborate plan in motion. There's only one problem: the line of would-be Zia assassins is longer than he could have possibly known.
About the Author
Mohammed Hanif est ne a Okara, au Pakistan. Il fait carriere comme pilote dans l armee de l air pakistanaise. Il devient ensuite journaliste, signant des articles dans le Newsline, le New York Times et le Washington Post. Diplome de l Universite d East Anglia, auteur dramatique, il cree des pieces radiophoniques pour la BBC. Son film, The Long Night, est projete dans de nombreux festivals a travers le monde. Longtemps responsable de la section urdu a la BBC, Mohammed Hanif vit desormais au Pakistan.Attentat a la mangue, son premier roman, est traduit dans treize pays. En 2008, le Washington Post et le Boston Globe l ont elu Meilleur livre de l annee. Il a egalement obtenu le Prix litteraire indien Shakti Batt, attribue aux nouveaux auteurs les plus prometteurs et a ete couronne du Prix regional du Commonwealth 2009 (Europe et Asie du Sud), decerne au meilleur premier roman.
Praise For A Case of Exploding Mangoes…
"An insanely brilliant, satirical first novel . . . Belongs in a tradition that includes Catch-22, but it also calls to mind the biting comedy of Philip Roth."—The Washington Post"A brilliant debut. . . . Exceptional. . . . The detail is rich, the prose resonant. Grade A."—Rocky Mountain News"Like Catch-22, it is best understood as a satire of militarism, regulation and piety.... Hanif has written a historical novel with an eerie timeliness."—The New York Times Book Review"Global satire with a savage bite. . . . Richly imagined."—The Miami Herald"Hanif's book is sexy, subversive, and magical.... Entertaining and original." —Slate"Fascinating.... It sardonically examines the workings of the Pakistani state, which comes off like a Third World Brazil imagined by Raymond Chandler. What really drives Mangoes, however, is Hanif's sharp writing and considerable wit."—The Village Voice"There are many reasons to read this excellent novel, and one for which it should be celebrated: Hanif has found in Zia a veritable Homer Simpson of theocratic zealotry . . . The inevitable comparison here is to Dr. Strangelove, and just as the Kubrick film crystallized the absurdities of nuclear escalation into an archetypal cast of idiots-who-run-the-world, Mangoes provides the necessary update."—New York Observer"Witty, elegant, and deliciously anarchic. Hanif has a lovely eye and an even better ear."—John le Carré"Hanif confidently tackles 'the biggest cover-up in aviation history since the last biggest cover-up,' bringing absurdist humor and surprising warmth to his story."—Entertainment Weekly"Funny, subversive, erotic, and sad. Anyone thinking of applying for the job of unhinged, religious dictator should read it first."    —Mark Haddon, author of The Curious Incident of the Dog in the Night-time"Unputdownable and darkly hilarious . . . Mohammed Hanif is a brave, gifted writer. He has taken territory in desperate need of satire–General Zia, the military, Pakistan at the time of the Soviet-Afghan war–and made it undeniably his own."—Mohsin Hamid, author of The Reluctant Fundamentalist "A sure-footed, inventive debut that deftly undercuts its moral rage with comedy and deepens its comedy with moral rage . . . The novel has less in common with the sober literature of fact than it does with Latin American magical realism (especially novels about mythic dictators such as Gabriel García Márquez's Autumn of the Patriarch) and absurdist military comedy (like Joseph Heller's Catch-22). Hanif adopts a playful, exuberant voice, as competing theories and assassination plots are ingeniously combined and overlaid."—Kirkus Reviews"Pakistan's ongoing political turmoil adds a piquant edge to this fact-based farce . . . Hanif's depiction of military foibles recalls the satirical wallop of Catch-22. [He brings] heft to this sagely absurd depiction of his homeland's history of political conspiracies and corruption."—Publishers Weekly "Entertaining and illuminating . . . Hanif has crafted a clever black comedy about military culture, love, tyranny, family, and the events that eventually brought us to September 11, 2001."—Booklist