C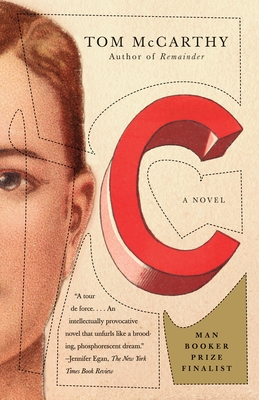 C
Vintage Books, Paperback, 9780307388216, 388pp.
Publication Date: September 6, 2011
* Individual store prices may vary.
Buy at Local Store
Enter your zip code below to purchase from an indie close to you.
or
Buy Here
Description
Opening in England at the turn of the twentieth century, C is the story of Serge Carrefax, whose father experiments with wireless communication while running a school for deaf children. Serge grows up amid the noise and silence with his brilliant but troubled older sister, Sophie: an intense sibling relationship that haunts him as he heads off into an equally troubled larger world. As Serge goes from a Bohemian spa to the skies of World War I, and from a German prison camp into the tombs of Egypt, we follow his life through the tumultuous course of the nascent modern era. Tom McCarthy acclaimed author of Remainder has created a truly singular character, and a world that sparkles with historical breadth and postmodern originality.
About the Author
Tom McCarthy was born in 1969 and lives in London. He is known in the art world for the reports, manifestos, and media interventions he has made as General Secretary of the International Necronautical Society (INS), a semi-fictitious avant-garde network. His previous books are Remainder and Tintin and the Secret of Literature.
Praise For C…
"A tour de force . . . An intellectually provocative novel that unfurls like a brooding, phosphorescent dream."
—Jennifer Egan, New York Times Book Review

"Remarkable not for its austerity but for its unlikely, panoramic ambition . . . C is a bird so rare as to seem oxymoronic: an avant-garde epic, the first I can think of since Ulysses."
—Jonathan Dee, Harper's Magazine

"C is clever, confident, coy—and cryptic."
—The Wall Street Journal
 
"Moving, mordantly funny, deeply absorbing."
—The Boston Globe
 
"Unquestionably brilliant. . . . This is a genuinely exciting and spookily beautiful book, a new kind of joy."
—The Times (London)

"Tom McCarthy has written an avant-garde masterpiece. . . . C is coming-of-age as philosophy, philosophy as fiction, fiction as 'dummy-chamber' ('the real thing's beyond')—the novel as encrypted code for life."
—Los Angeles Times
 
"[An] extraordinary novel. . . . McCarthy reignites the literary pyrotechnics of Perec, Calvino, Joyce and Sebald. Words are celebrated in vocabularic feats. . . . [He] has produced something truly original."
—The Washington Post
 
"[McCarthy] is the standard-bearer of the avant-garde novel. . . . Genuinely exciting to read."
—Slate
 
"Clever, confident, emphatic, poised. . . . Whatever happens to this novel or to this writer, a chain of events has been set in motion. Nothing and no one is going to stop it going on and on."
—London Review of Books
 
"A supercharged, fizzingly written Bildungsroman. . . . The remix the novel has been crying out for."
—The Sunday Times (London)
 
"Beautiful . . . a thrilling tale. This is one of the most brilliant books to have hit the shelves this year, and McCarthy deserves high praise for an electric piece of writing which should be read and enjoyed as much as dissected and discussed."
—The Sunday Telegraph (London)
 
"A dizzying, mesmeric and beautifully written work. . . . McCarthy has written a novel for our times: refreshingly different, intellectually acute and strikingly enjoyable. . . . It seems highly unlikely that anyone will publish a better novel this year."
—The Daily Telegraph (London)
 
"C is for carbon and cocaine, Cairo and CQ, and many other things besides. Under the elegant curve of the letter lies a fantastically detailed landscape of tiny pen-strokes that, if seen from high enough above, coalesce into a face, laughing uproariously. Tom McCarthy's latest is terrifically stylish, acrobatic, and insidious."
—Luc Sante