Babylon Rolling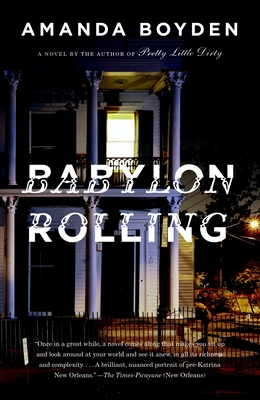 Babylon Rolling
Vintage, Paperback, 9780307388247, 320pp.
Publication Date: August 11, 2009
* Individual store prices may vary.
Buy at Local Store
Enter your zip code below to purchase from an indie close to you.
or
Not Currently Available for Direct Purchase
Description
Ariel May and her husband, Ed, have just moved to New Orleans with their two small children. Their neighbor, Fearius, is a fifteen-year-old just out of juvenile detention. Across the street, an elderly couple, the Browns, are only trying to pass their days in peace, while Philomenia Beauregard de Bruges, a longtime resident and "Uptown lady," peers through her curtains at the East Indian family next door.With one random accident, a scene of horror across front lawns, the whole neighborhood converges on the sidewalk and the residents of Orchid Street are thrown together, for better and for worse.
About the Author
Born in Northern Minnesota, Amanda Boyden grew up, the eldest of three daughters, in Chicago and St. Louis. Currently she teaches in the English department of the University of New Orleans. Previous positions include elderly companion, artist's model, gutter cleaner, dishwasher, science lab assistant, cancan dancer, tutor, stuntwoman, and bit part actress. Until recently, Amanda worked as a contortionist and professional trapeze artist. She proudly lists hanging high over the heads of Galactic and 311 in her life accomplishments.
She is married to Canadian author Joseph Boyden. Pretty Little Dirty is her first novel.
Praise For Babylon Rolling…
"Once in a great while, a novel comes along that makes you sit up and look around at your world and see it anew, in all its richness and complexity…. A brilliant, nuanced portrait of pre-Katrina New Orleans." —The Times-Picayune "Set in the chaotic months surrounding a treacherous hurricane, Boyden's second novel is an adroit, compulsively readable study of a city and the shared humanity that unites its diverse inhabitants." —People"Explores the fissures of class and race on a street where America's diversity is writ small. . . . She orchestrates the voices of her characters like a composer, well attuned to the varieties of human speech." —Chicago Tribune "Boyden makes it sing. . . . The five story lines build into a terrifically vivid portrait of a city and its people." —San Francisco Chronicle "Boyden has written a heartwreck of a novel, a luminous swan song for a time and a place." —St. Louis Post-Dispatch "Complex and compelling.... Boyden has so fully and generously imagined Orchid Street and its inhabitants. Her writing acknowledges the depth of race and class divisions... but she's also aware of the ways people break out of their assigned roles.... From the stutter steps her characters take toward and away from one another, Boyden creates an engrossing dance.... The five story lines build into a terrifically vivid portrait of a city and its people." —San Francisco Chronicle "Few contemporary novels are, at their root, as compelling about the relationship between a city and the people who live there. Boyden's Babylon Rolling is a love letter, sometimes sad, sometimes angry, sometimes beautiful, between New Orleans and five people who live on one of its streets." —The Globe and Mail (Toronto) "It is possible that New Orleans is the perfect setting for the post-9/11 American novel…. Like the characters in the gorgeous and tactile Babylon Rolling, our survival hinges on our ability to cope with the lack of a universal culture and common body politic, the truth that natural disasters and random violence are a fact of life." —Mother Jones"Boyden's novel conveys the patchwork of New Orleans' Uptown neighborhoods–very much evident in Riverbend, where working-class whites and blacks live alongside old-line socialites and immigrant professionals. . . . Episodic but not predictable, it is a book that beckons to be read for just a few more pages." —Mobile Press-Register "Threats of natural disaster bracket this novel of New Orleans, which opens just prior to Hurricane Ivan in September 2004 and ends with the ominous approach of Katrina the following summer. In the intervening year, certain residents of the Uptown district weather personal tragedies rivaling the impact of killer storms. Orchid Street, diverse by any standard, includes two African American families, upstanding senior citizens Roy and Cerise Brown and the more struggling Harrises, as well as a young family of well-meaning but clueless whites recently arrived from Minnesota, a half-mad gentlewoman of the old school, and the exotic, intellectual Gupta clan. Neighborhood bar Tokyo Rose serves all as both haven from and catalyst of neighborhood disturbances. As lives and cultures overlap, the author of Pretty Little Dirty melds an enticing sense of place and a kaleidoscope of distinctive voices into a cautionary tale of ambition, desire, and conflict."—Library Journal"Boyden has a chameleon-like ability to inhabit any persona, of any race or age, so fully and seamlessly it's hard to remember that these people are invented rather than real. Pre-Katrina New Orleans leaps to life on every page, a beautiful, seamy, fragile city on the brink of chaos and ruin. Babylon Rolling is a heart-breaking and riveting novel."—Kate Christensen, author of The Great Man, winner of the 2008 PEN/Faulkner Award"Boyden invoked an array of New Orleans voices on Uptown's Orchid Street . . . an American Babylon that batters and woos with delights and disasters . . . The book's nuanced story of people who 'choose to live . . . inside the big lasso of river' reveals a side of the Crescent City not often seen in fiction."—Publishers Weekly"An engaging and keenly observant book, a kindv of literary block party.... Boyden's Pretty Little Dirty was a first novel of promise. Babylon Rolling fulfills that promise." —Booklist