Friends Like Us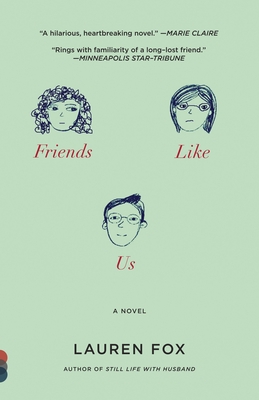 Friends Like Us
Vintage Books, Paperback, 9780307388254, 269pp.
Publication Date: September 4, 2012
* Individual store prices may vary.
Shop Local
Enter your zip code below to find indies closest to you.
Description
For Willa Jacobs, looking at her best friend Jane is like looking in a mirror on a really good day. Strangers assume they are sisters, and they share everything: an apartment, clothing, and groceries, and the challenge of making rent on part-time jobs. Together they are a fortress of private jokes and shared opinions, with a friendship so close there's hardly room for anyone else. But when Ben, Willa's oldest friend, reappears and falls in love with Jane, Willa wonders: Can she let her two best friends find happiness with each other if it means they leave her behind?
About the Author
Lauren Fox, who earned her MFA from the University of Minnesota, is the author of the novels Still Life with Husband and Friends Like Us. Her work has appeared in numerous publications including The New York Times, Marie Claire, Parenting, Psychology Today, The Rumpus, and Salon. She lives in Milwaukee with her husband and two daughters.
Praise For Friends Like Us…
"[A] hilarious, heartbreaking novel." —Marie Claire
  
"A strikingly wise exploration of the bonds people forge and break. Fox delivers on plot, but it's her insight, emotion, and eye for universal truths that make Friends Like Us memorable." —People
 
"Friends Like Us is at once a hilarious page-turner and a wise meditation on friendship, marriage, and the ways in which our parents' mistakes so often shape our lives." —J. Courtney Sullivan, author of Maine

"[A] poignant comedy. . . . Fox makes you care about Willa and everyone else in Friends Like Us long after you've finished." —The Washington Post

"Reading Friends Like Us is like finding an old photograph of yourself when you were in your twenties…. Fox will have you laughing and crying and calling your best friend in the middle of the night." —Rebecca Rasmussen, author of The Bird Sisters
 
"A perfect . . . page-turner for cozy winter nights." —Glamour
 
"Fox has drawn a sharp portrait of . . . female friendship, inscribing both the joys and the needs that maintain its bonds while also illuminating the countervailing forces that could send its partners flying apart." —Milwaukee Journal-Sentinel
 
"Rings with the familiarity of a long-lost friend." —Minneapolis Star-Tribune
 
"Fox delivers a punch (and a story I can't stop thinking about) with her surprising and deeply honest novel." —Laura Dave, author of The First Husband
 
"A funny, astute examination of the fragility of friendship." —Entertainment Weekly
 
"Friends Like Us, with delicacy and humor, captures the ambiguities of attraction in an ironic age." —Vogue
 
"Absolutely killer. . . . It's a punch in the gut, watching how friendships change as these women move into adulthood." —Eleanor Brown, author of The Weird Sisters
 
"Willa's multifarious humor is well matched by Jane's quieter presence. . . . Fox proves herself here, as in her first book, attracted to the crumbling, collapsing character of friendships as well as romances." —San Francisco Chronicle
 
"How to make a novel about the shaky geometry of romance feel fresh? Lauren Fox, in her second novel, succeeds admirably, partly because she places her twenty-something characters against a grim backdrop of economic uncertainty and the not-quite-healed wounds of parental failures." —The Boston Globe
 
"Sure to resonate with anyone who has experienced regrets and complications in a super-close friendship. . . . This is a story filled with true-to-life people complete with their messy relationships and salted with hilarious word play and other witticisms that don't take away from the poignancy of the plot. To sum up: Pure. Enjoyment." —Bookreporter
 
"The hard emotional truths go down easily amid the smart, rapid-fire wit. A pure if heartbreaking pleasure." —Booklist (starred review)
 
"Dazzlingly entertaining and utterly engaging, Friends Like Us draws an intimate sketch of need and loss, crosshatched by friendship and love. Willa is funny, fallible, and fierce as she navigates family's inexorable pull and the self's desire for individual orbit. Fox's gorgeous novel grapples with ordinary truths in an extraordinary way, and will leave you paying more attention to the people who matter to you most." —Gwendolen Gross, author of The Orphan Sister
 
"Wounded, witty Willa is a remarkably complex creation. Moving, artfully written." —Kirkus Reviews
 
"Friends Like Us is smart, funny, and winning, but the thing that strikes me most about it is how honest it is. Lauren Fox perfectly captures the way best friends love each other, make each other laugh, and sometimes, at their worst moments, break each other's hearts." —Lauren Grodstein, author of A Friend of the Family