Conquistadora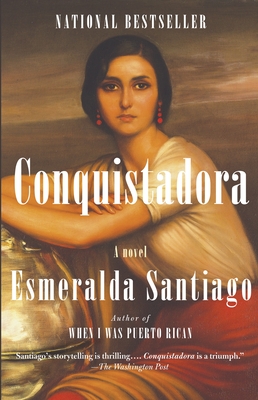 Conquistadora
Vintage, Paperback, 9780307388599, 432pp.
Publication Date: July 10, 2012
* Individual store prices may vary.
Buy at Local Store
Enter your zip code below to purchase from an indie close to you.
or
Buy Here
Description
As a young girl growing up in Spain, Ana Larragoity Cubillas is powerfully drawn to Puerto Rico by the diaries of an ancestor who traveled there with Ponce de Leon.And in handsome twin brothers Ramon and Inocente both in love with Ana she finds a way to get there.Marrying Ramon at the age of eighteen, she travels across the ocean to Hacienda los Gemelos, a remote sugar plantation the brothers have inherited. But soon the Civil War erupts in the United States, and Ana finds her livelihood, and perhaps even her life, threatened by the very people on whose backs her wealth has been built: the hacienda's slaves, whose richly drawn stories unfold alongside her own in this epic novel of love, discovery and adventure.
About the Author
Esmeralda Santiago is the author of the memoirs When I Was Puerto Rican, Almost a Woman, which she adapted into a Peabody Award winning film for PBS s Masterpiece Theatre, and The Turkish Lover; the novel America s Dream; and a children s book, A Doll for Navidades. Her work has appeared in The New York Times, The Boston Globe, and House & Garden, among other publications, and on NPR s All Things Considered and Morning Edition. Born in San Juan, Puerto Rico, she lives in New York. www.esmeraldasantiago.com"
Praise For Conquistadora…
"Santiago's storytelling is thrilling. . . . Conquistadora is a triumph." —The Washington Post 
  
"An author in full command. . . . In Santiago's hands, Ana is a woman to remember and Puerto Rico a country to cherish." —The Miami Herald
  
"A splendid expedition into colonial history complete with enrapturing suspense to the very end." —O, The Oprah Magazine
 
"Ana [is] an unconventional, ambitious woman whose attitudes toward children, slaves and lovers perplex and engross. . . . A guided tour of the history of sugar and empire." —The New York Times Book Review
 
"An enthralling family saga. . . . Four stars." —People

"If, as the proverb goes, history is written by the hunters, then Esmeralda Santiago has imagined history as written from the point of view of the lions. A remarkable story for its detail, imagination, meticulous research, and wisdom, this is history written by a lion at the height of her powers." —Sandra Cisneros, author of The House on Mango Street
  
"Conquistadora is an expertly researched novel that fuses Antillean/Puerto Rican history and a spellbinding and action-packed storyline that will surprise and dazzle its readers. . . . A crown jewel of Puerto Rican literature." —Being Latino
 
"Lusty, ambitious women are staples of epic fiction, and in these pages Santiago has created a ferociously seductive character. . . . Read this absorbing, impeccably researched novel for its lush history and for the way Santiago's narrative constantly surprises—just as its protagonist does, confronting the gender limitations of her day." —More
 
"Conquistadora is a wonderful and richly drawn novel. . . . A grand achievement from one of our finest writers." —Oscar Hijuelos, Pulitzer Prize–winning author of The Mambo Kings Play Songs of Love and Beautiful Maria of My Soul
 
"Part romance, part portrait of a woman struggling against the constraints of her time and class. Santiago's writing often surprises with its sly humor." —The Dallas Morning News
 
"Extraordinary. . . . . An outstanding story, full of pathos, tropical sensuality, and violence—but it also poses uncomfortable moral questions readers are forced to consider . . . Storytelling genius . . . Conquistadora is a book-group must." —Booklist (starred review)
 
"Ana will inevitably bring to mind thoughts of that other imperious plantation dweller, Scarlett O'Hara. . . . Conquistadora can be enjoyed as a grand romantic adventure tale, complete with plenty of sex and violence. But author Esmerelda Santiago . . . doesn't ignore the political and economic realities of Ana's life." —The Columbus Dispatch
 
"Readers may not sympathize with Ana . . . but her unflinching devotion to her dream of living with the valor and beauty of her conqueror ancestors is compelling." —BookPage
 
"An epic beach read." —Marie Claire
 
"Santiago brings passion, color, and historical detail to this Puerto Rican Gone with the Wind, featuring a hard-as-nails heroine more devoted to her plantation than to any of the men in her life. . . . The richness of [Santiago's] imagination and the lushness of her language will serve saga enthusiasts well." —Publishers Weekly (starred review)
 
"An enthralling epic that not only illuminates the life of one extraordinary woman, but of the great sweep of Puerto Rican history. . . . Conquistadora will seduce readers heart and soul." —Cristina García, author of Dreaming in Cuban
 
"The multitalented author of When I Was Puerto Rican offers a big, bold novel about life on a Caribbean sugar plantation in the mid-19th century. . . . With drama, adventure, and even a bit of magical realism, Conquistadora may remind readers of Isabel Allende's novels of Latin America." —Library Journal
 
"Impressive . . . . Conquistadora is a story of epic dimensions, one which demands to be taken seriously—and at the same time is just a tremendous amount of fun. Hats off to Esmeralda Santiago, for a delicious novel that instructs as easily as it pleases." —Madison Smartt Bell, author of All Souls' Rising
  
"A powerful new novel that is colorful, sexy, and shimmering with magical writing as lush as the tropical island on which it takes place. Alive with all their passions and flaws, here are characters so boldly imagined they feel real, and in a story so transporting you can almost smell the sugar cane." —Terry McMillan, author of Getting to Happy and Waiting to Exhale
 
"I loved this novel from the first sentence, and wept with emotion by the end. . . . Esmeralda Santiago has given voice to a history that has eluded me. Here is a haunting, visceral epic that satisfies on every level and yet leaves you hungry for more. Bravo, Conquistadora!" —Daisy Martinez, host of Viva Daisy! and author of Daisy's Holiday Cooking