The Gargoyle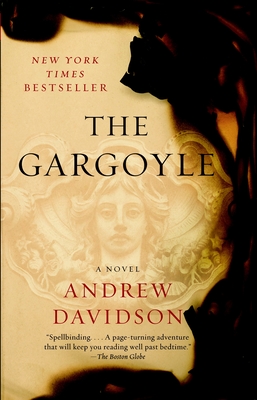 The Gargoyle
Anchor Books, Paperback, 9780307388674, 518pp.
Publication Date: August 4, 2009
* Individual store prices may vary.
Buy at Local Store
Enter your zip code below to purchase from an indie close to you.
or
Buy Here
Description
A "New York Times" Bestseller

The Gargoyle the mesmerizing story of one man's descent into personal hell and his quest for salvation.
On a dark road in the middle of the night, a car plunges into a ravine. The driver survives the crash, but his injuries confine him to a hospital burn unit. There the mysterious Marianne Engel, a sculptress of grotesques, enters his life. She insists they were lovers in medieval Germany, when he was a mercenary and she was a scribe in the monastery of Engelthal. As she spins the story of their past lives together, the man's disbelief falters; soon, even the impossible can no longer be dismissed.
About the Author
Andrew Davidson is an award-winning journalist and author of the "Sunday Times" business interview page from 2003 to 2012. His previous books include "Bloodlines", an anatomy of daily life at St Thomas' Hospital, and "Smart Luck", an anthology of his interviews with well-known entrepreneurs.
Praise For The Gargoyle…
"Spellbinding. . . . A page-turning adventure that will keep you reading well past bedtime." —The Boston Globe"An undeniably hot book. . . . It's as engrossing as it is gruesome, the kind of horror you watch with one eye closed. . . . A hell of a story." —The Washington Post"Take a deep breath and plunge into this novel. It's a tale of love and redemption told through Davidson's haunting prose. " —USA Today"A transportingly unhinged debut. . . . Vigorous and impressive." —The New York Times "Keeps the pages turning." —The Plain Dealer "Take a deep breath and plunge into this novel. It's a tale of love and redemption told through Davidson's haunting prose." —USA Today "Mr. Davidson skillfully assembles a centuries-old puzzle involving a series of fables of undying love. . . . The reader is kept guessing until the final pages." —The Wall Street Journal"Mixes medical drama with medieval religious lore to explore the boundaries of faith and forgiveness. . . . Compelling." —San Francisco Chronicle "Reads like the mad spawn of Anne Rice and Stephen King." —Providence Journal "Original and highly addictive. . . . Captivating. . . . An impressive, memorable debut." —The Denver Post "A story that sweeps us in with no protest. You want to be lost in its pages. . . . The real tragedy of this book is that it ends." —Daily News"Beguiling. . . . Mixing romance, classic allusion and reality, Davidson's debut is a bravura performance." —Marie Claire"I was blown away by Andrew Davidson's The Gargoyle. It reminded me of Life of Pi, with its unanswered (and unanswerable) contradictions. A hypnotic, horrifying, astonishing novel that manages, against all odds, to be redemptive." —Sara Gruen, author of Water for Elephants"The Gargoyle is purely and simply an amazement, a riot, a blast. It's hard to believe that this is Andrew Davidson's first novel: He barrels out of the chute with the narrative brio and confidence, not to mention the courage, of a seasoned master. This book plucks the reader off the ground and whirls her through the air until she shouts from sheer abandonment and joy. What a great, grand treat." —Peter Straub