Aerogrammes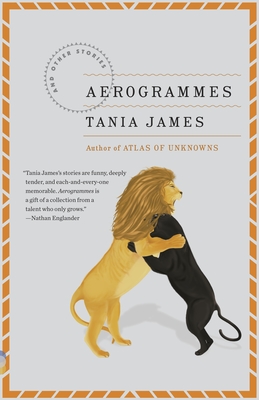 Aerogrammes
And Other Stories
Vintage Books, Paperback, 9780307389022, 180pp.
Publication Date: March 5, 2013
* Individual store prices may vary.
Buy at Local Store
Enter your zip code below to purchase from an indie close to you.
or
Buy Here
Description
From the acclaimed author of Atlas of Unknowns, a bravura collection of short stories—set, by turns, in London, Sierra Leone, and the American Midwest—that captures the yearning and dislocation of young men and women around the world.

In "Light & Luminous," a gifted instructor of Indian dance falls victim to the vanity and insecurities that have followed her into middle age. In "The Scriptological Review: A Last Letter from the Editor," a damaged young man obsessively studies his father's handwriting in hopes of making sense of his suicide. And in "What to Do with Henry," a white woman from Ohio takes in the illegitimate child her husband left behind in Sierra Leone, as well as an orphaned chimpanzee who comes to anchor this strange new family. With Aerogrammes, Tania James once again introduces us to a host of delicate, complicated, and beautifully realized characters who find themselves separated from their friends, families, and communities by race, pride, and grief.
About the Author
Tania James est nee aux Etats-Unis dans les annees 1970. Diplomee de Harvard et de Columbia en - Fine arts in fiction -, son travail a ete publie dans One Story Magazine et le New York Times. Elle vit a New York. "L Atlas des inconnus" est son premier roman. Il a ete remarque pour son style plein de pudeur et d elegance et sa charge emotive, qui ne va pas sans drolerie et legerete.
Praise For Aerogrammes…
"Tania James's stories are funny, deeply tender, and each-and-every-one memorable. Aerogrammes is a gift of a collection from a talent who only grows." —Nathan Englander 
 
"One of the best short story collections I have read in years. . . . funny, tender, and always full of humanity." —Khaled Hosseini

"By turns rib-shakingly funny and poignant, pinwheeling and wise. . . . Proof that the short story is joyfully, promiscuously, thrillingly alive." —Karen Russell 

"Get ready for a collection of love stories that absolutely doesn't include a variation on Cinderella-plus-Prince. . . . Every single story contains a . . . minute but luminous event, each a reminder that love entails a lot of wear and tear—but on a good day, lets us transcend the average with a little mystery called tenderness." —O, The Oprah Magazine

"Authentic and deftly drawn." —The Washington Post

"Tania James is a warmhearted writer. . . . she treats her eclectic band of characters—several children, a chimpanzee, an obsessive analyzer of handwriting, two Indian wrestlers in Edwardian London, a former grocer, an aging dance teacher, a widower, a writer and a ghost—gently, almost parentally, pitying them while recognizing the humor in their predicaments. . . . Her jokes tighten scenes with styptic doses of reality. In these instants we are, as is so often the case, saved from embarrassment by a sense of humor." —The New York Times Book Review

"James opens a window onto a world marked by loneliness, obsession and wild animals." —Granta 

 "Multiculturalism in America. Think Zadie Smith, if Zadie Smith was raised in Kentucky." —Harper's Bazaar

"First-rate. . . . James' prose is clean, deep, limpid; the stories she builds throw strange, beautiful light on completely unexpected places. . . . Always, her descriptions delight." —San Francisco Chronicle

 "These are stories that map out a fresh new world between America and South Asia with a rare blend of humor and sensitivity. Surprising and affecting." —Romesh Gunesekera
 
"James's stories are populated by lively, spectacularly fallible (yet persistently hopeful) characters that toil, mourn, dance, and play—sometimes in rapid succession. . . . To read Aerogrammes is to be transported back to adolescent (or pre-adolescent) days dominated by dance classes, playground politicking, and jumping off (or cowering before) the high dive." —The Rumpus

"Like all great fiction, James's stories emerge from a strange and beautiful source of inspiration, then proceed to transcend it." —Huffington Post

"In her first short story collection, James, whose debut novel Atlas of Unknowns dazzled us, returns with a vengeance, with nine expertly crafted, beautifully set tales that careen from tender to funny to crisp, but always say exactly what they mean." —Flavorwire

"These feats of emotional range and inventiveness require a precise clarity of vision. . . . Along with James's compassion and wit, not to mention her crisp, luminous prose, that vision makes the stories in Aerogrammes a delight to read." —Fiction Writers Review

"While it's characteristic of writers to have stories to tell, Tania James positively bursts with them. . . . flawless in their execution and always turning our eye toward a new someone and somewhere at precisely the right time" —DBC Reads

 "Immaculately crafted . . . brilliantly diverse. . . . James understands the nuances of emotional displacement." —Publishers Weekly (starred review)

 "A skilled storyteller. . . . James investigates with compassion and humor the indignities of aging, disability, and alienation at different stages of life. . . . a refreshingly authentic new voice." —Library Journal