And the Show Went on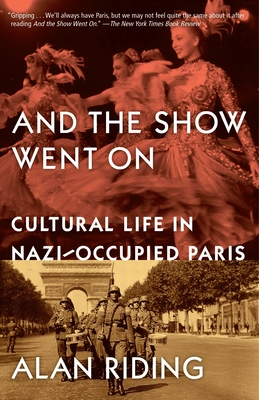 And the Show Went on
Cultural Life in Nazi-Occupied Paris
Vintage Books, Paperback, 9780307389053, 399pp.
Publication Date: October 4, 2011
* Individual store prices may vary.
Buy at Local Store
Enter your zip code below to purchase from an indie close to you.
or
Buy Here
Description
On June 14, 1940, German tanks rolled into a silent and deserted Paris. Eight days later, a humbled France accepted defeat along with foreign occupation. While the swastika now flew over Paris, the City of Light was undamaged, and soon a peculiar kind of normalcy returned as theaters, opera houses, movie theaters, and nightclubs reopened for business. Shedding light on this critical moment of twentieth-century European cultural history, And the Show Went On focuses anew on whether artists and writers have a special duty to show moral leadership in moments of national trauma.
About the Author
Alan Riding, a journalist and writer, is the author of the bestselling book Distant Neighbors and coauthor of Essential Shakespeare Handbook and Opera.
Praise For And the Show Went on…
"Gripping. . . . We'll always have Paris, but we may not feel quite the same about it after reading And the Show Went On."
—The New York Times Book Review

"Riding paints a riveting portrait of how Paris's glittering, politically diverse cultural elite . . . worked and played during the dark days of the Nazis' occupation."
—Vanity Fair

"Meticulously researched. . . . Riding's book is an impressively comprehensive survey of the occupation years."
—The Economist
 
"An arresting and detailed account. . . . A big story and insidiously troubling."
—Los Angeles Times
 
"Evocative. . . . A carefully constructed and sympathetic account. . . . Riding is very good at pointing to the complexities and ambiguities of the situation."
—The Wall Street Journal
 
"Fascinating."
—The New York Review of Books

"Certainly one of the finest works of serious popular history since the heyday of Barbara Tuchman. . . . Riding's triumph lies in refusing to affirm any simplistic answers. Instead, he plunges the reader into the French cultural scene of the 1930s and '40s and shows us how real men and real women dealt with the devil."
—The Washington Post
 
"Lively. . . . Compelling and complex. . . . Most interesting are the complicated stories of artists who were neither heroes nor traitors, who made decisions about how to live and work during the occupation."
—The Boston Globe
 
"The world of the arts in Nazi-occupied Paris is brought to life in this meticulous chronicle. . . . [Riding] provides vivid character sketches and narratives."
—The New Yorker
 
"Broad-ranging. . . . Riding's detailed and well-researched account is sure to appeal to Francophiles, admirers of French culture and readers seeking to heighten their understanding of an emotionally charged and morally complex aspect of World War II. More than that, it offers insights into the ethical dilemma that many of France's luminaries faced during a critical time in their nation's history and the different ways in which they chose to respond."
—The Associated Press
 
"A book of transcendent relevance. . . . Splendidly informed."
—Fritz Stern, author of Gold and Iron
 
"[A] monumentally researched, vividly written and troubling account of how the cultured citizens of Paris behaved while the Nazi swastika fluttered above the Eiffel Tower."
—Newark Star-Ledger
 
"Full-blooded and meticulously researched."
—Financial Times
 
"In this highly readable book, Alan Riding presents a thorough, balanced account of the ways French artists and writers responded to Nazi occupation, ranging from active resistance to enthusiastic collaboration. . . . Riding marshals details with the verve and care of a great reporter."
—Susan Suleiman, C. Douglas Dillon Professor of the Civilization of France and Professor of Comparative Literature, Harvard University
 
"Riveting. . . . This fine book reminds the reader of the many shades of collaboration in an occupied country."
—The Washington Times
 
"A tale of betrayal and resistance, patriotism, and bold opportunism—and in the end, vengeance and forgetfulness."
—The Jewish Exponent
 
"A superb account of intellectuals under pressure. . . . Alan Riding, deeply versed in French politics and culture, is the ideal guide to Parisian life under the Nazis. He has written a wonderful book."
—Ward Just, author of An Unfinished Season and Echo House
 
"A remarkable cultural history of the City of Lights at its darkest hour. . . . A work of intellectual history in its purest form."
—Jewish Journal
 
"This book raises many questions about degrees of guilt, unjust accusations, and changing sides. It successfully shows that, for many, the occupation was rarely black and white."
—Sacramento Book Review
 
"Only someone as deeply versed in French culture as is Alan Riding, and as completely in command of his subject, could have written this magisterial account. . . . It is star-studded and makes fascinating reading."
—David Fromkin, author of A Peace to End All Peace