Illegal Action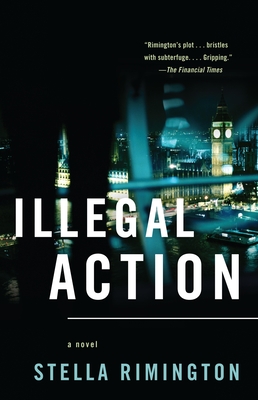 Illegal Action
Vintage Books USA, Paperback, 9780307389060, 320pp.
Publication Date: June 2, 2009
* Individual store prices may vary.
Shop Local
Enter your zip code below to find indies closest to you.
Description
The fiercely intelligent, ambitious MI5 officer Liz Carlyle returns in a spy novel of arresting psychological complexity and unflagging suspense.

In the most recent installment in the Liz Carlyle series, Liz has been transferred to counter-espionage—the hub of MI5 operations during the Cold War. Her mission: protect Nikita Brunovsky, an increasingly vocal opponent of Vladimir Putin, who has been targeted for assassination and is seeking refuge in the UK. The Foreign Office is adamant about forestalling a crime that could become a full-blown international incident. So Liz goes undercover, attaching herself to Brunovsky's retinue: racing against the clock to determine who betrayed him and suddenly facing a wholly unexpected second task—unmasking a Russian operative working undercover alongside her.
About the Author
Stella Rimington joined Britain's security service (MI5) in 1965 where she worked in all the main areas of the organization: counter-subversion, counter-espionage and counter-terrorism. She was appointed Director-General of MI5 in 1992. Her autobiography Open Secret was published by Hutchinson in 2001. Her first novel, At Risk, featuring agent Liz Carlyle, was also published by Hutchinson in August 2004.
"From the Hardcover edition."
Praise For Illegal Action…
"Rimington's plot, as one should expect from a former head of MI5, bristles with subterfuge and splices in allusions to Litvinenko's poisoning to give Illegal Action a contemporary feel. . . . Carlyle, in her third outing, has depth and tenacity."—The Financial Times"A former director general of MI5 in the '90s, Rimington fills her brainy page-turner with authentic details." —Entertainment Weekly"Rimington fashions an exciting final confrontation to her story." —The Washington Post"The psychological curiosity and attention to detail that has made Rimington a top spy also distinguishes her as an author."—People"An ideal beach read for the upcoming vacation season. . . . Elements of the old-fashioned spy novel–sudden twists and characters with hidden agendas–combine with James Patterson's secret to success."—Booklist