38 Nooses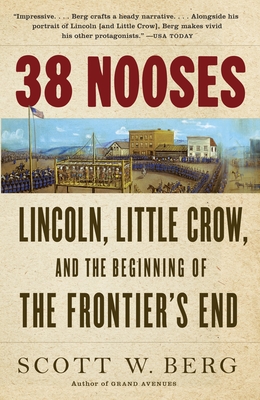 38 Nooses
Lincoln, Little Crow, and the Beginning of the Frontier's End
Vintage Books, Paperback, 9780307389138, 363pp.
Publication Date: September 10, 2013
* Individual store prices may vary.
Buy at Local Store
Enter your zip code below to purchase from an indie close to you.
or
Buy Here
Description
A "Kirkus" Best Book of the Year
In August 1862, after suffering decades of hardship, broken treaties, and relentless encroachment on their land, the Dakota leader Little Crow reluctantly agreed that his people must go to war. After six weeks of fighting, the uprising was smashed, thousands of Indians were taken prisoner by the US army, and 303 Dakotas were sentenced to death. President Lincoln, embroiled in the most devastating period of the Civil War, personally intervened to save the lives of 265 of the condemned men, but in the end, 38 Dakota men would be hanged in the largest government-sanctioned execution in U.S. history.
Writing with uncommon immediacy and insight, Scott W. Berg details these events within the larger context of the Civil War, the history of the Dakota people and the subsequent United States Indian wars, and brings to life this overlooked but seminal moment in American history.
About the Author
Scott W. Berg holds a BA in Architecture from the University of Minnesota, an MA from Miami University and an MFA in Creative Writing from George Mason University where he is now teaching non-fiction writing and literature. Since 1998, Berg has published over 60 pieces in the "Washington Post "on various subjects, many of them historical, including a lengthy feature story about L'Enfant out of which GRAND AVENUES grew.
Praise For 38 Nooses…
"Impressive. . . . Berg crafts a heady narrative. . . .Alongside his portrait of Lincoln [and Little Crow], Berg makes vivid his other protagonists." —USA Today

"Scott W. Berg reminds us. . . that the Civil War was only part of the nation's crises in that era. . . . Berg does a remarkable job with the story and its aftermath." —Los Angeles Times
 
"An engrossing account of this tragic episode in American history. . . . Berg's finely grained portraits put a human face on that terrible time." —Minneapolis Star Tribune

"A moving story of an event enveloped within the most calamitous four years in American annals. . . . Superb." —Dallas Morning News

"Berg positions the book with the perfect focal length, tight enough to include fascinating and fleshed-out characters such as Little Crow . . . and Lincoln himself, but also wide enough to capture the moral arc of the entire nation." —The Daily Beast

 "A gripping narrative of this little-known conflict and a careful exploration of the relationships between events of the Civil War and America's expansion west.... Although the reader knows the eventual outcome of these battles—near extermination of Indian tribes and cultures—Berg maintains suspense about individual fates to round out this nuanced study of a complex period." —Publishers Weekly (starred review)

"A captivating tale of an oft-overlooked, morally ambiguous moment in American history." —Kirkus Reviews (starred review)

"[Berg] strives successfully to present a balanced narrative of the conflict while providing excellent portrayals of some of the key participants. This is a valuable . . . account of an obscure but important episode in our history." —Booklist

"While Union and Confederate armies clashed at Bull Run and Antietam, another epochal—but largely forgotten—American struggle was being fought a thousand miles to the northwest. In vivid, often lyrical prose, Scott W. Berg tells a story of courage and ruthlessness, mercy, and retribution." —Adam Goodheart, author of 1861

 "Rarely do I find great storytelling based on rigorous research. In 38 Nooses, Scott W. Berg hits both marks." —Carrie Reber Zeman, co-editor, A Thrilling Narrative of Indian Captivity: Dispatches from the Dakota War

"38 Nooses shines new light on a little known and tragic chapter in American history. Thoroughly researched, richly detailed, this compelling narrative gives 'The Battle Hymn of Freedom' a new and ironic connotation. You will never think of the events of 1862-63 and Lincoln's leadership in quite the same way again." —Robert Morgan, author of Lions of the West

"38 Nooses vividly shows the pressures facing Dakota Indians in 1862, the pent-up conflicts between white settlers and Native people in the Upper Midwest, and the stretched resources and flawed judgments of local and federal officials during the Civil War years. In spellbinding fashion, Scott W. Berg tells a previously neglected story with tragic historical reverberations." —Jack El-Hai, author of The Lobotomist and Lost Minnesota