Salmonella Men on Planet Porno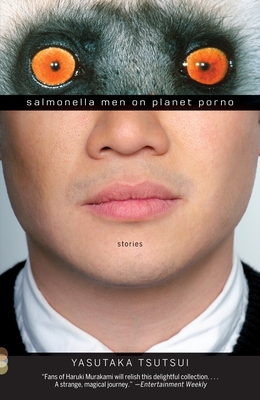 Salmonella Men on Planet Porno
Vintage Books USA, Paperback, 9780307389152, 252pp.
Publication Date: January 12, 2010
* Individual store prices may vary.
Shop Local
Enter your zip code below to find indies closest to you.
Description
An irresistible mix of imagination, satire, and humor, these stories by acclaimed Japanese author Yasutaka Tsutsui imagine the consequences of a world where the fantastic and the mundane collide.
The opening story, "The Dabba Dabba Tree," details the hilarious side effects of a small conical tree that, when placed at the foot of one's bed, creates erotic dreams. In "Commuter Army," a sly commentary on the ludicrousness of war, a weapons supplier becomes an unwilling conscript in a war zone. "The World is Tilting" imagines a floating city that slowly begins to sink on one side, causing its citizens to reorient their daily lives to preserve a semblance of normality. And in the title story, we see how obscenely absurd the environment on Planet Porno appears to a group of scientists. The stories in Salmonella Men on Planet Porno winningly combine madcap hilarity and a sharp eye toward the insanities of contemporary life.
About the Author
Praise For Salmonella Men on Planet Porno…
"Marvelously wacky and psychologically insightful. . . . Tsutsui's fabulously morbid sense of humor, his obsessiveness and his wit make this collection sufficiently entertaining and disturbing to warrant our attention, especially today when the world as we know it has indeed tilted into the fantastical."
—San Francisco Chronicle
 
"Fans of Haruki Murakami will relish this delightful collection. . . . A strange, magical journey."
—Entertainment Weekly
 
"Darkly funny and still fresh and relevant."
—Los Angeles Times
 
"Each and every story sizzles with energy, teems with issues and sweeps you happily along into the fantasy. . . . Tsutsui is at his best when juggling all the apples, devising entertaining, whimsical worlds and scenarios that camouflage scathing criticism. . . . The collection unabashedly romps in the sexual facets of modern humanity and culture. But Tsutsui's work does so much more, sometimes brilliantly, often hilariously, always fantastically, never bound by reality or convention."
—The Miami Herald
 
"For once, a book that merits its wacky title, this collection . . . playfully skips across the conventions of both sci-fi and slapstick. . . . [In it,] the sense of a world bordering on paranoid hysteria is as strong as ever."
—BBC
 
"Insightful and funny. . . . [Tsutsui's] dark satire should find a loyal audience in the states."
—Rocky Mountain News
 
"Memorable. . . . Quirky and entertaining. . . . Tsutsui shrewdly reveals the hairline stresses, lusts, and insanities that no society can ever completely wall in."
—The Harvard Crimson
 
"Tsutsui is a shrewd satirist. . . . Potent are those stories where the author eschews genre pyrotechnics and reveals the strangeness and horror of the ordinary."
—The Review of Contemporary Fiction
 
"Off-kilter and marvelously entertaining. In Tsutsui's world, the fantastic and the mundane collide, throwing the lives of ordinary men and women into disarray. . . . Just what the doctor ordered."
—Tucson Citizen
 
"This collection is not for the faint of heart; you must be open to receive its infinite joys."
—The Honolulu Advertiser
 
"[These] stories show [Tsutsui's] trademark fearlessness in the face of taboos; war, sex, the media, and the sheep-like mentality of groups are all fair game."
—Theme Magazine
 
"Imagine a cross between the music group the B-52s, Thomas Pynchon's V., Ryu Murakami's Coin Locker Babies, and James Turner's graphic novel Nil: A Land Beyond Belief, throw in a good dose of sf tropes and bitter social satire, and you'll start to get a good idea of what's in store for you in this collection of 13 imaginative stories from one of Japan's best-known sf writers."
—School Library Journal
 
"With a sharp eye towards the insanities of contemporary life, Tsutsui crafts an irresistible mix of imagination, satiric fantasy, and truly madcap hilarity."
—Bookmarks Magazine
 
"Imaginative, farcical stories that sometimes amuse and sometimes perplex. . . . [They] focus on the comic follies and irrational whims of the human race."
—ArmchairInterviews.com
 
"Weird, wonderful and wild. . . . Sparkles with biting pieces of social and political satire that reveal a formidable talent. . . . Tsutsui's voice is witty and quirky, seducing us to suspend our disbelief for even the most fanciful narrative."
—BookPage