What's Next?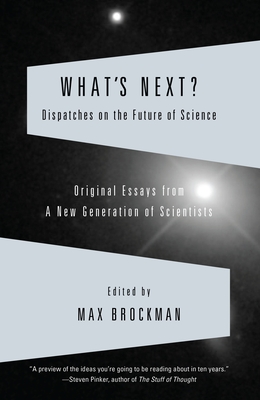 What's Next?
Dispatches on the Future of Science
Vintage Books USA, Paperback, 9780307389312, 237pp.
Publication Date: May 26, 2009
* Individual store prices may vary.
Buy Now
or
Shop Local
Enter your zip code below to purchase from an indie close to you.
Description
Will climate change force a massive human migration to the Northern Rim?
How does our sense of morality arise from the structure of the brain?
What does the latest research in language acquisition tells us about the role of culture in the way we think?
What does current neurological research tell us about the nature of time?
This wide-ranging collection of never-before-published essays offers the very latest insights into the daunting scientific questions of our time. Its contributors some of the most brilliant young scientists working today provide not only an introduction to their cutting-edge research, but discuss the social, ethical, and philosophical ramifications of their work. With essays covering fields as diverse as astrophysics, paleoanthropology, climatology, and neuroscience, What's Next? is a lucid and informed guide to the new frontiers of science.
Praise For What's Next?…
"Captivating. . . . Diverse. . . . While each essay is its own gem, together they form a remarkable dialogue about what it is to be human now, and what it will be in the future. . . . Fascinating."
—New Scientist
 
"Like reading a set of interesting blog posts, but on paper. And most of these folks don't have blogs!"
—Discover Magazine's "Things Going On" blog
 
"Engrossing. . . . Offers a youthful spin on some of the most pressing scientific issues of today—and tomorrow. . . . Super smart and interesting."
—New York Observer's "Very Short List"

"A fantastic cross-section of societal concerns, focusing largely on issues of ethics and the human mind. . . . This absorbing collection makes easy-to-read but thought-provoking material for even casual science buffs."
—Publishers Weekly
 
"Capaciously accessible, these writings project a curiosity to which followers of science news will gravitate."
—Booklist
 
"If these authors are the future of science, then the science of the future will be one exciting ride! Find out what the best minds of the new generation are thinking before the Nobel Committee does. A fascinating chronicle of the big, new ideas that are keeping young scientists up at night."
—Daniel Gilbert, author of Stumbling on Happiness
 
"A preview of the ideas you're going to be reading about in ten years."
—Steven Pinker, author of The Stuff of Thought