Von Braun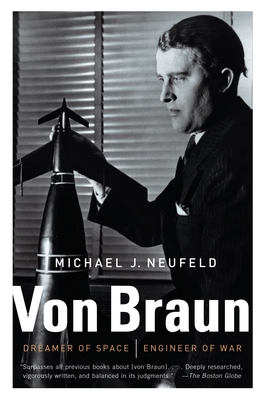 Von Braun
Dreamer of Space, Engineer of War
Vintage Books USA, Paperback, 9780307389374, 587pp.
Publication Date: November 11, 2008
* Individual store prices may vary.
Buy Now
or
Shop Local
Enter your zip code below to purchase from an indie close to you.
Description
Michael J. Neufeld, curator and space historian at the Smithsonian's National Air and Space Museum, delivers a brilliantly nuanced biography of Wernher von Braun.

Chief rocket engineer of the Third Reich and one of the fathers of the U.S. space program, Wernher von Braun is a source of consistent fascination. Glorified as a visionary and vilified as a war criminal, he was a man of profound moral complexities, whose intelligence and charisma were coupled with an enormous and, some would say, blinding ambition. Based on new sources, Neufeld's biography delivers a meticulously researched and authoritative portrait of the creator of the V-2 rocket and his times, detailing how he was a man caught between morality and progress, between his dreams of the heavens and the earthbound realities of his life.
About the Author
Michael J. Neufeld is chair of the Space History Division of the Smithsonian's National Air and Space Museum. Born and raised in Canada, he received his doctorate in history from The Johns Hopkins University in Baltimore. His second book, "The Rocket and the Reich: Peenemunde and the Coming of the Ballistic Missile Era," won the American Institute of Aeronautics and Astronautics History Manuscript Award and the Society for the History of Technology Dexter Prize. He lives in Takoma Park, Maryland.
Praise For Von Braun…
"Surpasses all previous books about [von Braun]. . . . Deeply researched, vigorously written, and balanced in its judgments."
—The Boston Globe

"A serious, important book that does justice to its subject's moral complexity and place in history."
—Los Angeles Times Book Review

"Neufeld's thoroughly satisfying biography . . . written in clear, fast-paced prose, offers the most complete, fully documented and critical account that the imperfect documentary record is likely to yield."
—The New York Times Book Review

"A historian's masterpiece, will become the definitive biography."
—American Scientist