The Undivided Past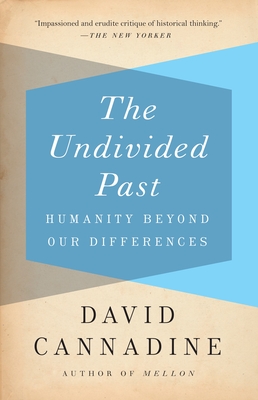 The Undivided Past
Humanity Beyond Our Differences
Vintage Books, Paperback, 9780307389596, 340pp.
Publication Date: January 14, 2014
* Individual store prices may vary.
Buy Now
or
Shop Local
Enter your zip code below to purchase from an indie close to you.
Description
From one of our most acclaimed historians, a wise and provocative call to re-examine the way we look at the past: not merely as the story of incessant conflict between groups but also of human solidarity throughout the ages.

Investigating the six most salient categories of human identity, difference, and confrontation—religion, nation, class, gender, race, and civilization—David Cannadine questions just how determinative each of them has really been. For while each has motivated people dramatically at particular moments, they have rarely been as pervasive, as divisive, or as important as is suggested by such simplified polarities as "us versus them," "black versus white," or "the clash of civilizations." For most of recorded time, these identities have been more fluid and these differences less unbridgeable than political leaders, media commentators—and some historians—would have us believe. Throughout history, in fact, fruitful conversations have continually taken place across these allegedly impermeable boundaries of identity: the world, as Cannadine shows, has never been simply and starkly divided between any two adversarial solidarities but always an interplay of overlapping constituencies.

Yet our public discourse is polarized more than ever around the same simplistic divisions, and Manichean narrative has become the default mode to explain everything that is happening in the world today. With wide-ranging erudition, David Cannadine compellingly argues against the pervasive and pernicious idea that conflict is the inevitable state of human affairs. The Undivided Past is an urgently needed work of history, one that is also about the present—and the future. 
About the Author
Winston Churchill (1874a1965) was prime minister of Great Britain from 1940 to 1945 and from 1951 to 1955. A prolific writer whose works include "The Second World War" and "A History of the English-Speaking Peoples," he was awarded the Nobel Prize in Literature in 1953.
David Cannadine is the author, most recently, of "Mellon: An American Life," as well as "The Decline and Fall of the British Aristocracy," which won the Lionel Trilling Prize and the Governorsa Award. He teaches at the Institute of Historical Research, University of London.
Praise For The Undivided Past…
"Cannadine does not say so, but he may well have written his book in response to Samuel Huntington's famous argument about the clash of civilizations. I can only hope that The Undivided Past . . . so authoritative in its coverage of history . . . will have all the impact of Huntington's work, serving as an important reminder that human beings around the world not only have much in common but also have improved the conditions of their lives over time. His optimism is both refreshing and necessary."
            —Alan Wolfe, The New York Times Book Review

"Elegantly written and stimulating. . . . Cannadine is justified in drawing attention to how dangerously politicized history can become."
            —David Priestland, The Guardian (UK)

"One of our most provocative and profound historians, Cannadine confronts the brutally populist, crudely polarized Manichean concept of 'us versus them' in the writing of history. He affirms, rather, the complexity and diversity of humanity and the connectedness of its manifold identities."
            —Iain Finlayson, The Times (UK)

"A spirited case for harmony against the myths of identity politics. . . . The Undivided Past succeeds best as a Swiftian treatise on the ignorance of the learned, and the follies of the wise. While the fetishism of a single, adversarial identity still derails the study of history as much as the practice of politics, The Undivided Past should earn applause."
            —Boyd Tonklin, The Independent (UK)

"Highly intelligent, stimulating, occasionally provocative and enormous fun to read. . . . To write about the past, Cannadine concludes, requires the historian to celebrate the common humanity that has always bound us together, that still binds us together today, and that will continue to bind us together in the future. It is noble message and one that historians would do well to heed."
            —Philip Ziegler, The Spectator (UK)

"A mediation on the ways in which history has been abused to present the world divided into simple opposing identities of good and evil, 'them' and 'us' . . . if any current historian might speak truth to power then we should wish it to be David Cannadine."
            —Dan Jones, The Daily Telegraph (UK)

"David Cannadine is a distinguished historian; his new book should make him famous. Now at the summit of his career, he brings a message that only a veteran and learned historian could deliver convincingly."
            —Hugh Brogan, History Today (UK)

"Persuasive, impassioned. . . . Historian and editor Cannadine constructs a stirring critique of history that questions conventional approaches to narrating the human chronicle. Cannadine, an accomplished writer, details it in fresh and provocative terms…An incisive argument buttressed by millennia of evidence."
         —Starred review, Kirkus Reviews

 "Cannadine systematically examines the six most pervasive areas of identities across historical periods. . . . Drawing on history, philosophy, economics, sociology, and religion, Cannadine offers a broad and sweeping look at the myriad ways we've been at each other's throats throughout history. Still, he ends with the hopeful prospect that more historians will reexamine the chronicles of group conflicts and offer balanced perspectives."
         —Starred review, Booklist

"The Undivided Past offers us a great historian's skeptical and liberating exploration of the ways in which our various social identities do and do not make us what we are. David Cannadine deploys his penetrating erudition through contentious territory, maintaining always an exemplary elegance and civility."
         —Kwame Anthony Appiah, author of The Ethics of Identity and Cosmpolitanism: Ethics in a World of Strangers
 
 "A complex, thoughtful examination of the fundamental ways in which humanity divides itself." 
         —Publishers Weekly