Saturday Night and Sunday Morning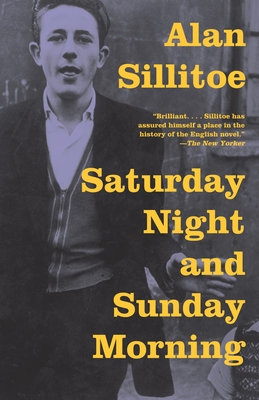 Saturday Night and Sunday Morning
Vintage Books USA, Paperback, 9780307389657, 239pp.
Publication Date: March 2, 2010
* Individual store prices may vary.
Buy at Local Store
Enter your zip code below to purchase from an indie close to you.
or
Buy Here
Description
A rousing and uproarious novel of the life, loves, and misadventures of a working-class rogue, Saturday Night/Sunday Morning marked the arrival of one of the most cherished authors in the twenty-first century.
 
At twenty-two years of age, Arthur Seaton is a hard-drinking lathe operator in a bicycle factory. Sharp, rowdy, and attractive, he is a lover of life in the raw, and his enormous vitality comes pouring through, at a family party, at the county fair, and in several pubs he haunts on Saturday nights, where more often than not he leaves with a woman on his arm. Before long, however, his devil may care life-style gets him into some serious trouble, and Arthur's life takes a turn that not even he could have imagined. 
About the Author
Alan Sillitoe grew up in the slums of the industrial city of Nottingham. He began to write while in the Royal Air Force, stationed in Malaya. After the war he went to Majorca, where he became a friend of Robert Graves, who encouraged him to write Saturday Night and Sunday Morning (1958). The N.Y. Herald Tribune said: "Alan Sillitoe has given us one of the better pictures of English working-class life since Arnold Bennett dealt with the Five Towns or D. H. Lawrence with Nottingham collieries." His author's fee for the manuscript rescued him and his wife, the American poet Ruth Fainlight, from poverty and enabled him to afford the balanced diet to which he attributes his recovery from tuberculosis. Saturday Night won the Author's Club Prize for the best British novel of 1958 and was made into a superb movie in 1960. His second book, The Loneliness of the Long-Distance Runner (1959), was awarded Britain's Hawthornden Prize for 1960 and was made into an excellent film in 1962. William Posters is Sillitoe's play on words of the British "Bill Posters Will Be Prosecuted" (U.S. version---"Post No Bills"), a sentence that has haunted him. The Death of William Posters (1965) is a novel about yet another young man who must escape from the philistinism of the social milieu to which he has been born. Tree on Fire (1967), a novel with autobiographical elements, was published in Britain in 1968. Travels in Nihilon (1971) is a satirical novel about a country controlled by nihilism. Raw Material (1972) is a fictionalized memoir of his childhood and an exploration of the making of a writer.
Praise For Saturday Night and Sunday Morning…
"Brilliant. . . . [Sillitoe] has assured himself a place in the history of the English novel."—The New Yorker 
 
"That rarest of all finds: a genuine no-punches-pulled, unromanticised working class novel. Mr. Sillitoe is a born writer, who knows his milieu and describes it with vivid, loving precision."—Daily Telegraph
 
"Sillitoe's account of the rebellious young factory-fodder hero Arthur Seaton was timely when first published. . . . It is timeless now."—The Guardian

"One of the best English writers of the day." —The New York Times Book Review
 
"There are few writers around who can rival Sillitoe when it comes to the complicated business of noticing things." —Literary Review
 
"A master storyteller." —The Observer
 
"Miles nearer the real thing than D.H. Lawrence's mystic, brooding working-men ever came."—Sunday Express
 
"Outspoken and vivid."—Sunday Times, London