Hothouse Flower and the Nine Plants of Desire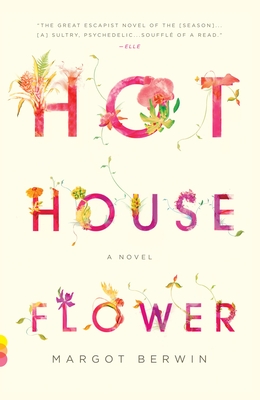 Hothouse Flower and the Nine Plants of Desire
Vintage Books USA, Paperback, 9780307390547, 286pp.
Publication Date: June 1, 2010
* Individual store prices may vary.
Buy Now
or
Shop Local
Enter your zip code below to purchase from an indie close to you.
Description
Lila Nova is a thirty-two year-old advertising copyrighter who lives alone in a plain, white box of an apartment. Recovering from a heartbreaking divorce, Lila's mantra is simple: no pets, no plants, no people, no problems. But when Lila meets David Exley, a ruggedly handsome plant-seller, her lonely life blossoms into something far more colorful.
From the cold, harsh streets of Manhattan to the verdant jungles of the Yucatan Peninsula, "Hothouse Flower "is the story of a woman who must travel beyond the boundaries of sense and comfort to find what she truly wants.
Praise For Hothouse Flower and the Nine Plants of Desire…
"The great escapist novel of the summer…. [A] shameless guilty pleasure of a romp…. An adventure combining the kinetic, cinematic razzle­dazzle of a Spielberg fantasia with the Mesoamerican metaphysical mojo of Carlos Castaneda…. [A] sultry, psychedelic summer soufflé of a read." —Elle

"Dive into Berwin's lush debut novel about Lila, a weary New Yorker who's drawn into a world of quixotic strangers and exotic botanicals." —Entertainment Weekly

"Margot Berwin makes a clever imaginative leap in her first novel, Hothouse Flower and the Nine Plants of Desire, creating her own horticultural myth and then fashioning a lively… novel around it." —The Boston Globe

"A psychedelic adventure." —The Wall Street Journal

"Sensual, voluptuous.… Berwin vividly evokes the mosquito-loud, velvety blackness of a rainforest night." —National Geographic Traveler
 
"Take two parts Carlos Castañeda, one part Sunset garden book, and top with a splash of Indiana Jones…. Shameless, sweet, and deceptively potent." —Santa Fe New Mexican

"Seductive interludes and exotic adventures define Margot Berwin's Hothouse Flower and the Nine Plants of Desire…. Berwin crafts an easy summer read that is a guide on plant mythology, spirit animals, curanderos (healers) and the mystery that can guide us to spiritual discovery, if only we open up to it." —Austin American-Statesman

"[A] grown-up fairy tale full of mysticism, shamans, and animal spirits. Light and breezy, it's also full of romance and some interesting observations from Armand about the meaning of life." —Fort Worth Star-Telegram

"With its steamy title, you know [Hothouse] is made for summer reading—and Berwin does not disappoint." —New York Post

"Fanciful and educational at the same time, Hothouse Flower provides a muggy escape to the jungle of the Yucatan Peninsula.... You'll enjoy this colorful escape of a novel." —Charleston City Paper

"Berwin's descriptions are as luxurious as the tropical plants themselves…. Scintillating…. Berwin combines her gardening knowledge with adept storytelling to weave together a tale of romance, adventure and intrigue that will enchant readers, green-thumbed or not." —BookPage

"One original, entertaining novel!...[Berwin] is an intoxicating and seductive storyteller.... Packed with wit, humor, love, romance, and adventure worthy of Indiana Jones himself, this is a must read." —Sacramento Book Review

"Great for anyone who loves outdoor adventure as much as lying on a sun lounger." —Glamour (London)

"A young female ad exec gets down and dirty—in the garden, of course—in Margot Berwin's sprightly debut novel. Journeying to the Yucatán in search of a collection of legendary botanical specimens, she encounters shamans and black-marketeers, and naturally, she blossoms in the end." —Hemispheres

"Margot Berwin is equal parts fabulist, botanist, and comedian. I learned a lot from this delightful novel, and now I know just what to do the next time I confront a rattlesnake, a scorpion, or a strange but wise plant man in a Laundromat." —Chris Bohjalian, author of Midwives, The Double Bind, and Skeletons at the Feast

"Nearly impossible to put down. This refreshing novel has an almost comic book sense of high adventure. Strange and improbable, Hothouse Flower and the Nine Plants of Desire is unswervingly fun to read." —Catherine Ryan Hyde, author of Pay it Forward