Bloodroot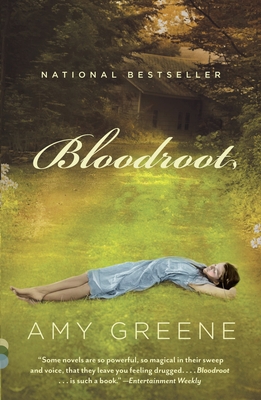 Bloodroot
Vintage Books USA, Paperback, 9780307390578, 365pp.
Publication Date: January 4, 2011
* Individual store prices may vary.
Buy at Local Store
Enter your zip code below to purchase from an indie close to you.
or
Buy Here
Description
NATIONAL BESTSELLER
Adark and riveting story of the legacies of magic and madness, faith and secrets, passion and loss that haunt one family across the generations.
Myra Lamb is a wild girl with mysterious, haint blue eyes who grows up on remote Bloodroot Mountain. Her grandmother, Byrdie, protects her fiercely and passes down the touch that bewitches people and animals alike. But when John Odom tries to tame Myra, it sparks a shocking disaster, ripping lives apart.
"A fascinating look at a rural world full of love and life, and dreams and disappointment." --The Boston Globe

"If Wuthering Heights had been set in southern Appalachia, it might have taken place on Bloodroot Mountain.... Brooding, dark and beautifully imagined." --The Atlanta Journal-Constitution
About the Author
Amy Greene was born and raised in the foothills of East Tennessee s Smoky Mountains, where she lives with her husband and two children. Amy Greene is available for select speaking engagements. To inquire about a possible appearance, please contact Penguin Random House Speakers Bureau at speakers@penguinrandomhouse.com or visit www.prhspeakers.com"
Praise For Bloodroot…
 "Some novels are so powerful, so magical in their sweep and voice, that they leave you feeling drugged. . . . Bloodroot, set in the bone-poor hollows of the eastern Tennessee mountains, is such a book." —Entertainment Weekly 

 "Masterful. . . . A fascinating and authentic look at a rural world full of love and life, dreams and disappointment." —The Boston Globe

"If Wuthering Heights had been set in southern Appalachia, it might have taken place on Bloodroot Mountain…. Brooding, dark and beautifully imagined." —The Atlanta Journal-Constitution
 
"That rare sort of family story that feels intimate instead of epic. . . . Alluring and wonderful." —Louisville Courier-Journal 
 
"Greene's prose will cast a spell on you." —Glamour

"Amy Greene's Bloodroot can stand proudly beside Alice Walker's The Color Purple and Jeannette Walls's The Glass Castle, two works which likewise examine the isometric push of the human spirit against the immovable forces of tyranny and poverty. Greene's novel has everything I savor in fiction: flawed but sympathetic characters, a narrative as unpredictable as it is engaging, and a setting rendered with such a vivid palette of local color detail that you'd swear you were there." —Wally Lamb, author of The Hour I First Believed
 
"Reminiscent of McCarthy's early Appalachian fiction. . . . Hard to put down. . . . What consistently remains is Greene's spot-on account of a land and its people—with its old-fashioned Scots-Irish dialect and its close-knit communities, its homespun Christianity and its folk remedies." —Milwaukee Journal Sentinel
 
"Bloodroot takes place in Appalachia and, yes, Greene lovingly describes its mountains and hollows, its waters filled with bluegills. . . . But this story is really about the fraught, sometimes dangerous, bonds between children and their mothers." —The New York Times Book Review
 
"Haunting . . . Woven into [Bloodroot] is mountain magic, family history, rural poverty and each generation's effort to make things better for their children." —Knoxville News-Sentinel
 
"Stirring . . . The wild beauty of Appalachia is . . . entrancing. . . . The novel's charm comes from its hints of magical realism. Women with 'gifts'—to heal, make love potions and put curses on their enemies." —USA Today
 
"Bloodroot spins a web of tragic history, mountain lore, and forbidden love amid the beauty of east Tennessee's hill country. . . . Will steal your heart." —The Madison County Herald (Mississippi)
 
"One of those warm, wise novels that turns into a word-of-mouth sensation. . . . [Bloodroot's] weird swirl of Southern Gothic and bleak domestic drama keeps the pages turning. . . . Greene has a vivid sense of her mountain and its surrounding communities and that sense of a natural wonderland slowly coming unhinged gives the book [its] soul." —The Onion's A.V. Club
 
"Bloodroot is a marvel of a first novel, its world deftly conjured, with a mood and magic all its own. I don't know what captivated me more, the vividness of its voices or its evocation of a corner of the American landscape both foreign and familiar—but I was riveted from start to finish." —Arthur Golden, author of Memoirs of a Geisha
 
"Romantic, riveting, and beautiful: Bloodroot demonstrates how the soul of one woman can possess the spirit of many. . . . Reminiscent of Toni Morrison. . . . Filled with passion and poetry, Bloodroot is an exciting beginning for a literary career." —Sacramento News and Review
 
"A magical story, a story of passion, madness, a mystery, and a wild and tempestuous place." —Hudson Valley News
 
"[Bloodroot's] power is awesome, peeling away layers of the human experience like an onion until it reaches a message of redemption. Greene proves herself a newcomer to watch." —The Star-News (Wilmington, NC)
 
"Brilliant . . . A tapestry of voices and lives so rich and intricate that each and every storyline holds the reader spellbound. . . . The voices ring as true and intimate as any I have ever heard. Hats off to Amy Greene, an immensely talented writer." —Jill McCorkle, author of Carolina Moon
 
"Nothing less than an epic—a story of madness and magic that spans four generations, an emotionally tangled tale that requires six disparate voices to tell and offers no easy resolutions to the conflicts of the heart." —Nashville Scene
 
"Greene's debut novel is one that sticks with you, gets under your skin, and wrenches your gut. It enchants with the magic of legend, and chills with the meanness that can fester in people. Greene writes a world both delightfully fanciful and painfully real, a testament to the strength of deep roots and the fragility of old ways in an increasingly paved-over world. . . . Mesmerizing." —Orion magazine
 
"Amy Greene is a born storyteller who depicts the voices and folkways of Appalachia with both eloquence and verisimilitude. A striking debut by a gifted writer." —Ron Rash, author of Serena
 
"Creates indelible, endearing images of the mountains, the small towns, and the townsfolk [of Eastern Tennessee]." —Pittsburgh Tribune-Review
 
"It's spooky what Bloodroot did to me: it caused me to have a vision of Amy Greene typing at supernaturally speedy speed, thousands of beautiful novels just like this one purring out and away from her fingers. And there I am, in a rocker by a sunny window, forevermore reading them. That would be heaven to me." —Carolyn Chute, author of The Beans of Egypt, Maine
 
"Bloodroot is a literary page-turner filled with characters—and a place—so real that they threaten to burst from the seams of the book and take over. . . . Bloodroot is the best Appalachian novel to come out of the region in a long, long while, ushering in a fresh new voice that speaks for a whole generation." —Silas House, author of Clay's Quilt and A Parchment of Leaves