The Walk-In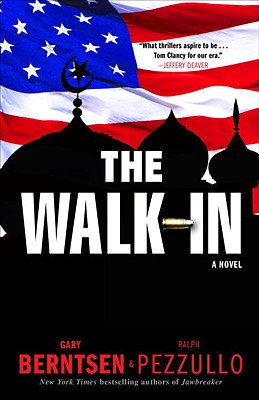 The Walk-In
Three Rivers Press (CA), Paperback, 9780307394828, 276pp.
Publication Date: September 22, 2009
* Individual store prices may vary.
Buy at Local Store
Enter your zip code below to purchase from an indie close to you.
or
Not Currently Available for Direct Purchase
Description
A diabolical plot, a lone operative, and a threat far larger than anyone imagines . . .

Writing with award-winning novelist Ralph Pezzullo, Gary Berntsen–longtime CIA operative and the field commander who cornered Osama bin Laden in Afghanistan–offers in this electric thriller debut a terrifying vision of where the next threat to America may come from.

When a highly placed Iranian intelligence operative walks into a U.S. embassy claiming to possess explosive information, counterterrorism officer Matt Freed is dispatched to interview him . . . and is warned of an impending Iranian attack on the United States that could kill millions.

With a possible catastrophe looming in less than two weeks, Matt's superiors reluctantly prepare for the assault, but Matt obeys his instincts and launches his own unsanctioned investigation. Ultimately, his efforts brand him as an out-of-control renegade, and he finds himself left out in the cold.

Yet he may be the only one with the knowledge needed to avert unimaginable chaos.
About the Author
Gary Berntsen is a retired senior CIA operations officer who has served as a chief of station on three separate occasions. He led the CIA's most important counterterrorist deployments from 1995 through 2005. Since May 2007 he has been serving as an intelligence and counterinsurgency adviser in eastern Afghanistan. Berntsen is the author of the bestseller "Jawbreaker: The Attack on Bin Laden and Al Qaeda" (Crown, 2005). He has done more than seventy-five television appearances as well as numerous appearances on CNN, Fox, MSNBC, and NBC. He lives in Forest Hills, New York.

Ralph Pezzullo is a "New York Times" bestselling author and award-winning playwright, screenwriter, and journalist.
Praise For The Walk-In…
"This novel is what thrillers aspire to be. Authors Berntsen and Pezzullo deliver a story that steams and dances like water on a red-hot skillet. The Walk-In is Tom Clancy for our era."
—Jeffery Deaver, New York Times bestselling author of The Bone Collector, The Sleeping Doll and The Broken Window

"The Walk-In is packed with what so many books lack: authenticity.  This is a thriller full of thrills, and while you're page-turning and nail-biting, be comforted by the fact that what's in it is fiction.  At least, so far..."
—SJ Rozan, Edgar-award winning author of In This Rain

"Gary Berntsen knows scary stuff the rest of us can only guess at, and he shares some of his dangerous expertise in The Walk-In . . . The Walk-In roars across the hotspots of the globe and right to our front door . . . I couldn't put it down."
— Peter Spiegelman, award-winning author of Red Cat


Praise for the nonfiction thriller JAWBREAKER

"Gripping . . . this honest account doesn't do the president any favors."
— Frank Rich, New York Times

"A true and amazing story of how the war [in Afghanistan] was fought."
— Oliver Stone

"A thrilling read . . . Berntsen did his best to try to get bin Laden; many in Washington have yet to do theirs."
—Washington Post

"A real page turner . . . Berntsen is brave and bold and a true American hero."
—Cofer Black, former Chief of the Central Intelligence Agency's Counterterrorism Center

"A compelling first-person, fly-on-the-wall account [and] a story that Berntsen had to fight to tell."
—Washington Monthly