Real Cajun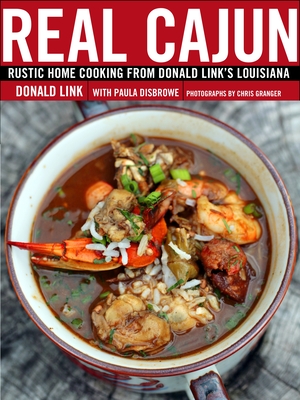 Real Cajun
Rustic Home Cooking from Donald Link's Louisiana
Clarkson Potter Publishers, Hardcover, 9780307395818, 255pp.
Publication Date: April 21, 2009
* Individual store prices may vary.
Buy Now
or
Shop Local
Enter your zip code below to purchase from an indie close to you.
Description
An untamed region teeming with snakes, alligators, and snapping turtles, with sausage and cracklins sold at every gas station, Cajun Country is a world unto itself. The heart of this area the Acadiana region of Louisiana is a tough land that funnels its spirit into the local cuisine. You can t find more delicious, rustic, and satisfying country cooking than the dirty rice, spicy sausage, and fresh crawfish that this area is known for. It takes a homegrown guide to show us around the back roads of this particularly unique region, and in "Real Cajun," James Beard Award winning chef Donald Link shares his own rough-and-tumble stories of living, cooking, and eating in Cajun Country.
Link takes us on an expedition to the swamps and smokehouses and the music festivals, funerals, and holiday celebrations, but, more important, reveals the fish fries, etouffees, and pots of Granny's seafood gumbo that always accompany them. The food now famous at Link's New Orleans based restaurants, Cochon and Herbsaint, has roots in the family dishes and traditions that he shares in this book. You ll find recipes for Seafood Gumbo, Smothered Pork Roast over Rice, Baked Oysters with Herbsaint Hollandaise, Louisiana Crawfish Boudin, quick and easy Flaky Buttermilk Biscuits with Fig-Ginger Preserves, Bourbon-Soaked Bread Pudding with White and Dark Chocolate, and Blueberry Ice Cream made with fresh summer berries. Link throws in a few lagniappes to give you an idea of life in the bayou, such as strategies for a great trip to Jazz Fest, a what-not-to-do instructional on catching turtles, and all you ever (or never) wanted to know about boudin sausage. Colorful personal essays enrich every recipe and introduce his grandfather and friends as they fish, shrimp, hunt, and dance.
From the backyards where crawfish boils reign as the greatest of outdoor events to the white tablecloths of Link's famed restaurants, "Real Cajun" takes you on a rollicking and inspiring tour of this wild part of America and shares the soulful recipes that capture its irrepressible spirit.
About the Author




Paula Disbrowe was the cowgirl chef at Hart & Hind Fitness Ranch in Rio Frio, Texas, from January 2002 to December 2005. Prior to that she spent ten years in Manhattan working as a food and travel writer. Her work has appeared in the New York Times, T Living, Food & Wine, Spa, Health, Cooking Light, and Saveur, among others. She was the food editor of Restaurant Business magazine from 1997 through January of 2000. She lives with her husband and their menagerie of animals at Whistle Berry Ranch in the Nueces Canyon and in Austin, Texas.
Praise For Real Cajun…
"Donald Link's book simply makes me hungry the way I used to be around my grandmother's kitchen down on the Mississippi Gulf Coast. He is more than a chef. He is a southern artist using tradition as a canvas and acquired culinary magic as his box of paints, with which he brings to life masterpieces of southern cuisine that ignite our taste buds as well as reminding us of who we are and where we come from."
—Jimmy Buffett

"Donald Link's childhood in Cajun Country taught him that cooking is all about family, local ingredients, and, most important, taste. There's no blackened redfish here, just delicious recipes (think Crispy Softshell Crab with Chili Glaze or Satsuma Buttermilk Pie) and great memories, informed by his wry sense of humor and passion for food and place. Real Cajun is the real deal and proves, once again, that Link is not only the soul of New Orleans but also one of the most talented chefs in the country."
—Julia Reed

"Donald Link is rediscovering traditional Cajun food in all of its diversity and simplicity. His flavors come from backyard organic vegetables, local fish, and heritage breed pork. The essence of Cochon's cooking is beautifully revealed in this inviting book."
—Alice Waters

"Donald Link's cooking embodies the very best–the heart and soul–of New Orleans cuisine; there's no one in the business with more credibility. Real Cajun captures the straight-up, un-cut, raw, and wonderful rustic classics in all their unvarnished, unprettified glory."
—Anthony Bourdain

"Real Cajun tells Donald Link's captivating story of growing up in southwest Louisiana and shares with us the incredible no-holds-barred type of cooking and eating that Cajuns live for. With great traditions, vivid tales, and passionate cooking from a real Cajun chef, this cookbook will be a treasure for all who turn its pages."
—Frank Stitt

"Real Cajun is honest, gutsy, and proudly provincial. Read this book and you'll want to mainline shrimp and crab gumbo. Cook from this book and you'll rationalize an all boudin diet."
—John T. Edge, general editor of Cornbread Nation