Rapture for the Geeks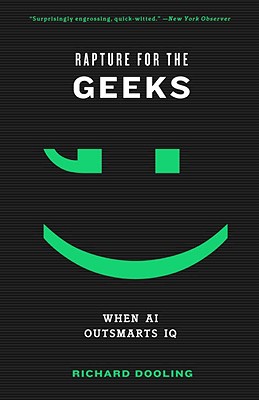 Rapture for the Geeks
When AI Outsmarts IQ
Three Rivers Press (CA), Paperback, 9780307405265, 260pp.
Publication Date: November 24, 2009
* Individual store prices may vary.
Buy at Local Store
Enter your zip code below to purchase from an indie close to you.
or
Not Currently Available for Direct Purchase
Description
"Nimble and entertaining . . . A fascinating historical review of our longtime obsession with machines."
-David Takami, "Seattle Times"
In "Rapture for the Geeks," Richard Dooling looks at what some of the greatest minds have to say about our roles in a future in which technology rapidly leaves us in the dust. Is the era of Singularity, when machines outthink humans, almost upon us? Will we be enslaved by our supercomputer overlords, as many sci-fi writers have wondered? Or will humans live lives of leisure with computers doing all the heavy lifting?
With antic wit, fearless prescience, and common sense, Dooling provocatively examines nothing less than what it means to be human in what he playfully calls the age of B.S. (before Singularity)-and what life will be like when we are no longer alone with Mother Nature at Darwin's card table.
"One doesn't expect a nonfiction book to be fascinating, chilling, thoughtful, and funny in equal measure. This one is."-Kurt Andersen
"Dooling really is onto something here."-Ars Technica.
About the Author
Richard Dooling is a writer and a lawyer. His second novel, White Man's Grave, was a finalist for the National Book Award, and he has also been a finalist for a National Magazine Award. His work has appeared in The New Yorker, the New York Times, and the Wall Street Journal, among many other publications. He lives with his wife and children in Omaha, and commutes online to Bryan Cave, LLP, in St Louis, where he specializes in developing Web-based legal products.
Praise For Rapture for the Geeks…
Praise for Richard Dooling:
Rapture for the Geeks
"Nimble and entertaining . . . A fascinating historical review of our longtime obsession with machines."
—David Takami, Seattle Times

"Surprisingly engrossing, quick-witted."
—New York Observer

"One doesn't expect a nonfiction book to be fascinating, chilling, thoughtful, and funny in equal measure. This one is. My question: When computers become smarter than humans, and especially if they take over, will they regard Rick Dooling as dangerous, prescient, sympathetic . . . or irrelevant?"
—Kurt Andersen

"Dooling really is onto something here."–Ars Technica


Bet Your Life
"Manages to invoke Double Indemnity, the Old Testament, and Fountains of Wayne with equal vehemence and thriller wit. . . . If you're not hooked, you're one dead mackerel."
—Entertainment Weekly

"Fascinating . . . A socially relevant satire [that's] midway between John Grisham and Carl Hiaasen."
—The New Yorker

Brainstorm
"Brainstorm is simply brilliant—hilarious, thought-provoking, and masterfully crafted. The characters are fantastic and irresistible but completely believable, and their banter is so witty and natural that a reader can forget they are debating ideas at the cutting edge of brain science and philosophy."
—Steven Pinker, author of How the Mind Works

"Exuberant . . . deeply pleasurable . . . Here is a whodunit that achieves a comic fugue-state mastery of the language of our sexually charged, violent, technocratic society."
—Colin Harrison, New York Times Book Review

Blue Streak: Swearing, Free Speech and Sexual Harassment
"A charmingly impudent essay on language and sexual politics . . . an extremely clever and creative sort of literary acting out."
—Richard Bernstein, New York Times

White Man's Grave
"A bravura display of satire . . . Dooling evokes the humane checks and balances of a deep world: the logic, you might say, of its magic."
—Richard Eder, Los Angeles Times Book Review