The Red Garden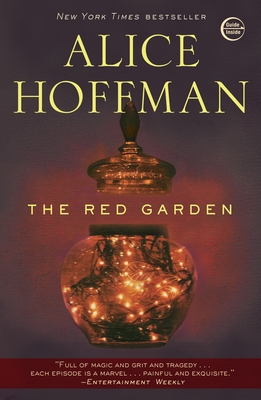 The Red Garden
Broadway Books, Paperback, 9780307405975, 287pp.
Publication Date: August 2, 2011
* Individual store prices may vary.
Buy Now
or
Shop Local
Enter your zip code below to purchase from an indie close to you.
Description
The Red Garden introduces us to the luminous and haunting world of Blackwell, Massachusetts, capturing the unexpected turns in its history and in our own lives.
     In exquisite prose, Hoffman offers a transforming glimpse of small-town America, presenting us with some three hundred years of passion, dark secrets, loyalty, and redemption in a web of tales where characters' lives are intertwined by fate and by their own actions.
     From the town's founder, a brave young woman from England who has no fear of blizzards or bears, to the young man who runs away to New York City with only his dog for company, the characters in The Red Garden are extraordinary and vivid: a young wounded Civil War soldier who is saved by a passionate neighbor, a woman who meets a fiercely human historical character, a poet who falls in love with a blind man, a mysterious traveler who comes to town in the year when summer never arrives.
     At the center of everyone's life is a mysterious garden where only red plants can grow, and where the truth can be found by those who dare to look.
     Beautifully crafted, shimmering with magic, The Red Garden is as unforgettable as it is moving.
About the Author
Alice Hoffman is the author of more than thirty works of fiction, including "The Marriage of Opposites", "Practical Magic", " The Red Garden", the Oprah s Book Club selection "Here on Earth", "The Museum of Extraordinary Things", and "The Dovekeepers". She lives near Boston.
Praise For The Red Garden…
"An absorbing portrait of a town, told through its unforgettable people….masterful."--People, four stars

"[A] dreamy, fabulist series of connected stories . . . These . . . tales, with their tight, soft focus on America, cast their own spell."--The Washington Post

"Hoffman's writing is so beautiful it's almost painful to read….Hoffman makes the magic she writes about feel so real, as though I could at any moment, find myself in the town of Blackwell and the mysterious garden that bears only red fruit."--Eleanor Brown, author of The Weird Sisters

"The Red Garden is recommended to readers who enjoy, in addition to beautiful prose, magical realism and different narrators over time. . . . Alice Hoffman is an author not to be missed."--Historical Novels Review

"Alice Hoffman, herself a shining star among American novelists, possesses the stunning ability to express the numinous in the most prosaic language. Somehow, without elaborate wordplay, she manages to communicate a yearning interpretation of the life we all live, opening the reader's eyes to the otherworldly riddles that make things appear just a trifle askew—when we notice them, that is. And Alice Hoffman certainly notices them. One secret of her ongoing appeal, year after year, book after book, is her keen perception. And in The Red Garden, Hoffman delivers a body of stories that explores the depths of reality as well as its enduring quirkiness."--Book Page

"In gloriously sensuous, suspenseful, mystical, tragic, and redemptive episodes, Hoffman subtly alters her language, from an almost biblical voice to increasingly nuanced and intricate prose reflecting the burgeoning social and psychological complexities her passionate and searching characters face in an ever-changing world."—Booklist, starred review

"Hoffman has done it again, crafting a poignant, compelling collection of fairy tales suffused with pathos and brightened by flashes of magic. Her fans, as well as those of magical realism in general, will be enchanted."—Library Journal, starred review

"Fans of Hoffman's brand of mystical whimsy will find this paean to New England one of her most satisfying."—Kirkus Review

"The novel moves forward in linked stories, each building on (but not following from) the previous and focusing on a wide range of chracters....The result is a certain ethereal detachment as Hoffman's deft magical realism ties one woman's story to the next even when they themselves are not aware of the connection. The prose is beautiful, the characters drawn sparsely but with great compassion."—Publishers Weekly