The New Terrarium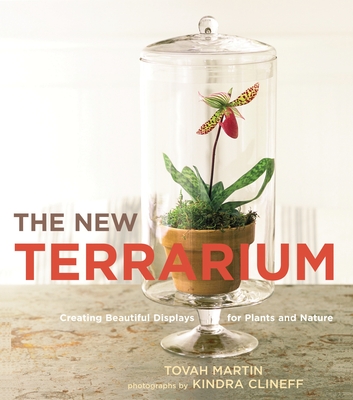 The New Terrarium
Creating Beautiful Displays for Plants and Nature
Clarkson Potter Publishers, Hardcover, 9780307407313, 176pp.
Publication Date: February 24, 2009
* Individual store prices may vary.
Buy at Local Store
Enter your zip code below to purchase from an indie close to you.
or
Buy Here
Description
If you live in the city but want to be close to nature . . .
If you call the countryside home but have no time to step outside . . .
If you are confined to an office fifty hours a week . . .
If your home needs the soothing touch of the natural world . . .
In "The New Terrarium," Tovah Martin, one of America's favorite gardeners, introduces you to the whimsical yet practical world of gardens under glass--a no-fuss way to bring snippets of nature indoors. Wherever you are, in whatever little time you have, terrariums are the perfect tool for nature lovers and gardeners everywhere.
With gorgeous photography, "The New Terrarium" reveals how this classic garden tool has been reimagined in a modern way. When encased in glass, plants thrive with almost no help from outside their little enclosed world, so you can host a plant almost anywhere--in your apartment where the air is dry or in your cubicle where there's little natural light. Tucked inside something crystal and contained, the bounty of the forest or treasures from the beach or the meadow can merge seamlessly into your home or office environment. It's amazing how some frothy fern fronds or colorful blossoms can transform a room by giving it a burst of vibrant green life.
With clear, simple step-by-step instructions and photographs to inspire and guide you along the way, Martin shares her years of experience growing and tending terrariums and shows how terrariums can enrich your life, including:
- different venues for cultivating your terrarium
- plants that flourish in these gardens under glass
- ideas and designs for creating your first terrarium
- how to care for and maintain the environment you've made
Martin has designed a unique range of imaginative terrarium projects, including ones that are suitable for children, enliven the seasons, incorporate plant propagation, and show off a nature collection. Whether you are a gardener or city-dwelling nature lover, "The New Terrarium" is the perfect way to spark your creativity, while helping you to bring your favorite plants into your home and giving them a place to thrive.
When nature is out of arm's reach and you crave a little greenery, "The New Terrarium" can show you how to bring all the benefits of the outdoors close to you.
About the Author
Tovah Martin emerged from twenty-five years working at Logee s Greenhouses with a serious houseplant addiction. Author of the classics "The Unexpected Houseplant", "The New Terrarium", and" Tasha Tudor s Garden", Tovah has written more than a dozen gardening books. She served as garden editor for "Victoria "magazine throughout its lifetime. In addition, her articles appear in a broad range of magazines and periodicals, including "Country Gardens", "Garden Design", "Coastal Home", "Martha Stewart Living", "House Beautiful", "Connecticut "magazine, "Yankee", "The Litchfield County Times", and "The Daily Telegraph". For two years she served as segment producer and frequent guest on the PBS television series "Cultivating Life", and she is a repeat guest on the CBS Sunday "Early Show". Tovah teaches houseplant cultivation to Master Gardeners and lectures extensively throughout the country.An accredited Organic Land Care Professional through NOFA, Tovah gardens fanatically and organically both indoors and throughout her seven-acre Connecticut garden. In addition to bestowing their Sarah Chapman Francis Medal for outstanding literary achievement on Tovah in 2008, The Garden Club of America and the Litchfield Garden Club awarded her honorary memberships. "People, Places, Plants" magazine called her one of the top 10 most influential educators in gardening and the Massachusetts Horticultural Society honored her with its Gold Medal for extraordinary service to horticulture, especially greenhouses and indoor plants.