Power Ambition Glory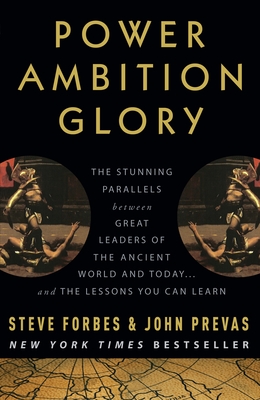 Power Ambition Glory
The Stunning Parallels Between Great Leaders of the Ancient World and Today... and the Lessons You Can Learn
Three Rivers Press (CA), Paperback, 9780307408457, 308pp.
Publication Date: June 1, 2010
* Individual store prices may vary.
Buy Now
or
Shop Local
Enter your zip code below to purchase from an indie close to you.
Description
Based on an extraordinary collaboration between Steve Forbes, chairman, CEO, and editor in chief of Forbes Media, and classics professor John Prevas, "Power Ambition Glory" provides intriguing comparisons between six great leaders of the ancient world and contemporary business leaders.
- Great leaders not only have vision but know how to build structures to effect it. Cyrus the Great did so in creating an empire based on tolerance and inclusion, an approach highly unusual for his or any age. Jack Welch and John Chambers built their business empires using a similar approach, and like Cyrus, they remain the exceptions rather than the rule.
- Great leaders know how to build consensus and motivate by doing what is right rather than what is in their self-interest. Xenophon put personal gain aside to lead his fellow Greeks out of a perilous situation in Persia-something very similar to what Lou Gerstner and Anne Mulcahy did in rescuing IBM and Xerox.
- Character matters in leadership. Alexander the Great had exceptional leadership skills that enabled him to conquer the eastern half of the ancient world, but he was ultimately destroyed by his inability to manage his phenomenal success. The corporate world is full of similar examples, such as the now incarcerated Dennis Kozlowski, who, flush with success at the head of his empire, was driven down the highway of self-destruction by an out-of-control ego.
- A great leader is one who challenges the conventional wisdom of the day and is able to think out of the box to pull off amazing feats. Hannibal did something no one in the ancient world thought possible; he crossed the Alps in winter to challenge Rome for control of the ancient world. That same innovative way of thinking enabled Serge Brin and Larry Page of Google to challenge and best two formidable competitors, Microsoft and Yahoo
- A leader must have ambition to succeed, and Julius Caesar had plenty of it. He set Rome on the path to empire, but his success made him believe he was a living god and blinded him to the dangers that eventually did him in. The parallels with corporate leaders and Wall Street master-of-the-universe types are numerous, but none more salient than Hank Greenberg, who built the AIG insurance empire only to be struck down at the height of his success by the corporate daggers of his directors.
- And finally, leadership is about keeping a sane and modest perspective in the face of success and remaining focused on the fundamentals-the nuts and bolts of making an organization work day in and day out. Augustus saved Rome from dissolution after the assassination of Julius Caesar and ruled it for more than forty years, bringing the empire to the height of its power. What made him successful were personal humility, attention to the mundane details of building and maintaining an infrastructure, and the understanding of limits. Augustus set Rome on a course of prosperity and stability that lasted for centuries, just as Alfred Sloan, using many of the same approaches, built GM into the leviathan that until recently dominated the automotive business.
"From the Hardcover edition.
About the Author
Steve Forbes is Chairman and Editor-in-Chief of Forbes Media.
The company encompasses ForbesLife, Forbes Europe, Forbes Asia and Forbes licensee editions published in over 37 countries. The company also publishes a number of investment newsletters.
Forbes.com reaches nearly 70 million users each month.
The company s flagship publication, Forbes, is the nation s leading business magazine, with a circulation of more than 900,000.
A widely respected economic prognosticator, Mr. Forbes is the only writer to have won the highly prestigious Crystal Owl Award four times. The prize was formerly given by U.S. Steel Corporation to the financial journalist whose economic forecasts for the coming year proved most accurate.
In both 1996 and 2000, Mr. Forbes campaigned vigorously for the Republican nomination for the presidency. Key to his platform were a flat tax, medical savings accounts, a new Social Security system for working Americans, parental choice of schools for their children, term limits and a strong national defense. Mr. Forbes continues to energetically promote this agenda.
Mr. Forbes book, Money: How the Destruction of the Dollar Threatens the Global Economy and What We Can Do About It, co-authored by Elizabeth Ames (McGraw-Hill Professional), was published in June 2014 and received the coveted Leonard E. Read Book Award.
His other books include Freedom Manifesto: Why Free Markets are Moral and Big Government Isn t, co-authored by Elizabeth Ames (Crown Business, August 2012); How Capitalism Will Save Us: Why Free People and Free Markets Are the Best Answer in Today s Economy, co-authored by Elizabeth Ames (Crown Business, November 2009); and Power Ambition Glory: The Stunning Parallels between Great Leaders of the Ancient World and Today and the Lessons You Can Learn, co-authored by John Prevas (Crown Business, June 2009). He also wrote: Flat Tax Revolution: Using a Postcard to Abolish the IRS (Regnery, 2005); and A New Birth of Freedom (Regnery, 1999), a book of bold ideas for the new millennium.
In 1985, President Reagan names Mr. Forbes Chairman of the bi-partisan Board for International Broadcasting (BIB). In this position, he oversaw the operations of Radio Free Europe and Radio Liberty. Broadcasting behind the Iron Curtain, Radio Free Europe and Radio Liberty were praised by Poland s Lech Walesa as being critical to the struggle against communism. Mr. Forbes was reappointed to his post by President George H. W. Bush and served until 1993.
Steve Forbes was born on July 18, 1947, in Morristown, New Jersey. He received a B.A. in history from Princeton in 1970.
Elizabeth Ameshas co-authored three previous books with Steve Forbes: Money: How The Destruction of the Dollar Threatens The Global Economy And What We Can Do About It; Freedom Manifesto: Why Free Markets Are Moral and Big Government Isn t; andthe Wall Street Journal bestseller, How Capitalism Will Save Us: Why Free People and Free Markets Are The Best Answer In Today s Economy.
Prevas is formerly a senior lecturer in Latin and Greek, is also an avid Alpinist.
Praise For Power Ambition Glory…
"Power Ambition Glory serves as a remarkable historical guide. It's both a reference guide to the rise and fall of empires, as well as a fresh look at modern business leaders and how they fit the framework of history."
—From the foreword by Mayor Rudy Giuliani

"An appealing read that draws a remarkable correlation between great leaders of the ancient world and highly profiled leaders of our time. It is both interesting and instructive to learn of these striking parallels and to realize that extolled leadership at any time often includes similar vision, like deployment and unconventional strategies. It is also interesting to find that notable personal failings of recent times have roots in yesterday. Those who are interested in leadership can profit greatly from reading this novel piece."
—Larry Bossidy, coauthor of Execution and former CEO of Honeywell

"Power Ambition Glory crystalizes the commonalities of highs and lows of modern and ancient leaders. The book is, in fact, an inspiration in showing how simple tenets such as focusing, setting an example, and embracing diversity lead to true greatness. It is a book that speaks to today's void. What we lack today, Steve Forbes and John Prevas remind us can be regained again by learning from the lessons of the classic ancient leaders and even some modern CEOs that lived by their examples."
—Meredith Whitney, CEO and founder of Meredith Whitney Advisory Group

"Steve Forbes knows the importance of history, and this book brings that to our attention in a fascinating and pertinent way. Power Ambition Glory is a wonderful read from beginning to end, and people in all fields will learn and be inspired by it. Steve is one guy everyone should listen to!"
—Donald J. Trump

"Steve Forbes and John Prevas have brilliantly woven together the ancient world and permanent principles of effectiveness to provide guidance for today's would-be leaders."
—Newt Gingrich