The Confidential Life of Eugenia Cooper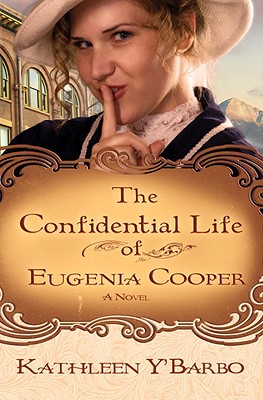 The Confidential Life of Eugenia Cooper
Waterbrook Press, Paperback, 9780307444745, 344pp.
Publication Date: June 2, 2009
* Individual store prices may vary.
Buy at Local Store
Enter your zip code below to purchase from an indie close to you.
or
Not Currently Available for Direct Purchase
Description
This Wild West adventure just might be the life she was meant to live.
The future is clearly mapped out for New York socialite Eugenia Gennie Cooper, but she secretly longs to slip into the boots of her favorite dime-novel heroine and experience just one adventure before settling down. When the opportunity arises, Gennie jumps at the chance to experience the Wild West, but her plans go awry when she is drawn into the lives of silver baron Daniel Beck and his daughter and finds herself caring for them more than is prudent especially as she's supposed to go back to New York and marry another man.
As Gennie adapts to the rough-and-tumble world of 1880s Colorado, she must decide whether her future lies with the enigmatic Daniel Beck or back home with the life planned for her since birth. The question is whether Daniel's past and disgruntled miners bent on revenge will take that choice away from her.
"The Confidential Life of Eugenia Cooper" is a fast-paced story full of fun, action, drama, and love.
Mary Connealy, author of Calico Canyon, Petticoat Ranch, and Gingham Mountain
If you loved Cathy Marie Hake, give yourself a treat with "The Confidential Life of Eugenia Cooper."
Lauraine Snelling, author of the Red River Series and One Perfect Day.
About the Author
Bestselling author Kathleen Y Barbo is a Romantic Times Book of the Year winner as well as a multiple Carol Award and RITA nominee of more than sixty novels with almost two million copies in print in the US and abroad. A tenth-generation Texan, she has been nominated for a Career Achievement Award as well a Reader s Choice Award and Book of the Year by Romantic Times magazine.Kathleen is a paralegal, a proud military wife, and an expatriate Texan cheering on her beloved Texas Aggies from north of the Red River. Connect with her through social media atwww.kathleenybarbo.com.
Praise For The Confidential Life of Eugenia Cooper…
"Kathleen Y'Barbo's The Confidential Life of Eugenia Cooper is a fast-paced story full of fun, action, drama, and love."
– Mary Connealy, author of Calico Canyon, Petticoat Ranch, and Gingham Mountain

"A fun read. Delightful, engaging, charming, and yes, funny. Humor in the characters, especially Miss Eugenia Cooper, humor in the events, as she dreams of and heads on an adventure in the west. I thoroughly enjoyed this romp of a read. If you loved Kathy Marie Hake, give yourself a treat with The Confidential Life of Eugenia Cooper."
–Lauraine Snelling, author of the Red River Series, Daughters of Blessing series, and One Perfect Day

"Take one spirited young woman seeking adventure–with a dime novel heroine as her role model–and add a lonely man determined not to lose his heart again. Stir in the excitement of an Old West setting, and you have a recipe for success. The Confidential Life of Eugenia Cooper is an absolute delight! Kathleen Y'Barbo's writing sparkles like the clear, blue Colorado skies."
–Carol Cox, author of A Bride So Fair and A Test of Faith

"Eugenia Flora Cooper has her Mae Winslow, but Kathleen Y'Barbo is my Woman of the West. In The Confidential Life of Eugenia Cooper, Kathleen takes you by the hand on the first page and draws you into a chase every bit as merry as any Mae Winslow adventure story. Before you realize it's happening, you find yourself in places you're reluctant to leave, among characters so genuine they only lack flesh to be real."
–Marcia Gruver, author of the Texas Fortunes series

"The gap between fiction and reality turn out to be much smaller than Eugenia Cooper realizes when she makes a last minute, ill-planned decision to hop a train to Denver in 1880. With excitement, romance, and humor, Kathleen Y'Barbo spins a tale that captures your mind. The author's enthusiasm for writing spills out of every scene, creating, as it should, enthusiastic readers."
–Stephen Bly, award-winning western author of over 100 books, including One Step Over the Border, Paperback Writer, and Wish I'd Known You Tears Ago