The Inconvenient Marriage of Charlotte Beck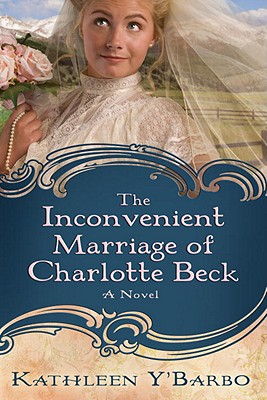 The Inconvenient Marriage of Charlotte Beck
Waterbrook Press, Paperback, 9780307444820, 340pp.
Publication Date: June 21, 2011
* Individual store prices may vary.
Buy Now
or
Shop Local
Enter your zip code below to purchase from an indie close to you.
Description
Unlikely romance is sometimes just an inconvenient marriage away
Charlotte Beck may be entering adulthood, but she can t seem to keep to her stubborn, independent spirit from bucking social protocol. Fed up with her behavior, Charlotte's father Daniel pressures her to settle into a nice marriage despite knowing she is set on going to college. Then Daniel sees Charlotte with the handsome but annoying English astronomer Alex Hambly, and everything changes.
Though Alex and Charlotte can barely stand one another, Daniel offers them a deal they can t refuse: if they agree to marry, he will save Alex's family from financial ruin and grant Charlotte the freedom to go to college. Reluctantly the couple agrees, but in private they plot to annul the marriage as soon as possible.
But when Alex's feelings change and he refuses to dissolve their contract, will Charlotte find a way out of her vows? Or will she discover that maybe this marriage isn t so inconvenient after all?
About the Author
Bestselling author Kathleen Y Barbo is a Romantic Times Book of the Year winner as well as a multiple Carol Award and RITA nominee of more than sixty novels with almost two million copies in print in the US and abroad. A tenth-generation Texan, she has been nominated for a Career Achievement Award as well a Reader s Choice Award and Book of the Year by Romantic Times magazine.Kathleen is a paralegal, a proud military wife, and an expatriate Texan cheering on her beloved Texas Aggies from north of the Red River. Connect with her through social media atwww.kathleenybarbo.com.
Praise For The Inconvenient Marriage of Charlotte Beck…
Praise for Kathleen Y'Barbo

"Y'Barbo gives us a solid story with characters who lead the way to laughter and danger."
—LINDA MAE BALDWIN, RT Book Reviews

"Kathleen Y'Barbo has written a high-spirited novel about the kind of woman we'd all like to be: spunky, creative, witty—and a good shot."
—DIANN MILLS, author of A Woman Called Sage and Sworn to Protect, commenting on Anna Finch and the Hired Gun

"I love Kathleen Y'Barbo's deft hand at combining romance, comedy, and suspense. Her books are pure fun to read."
—MARY CONNEALY, author of Doctor in Petticoats

"A fun read. Delightful, engaging, charming, and yes, funny. Humor in the characters, and humor in the events, as she dreams of and heads on an adventure in the west. I thoroughly enjoyed this romp of a read."
—LAURAINE SNELLING, author of the Red River series, Daughters of Blessing series, and One Perfect Day, commenting on The Confidential Life of Eugenia Cooper

"With excitement, romance, and humor, Kathleen Y'Barbo spins a tale that captures your mind. The author's enthusiasm for writing spills out of every scene, creating, as it should, enthusiastic readers."
—STEPHEN BLY, award-winning western author of more than one hundred books, including One Step Over the Border, commenting on The Confidential Life of Eugenia Cooper