The Never Say Diet Personal Fitness Trainer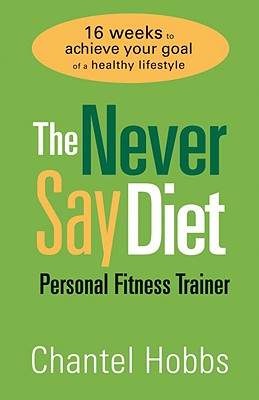 The Never Say Diet Personal Fitness Trainer
Sixteen Weeks to Achieve Your Goal of a Healthy Lifestyle
Waterbrook Press, Paperback, 9780307446428, 167pp.
Publication Date: December 16, 2008
* Individual store prices may vary.
Buy Now
or
Shop Local
Enter your zip code below to purchase from an indie close to you.
Description
If you want to lose weight for good, learn a secret from Chantel Hobbs: to change your life you first have to change the way you think.
After years of failed diets, Chantel discovered the power of the "brain change." She made five nonnegotiable decisions, developed a balanced plan for exercise and nutrition, and lost 200 pounds. Now, through writing, speaking, and her work as a personal trainer, she inspires others to achieve far more than they thought possible.
With "Never Say Diet," you can:
-Ditch your self-defeating habits and start dreaming big again
-Develop a driving passion for personal fitness
-Look at food as fuel and not as your best friend
-Learn how God wants to help you win
Put an end to the diet drama. Whether you want to lose fifteen pounds, fifty, or one hundred fifty, Chantel will show you how to make your commitments stick-producing results that last
It's not easy, but it really is as simple as it sounds. First you lose your excuses, then you lose weight for good. You'll never say "diet" again.
About the Author
Chantel Hobbs was twenty-nine years old and weighed three hundred forty-nine pounds when she reached a point of desperation. Her decision to change her life led to the development of a nutrition, exercise, and motivation program that resulted in the loss of two hundred pounds. Her inspiring story has been featured on "Oprah, Good Morning America, Inside Edition, Entertainment Tonight, "the Bravo Network, and as a cover story in "People,"
Chantel ran her first marathon in 2005 and has run several more since. She is a certified spinning instructor, a personal trainer, and a running coach. A frequent motivational speaker, Chantel's no-nonsense approach to weight loss and fitness has won her a grateful following nationwide, and she keeps her fans committed to healthy living through her newsletters and Web advice. Chantel lives in Coral Springs, Florida, with her husband and their four children.
"From the Hardcover edition."
Praise For The Never Say Diet Personal Fitness Trainer…
"More than ninety percent of my patients gain back most of the weight they lose. Why so little success? The simple answer is that the average person can't stay on a diet permanently. But this program is different. It is not a diet, but a complete lifestyle, thought-process, and physiological transformation. The change comes from within, helping to make you a better person…not just a thinner person."
–Barry S. Ross, MD, Tamarac, Florida

"Never Say Diet provides a systematic approach to living a healthier, more balanced life. The food list that Chantel Hobbs presents is nutritious and, most important, enjoyable. Never Say Diet proves that fad diets don't work and cannot substitute for creating a lifestyle that leads to attaining your goals."
–Lon Ben-Asher, MS, LD/N, registered dietician, North Shore Medical Center, Miami, Florida

"The importance of Chantel's story can't be calculated in terms of burned calories or lost pounds, and it's not her dramatic weight loss that makes her such a special person. It's her willingness to credit God's ability to totally transform lives. She reminds us that lasting change has to happen on the inside before it can happen on the outside, and that this change is within reach of anyone who's willing to seize it."
–Bob Coy, pastor of Calvary Chapel, Ft. Lauderdale, Florida

"You might be able to lose a few pounds with a crash diet, but it's temporary. That's why diets don't work for people who need to lose a lot of weight. Instead of going on a diet, you need to make a lifestyle change. In fact, you must undergo a 'brain change.' Never Say Diet delivers just that."
–Joseph Tedesco, DPT, ATC, CSCS, physical therapist, Elite Physical Therapy, Charlotte, North Carolina