Mother on Fire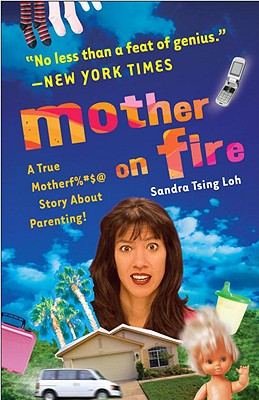 Mother on Fire
A True Motherf%#$@ Story about Parenting!
Three Rivers Press (CA), Paperback, 9780307450418, 298pp.
Publication Date: August 4, 2009
* Individual store prices may vary.
Buy at Local Store
Enter your zip code below to purchase from an indie close to you.
or
Buy Here
Description
"This is a story about the year I exploded into flames...which turns out to be more common than you'd think among forty-something humans. Yeah, we can hold it together in our thirties, with a raft of hair products and semi-tall nonfat half-caf beverages....Come the forties, though, cracks begin to appear....Gourmet coffee splats; the wig slips askew. In other words, my friends, THE WHEELS COME OFF."
Sandra Tsing Loh is the fiercest, funniest, and most incredibly honest voice to emerge from the "mommy war" debates. Here she fires away with her trademark satire of societal and personal irks, prompted by her own midlife crisis, when she realizes she can't afford private school for her daughter-and her only alternative is her neighborhood's beyond-repair public school.
"Mother on Fire" documents Loh's "year of living dangerously" among pompous school admissions officials, Prius-driving parents, vindictive bosses, and old friends with new money as she first kisses ass-and then kicks it.
About the Author
Writer/performer Sandra Tsing Loh is a contributing editor to The Atlantic, host of the syndicated radio show The Loh Down on Science, and the author of five previous books. She lives in Pasadena, California.
Praise For Mother on Fire…
"[Loh has transformed] herself into the foaming mouthpiece of dissent and outrage over the state of public education....Her language is imaginatively twisted and fearless."
—Los Angeles Times

"A droll rant...[Loh]'s not afraid to touch on issues of class and race in a way that's both humorous and trenchant....Mother on Fire offers much to entertain the many mothers among us."
—Washington Post

"Loh's ability to write a book about a year in the life of a mom...all the while eliciting at least one snort of laughter per page, is no less than a feat of genius."
—New York Times (Editor's Choice)