Skyjack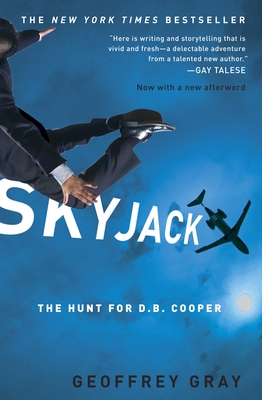 Skyjack
The Hunt for D.B. Cooper
Broadway Books, Paperback, 9780307451309, 308pp.
Publication Date: September 4, 2012
* Individual store prices may vary.
Buy at Local Store
Enter your zip code below to purchase from an indie close to you.
or
Buy Here
Description
I have a bomb here and I would like you to sit by me.
That was the note handed to a stewardess by a mild-mannered passenger on a Northwest Orient flight in 1971. It was alsothe start of one of the most astonishing whodunits in the history of American true crime: how one man extorted $200,000 from an airline, then parachuted into the wilds of the Pacific Northwest, never to be seen again. The case of D.B. Cooper is a modern legend that has obsessed and cursed his pursuers for generations with everything from bankruptcy to suicidal despair. Now with Skyjack, author Geoffrey Gray obtians a first-ever look at the FBI's confidential Cooper file, uncovering new leads in the infamous case.
Starting with a crack tip from a private investigator, Gray plunges into the murky depths of the decades-old mystery to chase down new clues and explore the secret lives of the cases's most promising suspects. With explosive new information, Skyjack reopens one of the great cold cases of the twentieth century.
About the Author
GEOFFREY GRAY writes about crime, politics, sports, travel and food. He is a contributing editor at New York Magazine, covered boxing for The New York Times and for programs like This American Life, writes for other newspapers and magazines, and once drove an ice-cream truck. SKYJACK is his first book. From the Hardcover edition.
Praise For Skyjack…
"Out of the wild blue yonder comes this pleasing tale of obsession and mystery. Geoffrey Gray has essentially parachuted into the early 1970s and found a nearly forgotten episode that elucidates a swath of our cultural history. The result is a clean, smart whodunit full of quirky characters, imaginative sleuthing, and thrilling surprises."
—Hampton Sides, author of Hellhound on His Trail

"Here is writing and storytelling that is vivid and fresh—a delectable adventure from a talented new author."
—Gay Talese

"With verve and assurance worthy of his protagonist, Geoffrey Gray pulls readers along on a kaleidoscopic chase through the cult of Cooper. Both a masterful re-creation of the paranoid 1970s, and an exhilarating firsthand account of an erosive obsession, Skyjack takes us down the rabbit hole with Gray—and what a journey it is."
—James  Swanson, author of Manhunt and Bloody Crimes

"Who was D.B. Cooper? In SKYJACK, Geoffrey Gray lures in the reader with this iconic unsolved mystery, and for the next 290 pages explores a story as attention-grabbing as a bag of hot money. D.B. Cooper emerges as the great McGuffin of 1970s America, a prism through which Gray exploits to the fullest with his propulsive writing style, mad commitment to detail, and explores everything from the early years of gender reassignment surgery to the birth of airline security culture to the ghostly legends of the Pacific Northwest's Dark Divide."
—Evan Wright, New York Times bestselling author of Generation Kill

"SKYJACK tells the legendary story of D.B. Cooper in a way that's as inventive and as engaging as the subject itself. Only a writer as talented as Geoffrey Gray could knit together the many strands of this mystery and the extraordinary characters who have dedicated, and in some cases destroyed, their lives in pursuit of the truth. Just as Gray finds himself sucked into the tale, readers will leap into the void alongside him, landing on their feet and smiling at the shared adventure."
—Mitchell Zuckoff, author of Lost in Shangri-La: A True Story of Survival, Adventure, and the Most Incredible Rescue Mission of World War II

"Easily one of the most delightful books I've read in a long, long time. In his obsessive search for answers in the legendary case, Gray becomes a little unhinged himself as well as encountering an array of characters I haven't seen the likes of since Mark Twain sent Huck down the Mississippi. His style fits the case, and Gray can be compared with Tom Wolfe and Evelyn Waugh in his talent for unearthing the eccentrics of the world and the bizarreness of life."
—John Bowers, Associate Professor of Writing, Columbia University, author of The Colony and Love in Tennessee

"…An exciting journey into the byways of popular culture. This is hardly the first book about Cooper, but it may be the first to treat his story for what it has become: an ongoing phenomenon, like the search for Bigfoot, with a remarkable ability to consume the imaginations and lives of generations of searchers."
—Booklist, Starred

"Gray organizes this, his first book, like a Tarantino film, cutting chronology into strips, then reassembling them in a sequence that readers may consider (pick one) eccentric, confusing, artistic, random, maddening, fun, revelatory. It's all of the above."--Cleveland Plain Dealer