The Talk-Funny Girl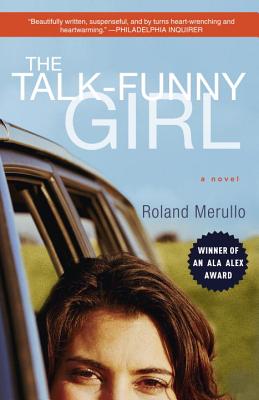 The Talk-Funny Girl
Broadway Books, Paperback, 9780307452931, 304pp.
Publication Date: August 21, 2012
* Individual store prices may vary.
Buy at Local Store
Enter your zip code below to purchase from an indie close to you.
or
Buy Here
Description
In one of the poorest parts of rural New Hampshire, teenage girls have been disappearing, snatched from back country roads, never to be seen alive again. For seventeen-year-old Marjorie Richards, the fear raised by these abductions is the backdrop to what she lives with her own home, every day. Marjorie has been raised by parents so intentionally isolated from normal society that they have developed their own dialect, a kind of mountain hybrid of English that displays both their ignorance of and disdain for the wider world. Marjorie is tormented by her classmates, who call her The Talk-funny girl, but as the nearby factory town sinks deeper into economic ruin and as her parents fall more completely under the influence of a sadistic cult leader, her options for escape dwindle. But then, thanks to a loving aunt, Marjorie is hired by a man, himself a victim of abuse, who is building what he calls a cathedral, right in the center of town.
Day by day, Marjorie's skills as a stoneworker increase, and so too does her intolerance for the bitter rules of her family life. Gradually, through exposure to the world beyond her parents wood cabin thanks to the kindness of her aunt and her boss, and an almost superhuman determination, she discovers what is loveable within herself. This newfound confidence and self-esteem ultimately allows her to break free from the bleak life she has known, to find love, to start a family, and to try to heal her old, deep wounds without passing that pain on to her husband and children.
By turns darkly menacing and bright with love and resilience, "The Talk-Funny Girl" is the story of one young woman's remarkable courage, a kind of road map for the healing of early abuse, and a testament to the power of kindness and love.
About the Author
Roland Merullowas born in Boston and raised in the working-class city of Revere, Massachusetts.He had a scholarship to Exeter Academy and graduated in 1971, went to Boston University for two years, transferred to Brown and graduated from Brown in 1975, then earned a Master's there in 1976.Roland has published seven novels and two books of non-fiction, andhe and his familyhave traveled to Italy eight times in the past twelve years. He currently lives inMassachusetts with hiswife Amanda and their two daughters, Alexandra and Juliana.
Praise For The Talk-Funny Girl…
"In the searing tradition of Bastard out of Carolina and Ellen Foster… Merullo not only displays an inventive use of language in creating the Richards' strange dialect but also delivers a triumphant story of one lonely girl's resilience."--Booklist

"Roland Merullo's book, The Talk-Funny Girl, takes place in the gritty real world, but is rooted in a mythic world.  I loved the inventiveness, the bits of unusual language, the heart-wrenching story, and the remarkable portrait of a troubled but gutsy girl who battles her way toward happiness.  One of the best novels I have ever read. A book for the ages."--Anita Shreve, author of Rescue

"Roland Merullo has created not just a unique voice but a unique language for seventeen-year-old Marjorie Richards, but what makes The Talk-Funny Girl unforgettable is its young heroine's refusal to succumb to the evil that surrounds her. What a brilliant, great-hearted novel this is."--Ron Rash, author of Serena and Burning Bright

"Captivating...[Merullo] is adept at creating suspense, planting credible red herrings, and finally spilling the truth at just the right moment...in a breathless, stunning climax that feels both surprising and inevitable." - Boston Globe