Jack Wakes Up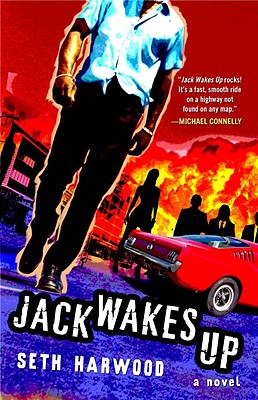 Jack Wakes Up
Three Rivers Press (CA), Paperback, 9780307454355, 295pp.
Publication Date: May 5, 2009
* Individual store prices may vary.
Shop Local
Enter your zip code below to find indies closest to you.
Description
Washed-up movie star Jack Palms is knee-deep in a Bay Area drug war and it'll take the performance of a lifetime to get him through it alive.

In the three years since Jack Palms left Hollywood and kicked his drug habit, he's added fourteen pounds of muscle, read eighty-three books, and played it as straight as anyone could reasonably ask. But the residual checks are drying up, and the ascetic lifestyle's starting to wear thin, so Jack's happy to cash in on his former celebrity by showing some out-of-town high rollers around San Francisco's club scene.

Then people start turning up dead, and Jack realizes he's been playing tour guide to a pack of former KGB agents turned coke dealers. Soon he's got too many gunmen after him to count–including a South American drug cartel, a mountain-sized Samoan enforcer, and a mobbed-up strip-club owner with an army of thugs. That's not to mention the gorgeous bartender who may be planning on shooting him in the back and the homicide cop who's just given Jack twenty-four hours to bring down the Bay Area's biggest drug dealer.

But the thing that scares Jack the most? He's starting to enjoy himself.
About the Author
Seth Harwood, a graduate of the Iowa Writers Workshop at the University of Iowa, was born in Boston and has lived in Cambridge, New York, St. Louis, and Iowa City. He currently lives in San Francisco, where he teaches writing at Stanford and CCSF. Author of three previous works of fiction, Seth has also written for publication in the Cambridge Chronicle & TAB, contributed to the Open Culture blog, and written for the San Francisco Chronicle, where he regularly reviews crime fiction. Marilyn Stasio, reviewing Seth s debut, Jack Wakes Up, for The New York Times, praised its vitality and a spirit of rebellion. George Pelecanos, author and contributor to HBO s The Wire, named Seth s second novel, Young Junius, one of the best books of 2010. When he s not writing or teaching, Seth swims, boxes, and occasionally haunts the basketball courts of San Francisco.
Praise For Jack Wakes Up…
"Jack Wakes Up rocks! It's a fast, smooth ride on a highway not found on any map." —Michael Connelly, #1 New York Times bestselling author of The Brass Verdict

"Exhilarating . . . reads like a long-lost Mickey Spillane tale as directed by Robert Rodriguez."
—Megan Abbott, Edgar Award winning author of Queenpin

"A cold, refreshing slap of glorious mayhem that doesn't allow you to blink until you turn the last page."
—Jason Pinter, bestselling author of The Mark