El Amor Como Forma de Vida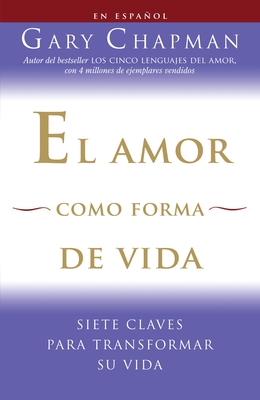 El Amor Como Forma de Vida
Siete Claves Para Transformar su Vida
Vintage Books USA, Paperback, 9780307454577, 283pp.
Publication Date: November 11, 2008
* Individual store prices may vary.
Buy at Local Store
Enter your zip code below to purchase from an indie close to you.
or
Buy Here
Description
En su primera gran obra desde la publicacion de su bestseller, "Los cinco lenguajes del amor," Gary Chapman nos ofrece un poderoso plan para lograr toda una vida de felicidad con ejercicios sencillos pero intensos, y la sabiduria necesaria para descubrir la vida que siempre has buscado. Para mejorar las vidas individuales, nos dice el doctor Chapman, hay que mejorar todas las relaciones que tejemos en nuestras vidas: con los padres y los hijos, con los companeros de trabajo y los conyuges, y en todas las interacciones humanas que constituyen los cimientos de nuestras vidas. Con unas estrategias innovadoras para cultivar nuevas formas de aceptar y responder al don del amor, El amor como forma de vida, te educara en las virtudes esenciales de: - la amabilidad - la paciencia- el perdon - la cortesia - la humildad- la generosidad- la sinceridad Estimulantes consejos e historias memorables de la vida real hacen de este libro una herramienta esencial para compartir con otros, dando lugar a conversaciones decisivas sobre las increibles posibilidades que surgen cuando el amor se convierte en un habito.En El amor como forma de vida el Dr. Chapman nos revela que se pueden mejorar todos los aspectos de nuestra vida si situamos el amor en el centro de todo lo que hacemos. Rico en sabiduria y estimulos, El amor como forma de vida es una valiosa guia que nos ayudara a crear relaciones plenas y satisfactorias y a cosechar las alegrias de vivir una vida inspirada en el amor.
About the Author
GARY CHAPMAN is an ordained minister and marriage counselor. He is the author of the bestselling "The" "Five Love Languages," which has sold more than 4 million copies and was the first in a popular series of love-language books. The host of a national radio program and a popular conference speaker, he lives in Winston-Salem, North Carolina.
As a youth, Jeroni Alsina was educated at a liberal French school outside the jurisdiction of Spanish dictator Francisco Franco's propaganda. He went on to become a physician, practicing and researching briefly in Paris in 1964 and 1965, and London in 1972, before serving as the head of a nephrology department for thirty years.
After he retired from medicine, a friend invited Alsina to join a writer's group. That experience led him to write his first novel, "Shadows of Fire", a philosophic and historic work of fiction, which he completed in three years.
Married, Alsina is proud to be the father of his daughter, a biology professor, and his son, an economist.