I Love a Broad Margin to My Life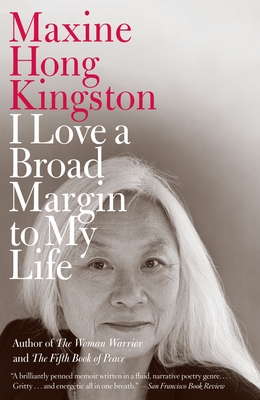 I Love a Broad Margin to My Life
Vintage Books, Paperback, 9780307454591, 229pp.
Publication Date: February 14, 2012
* Individual store prices may vary.
Buy at Local Store
Enter your zip code below to purchase from an indie close to you.
or
Not Currently Available for Direct Purchase
Description
In her singular voice—both humble and brave, touching and humorous—Maxine Hong Kingston gives us a poignant and beautiful memoir-in-verse that captures the wisdom that comes with age. As she reflects on her sixty-five years, she circles from present to past and back, from lunch with a writer friend to the funeral of a Vietnam veteran, from her long marriage to her arrest at a peace march in Washington. On her journeys as writer, peace activist, teacher, and mother, she revisits her most beloved characters—Wittman Ah-Sing, the Tripmaster Monkey, and Fa Mook Lan, the Woman Warrior—and presents us with a beautiful meditation on China then and now. The result is a marvelous account of an American life of great purpose and joy, and the tonic wisdom of a writer we have come to cherish.
About the Author
Maxine Hong Kingston, Senior Lecturer for Creative Writing at the University of California, Berkeley, delivered the 2000 William E. Massey Lectures at Harvard, on which this book is based. For her memoirs and fiction, The Woman Warrior, China Men, Tripmaster Monkey, and Hawaii One Summer, Kingston has earned numerous awards, among them the National Book Award, the National Book Critics Circle Award for Nonfiction, the Pen West Award for Fiction, an American Academy and Institute of Arts and Letters Literature Award, and a National Humanities Medal from the National Endowment for the Humanities, as well as the rare title of "Living Treasure of Hawai'i." In addition, The Fifth Book of Peace will be published in the Spring of 2003.
Praise For I Love a Broad Margin to My Life…
"A brilliantly penned memoir written in a fluid, narrative poetry genre. . . . Gritty…and energetic all in one breath." —San Francisco Book Review

"Rich. . . . Only a few older writers—poets or not—can manage this balance of self-amusement and genuine longing. It's an effect fully equal to the shaded tones of Kingston's best writing."—The New York Times Book Review
 
"[A] graceful meditation. . . . Achieves meaningful insights into the art of living." —Boston Globe
 
"A gentle, meandering memoir, organized as a long poem. . . . Cinematic and sensual." —San Francisco Chronicle

"Delights as an unconventional, intimate and intensely personal life story. . . . Forcing a slower, calmer contemplation of Hong Kingston's words. . . . Moving. . . . Whether she's recalling the birth of her son or the time she was arrested for protesting the Iraq war, Kingston's memories are pungent and vivid." —Post and Courier
 
"She leads the reader on a tour of her native China, her rich language often matching the lushness of the landscape itself. . . . Effortlessly transitions from personal experience to the worlds of her characters. . . . As much an examination of the nature of time and aging as it is an exploration of cultural identity and origin, I Love a Broad Margin to my Life contains both moments of dark alienation and buoyant transcendence." —Time Out New York
 
"Blurring the lines among poetry, fiction, and memoir. . . . A meditation on form and formlessness, on meaning and identity, and how the most essential truths often exist outside the boundaries, in something of an ur-state." —Los Angeles Times
 
"She seems at peace with the necessary sacrifices and negotiations she's made as a writer, wife and mother. Yet she's also acutely aware of her mortality and determined to carve out the free time to which she feels entitled at last. . . . Written in a dreamlike, impressionistic style. . . . Takes on a kind of mythical quality." —The Boston Globe
 
"Engaging. . . . Startling." —Heller McAlpin, NPR
 
"A sprawling, globe-hopping long poem. . . . Kingston is thinking deeply about the act of writing itself. . . . I found myself compelled by Kingston's efforts to capture the disjointed landscape wrought by globalization. . . . Touching. . . . Offers its readers a memorable set of images, narratives, and questions that continue to push against the foundations of memoir, just as her earlier work, The Woman Warrior, did four decades earlier." —Hyphen Magazine
 
"A brilliantly penned memoir. . . . She shares cultural experiences with a primal pentameter that may equal or surpass anything her readers have ever experienced." —San Francisco Book Review