Swimming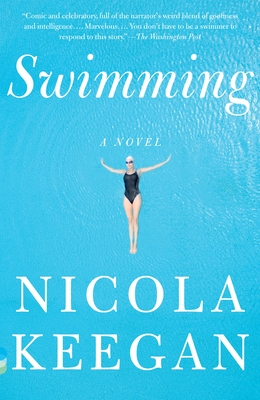 Swimming
Vintage Books USA, Paperback, 9780307454614, 305pp.
Publication Date: July 13, 2010
* Individual store prices may vary.
Buy Now
or
Shop Local
Enter your zip code below to purchase from an indie close to you.
Description
Born in a landlocked town in the center of Kansas, Pip is tall, flat, smart, funny, and supernaturally buoyant. On land, she has her share of troubles: an agoraphobic mother, a lost father, and a school full of nuns who just want her to sit still. But in the water, Pip is unstoppable. Swimming her way from a small Midwestern team to the Barcelona Olympics, Pip's journey is the story of a young girl with an unsinkable spirit, struggling to stay afloat in the only way she can.
Praise For Swimming…
"Keegan's energy jumps off the page. . . . Swimming is a wonderful coming-of-age story, a richly detailed account of a young woman channeling her rage, grief and insecurity into a passion to win. The voice Keegan has invented for Pip is sarcastic, thoughtful, elegant, irreverent." —The Boston Globe

"Comic and celebratory, full of the narrator's weird blend of goofiness and intelligence. . . . Marvelous. . . . You don't have to be a swimmer to respond to this story." —The Washington Post

"A ravishing first novel. . . .The obstacles Keegan has set in the way of Pip's athletic triumph come by way of a tumultuous, estrogen-rich family . . .  two memorably in-your-face girlfriends and a gaggle of steel-plated nuns. . . . Gorgeous." —The New York Times Book Review
 
"Ambitious and exhilarating. . . . Gloriously, darkly intuitive. . . . A novel as fun and imaginative as Swimming . . . deserves a medal." —Time

"An exhilarating mix of talent and mastery. . . . Pip is a captivating narrator, bawdy, skittish and self-conscious, often emotionally raw. . . . Swimming captures the arc of a great athlete's career, from training to competition to the inevitable endpoint, filtered through the awareness of a sensitive woman whose world has been shattered by grief." —Jane Ciabattari, NPR, "Books We Love"
 
"A fine debut novel about the making of an Olympic champ." —People
 
"Swimming [is] a joy and a testament to Keegan's skills as a writer and storyteller, and will leave readers eager for more of her work as soon as it breaks the surface." —St. Louis Post-Dispatch
 
"Young Pip relays her tale with such insight, you'll feel you're floating beside her." —Good Housekeeping
 
"Keegan's medal-worthy prose lingers on the tip of the tongue like a diver on the edge of the platform. . . . Fresh and spirited." —Daily Candy
 
"Told in her own quirky, questioning and super-critical voice, Pip's story of finding her way back to a life on land is inspiring, a must-read for anyone who has, at one time or another, found life to be a challenge." —Hudson Valley News
 
"Keegan's writing is beautiful, often stream-of-consciousness, and smart. . . . Pip is like the female Holden Caulfield, pointing out the ridiculous aspects of life, but secretly harboring a deep sadness about not being more entrenched in it." —Bookreporter
 
"Nicola Keegan has pulled off a coup with her first novel. Swimming is as entertaining as it is deeply moving, a story of loss that is—against all odds—also a jubilation." —Lauren Groff, author of The Monsters of Templeton
 
"Think: velocity. Think: a girl moving through adolescence at breakneck speed as she sloughs off anguish (her mother's depression) and heartbreak (the deaths of her sister and father) to become a gold-medal winning Olympic swimmer. . . . [A] sleek-as-a-porpoise debut novel." —O, The Oprah Magazine
 
"I loved Swimming. It's the most original novel I've read all year. I can't get Pip's voice out of my mind. Give yourself a treat this summer—read this book." —Judy Blume
 
"Engaging. . . . An accomplished debut, as much about swimming as about what it takes to win—and lose." —Richmond Times-Dispatch
 
"Nicola Keegan's prose is filled with inventive riffs to draw out the poignant turbulences of her heroine, both in the water and out. Reading the book becomes itself like a long, sinuous surge through the pool. . . . A classy fiction about the tenuous relationship of worldly success to the intimate self." —The Independent (London)
 
"Keegan has caught not only the world of competitive swimming, but the problems professional athletes face when their careers end. . . . The prose is graceful and rapid, as if Keegan set out to write sentences as flowing as the medium she writes of." —January magazine
 
"Keegan's shimmering, fluid prose is outwardly playful, yet this is a seriously well-crafted novel." —The Guardian (London)
 
"If Jane Bowles and Gerard Manley Hopkins had a lovechild, she might just possibly write as gloriously as Nicola Keegan. Swimming is a novel for people who love donut holes, or the dead, or dogs, or nuns, or fat people, or world class athletes, or the English language, or pretty much anything. It should be read, re-read, dreamed about, quoted to friends, and enacted as a shimmery odd hilarious mystery play. Swimming is simply magnificent." —Rivka Galchen, author of Atmospheric Disturbances