The Immortals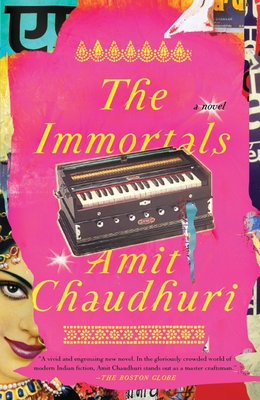 The Immortals
Vintage Books USA, Paperback, 9780307454652, 333pp.
Publication Date: September 21, 2010
* Individual store prices may vary.
Buy at Local Store
Enter your zip code below to purchase from an indie close to you.
or
Not Currently Available for Direct Purchase
Description
In 1980s Bombay, a highly regarded voice teacher and his affluent sixteen-year-old student enter into a relationship that will have unexpected and lasting consequences in their lives, and the lives of their families. With exquisitely sensuous detail, quiet humor, and unsentimental poignancy, Amit Chaudhuri paints a luminous portrait of the spiritual and emotional force behind a revered Indian tradition; of two fundamentally different but intricately intertwined families; and of a society choosing between the old and the new.
About the Author
Amit Chaudhuri is the author of several award-winning novels and is an internationally acclaimed musician and essayist. Freedom Song: Three Novels received the Los Angeles Times Book Prize for Fiction. He is a contributor to the London Review of Books, Granta, and The Times Literary Supplement. He is currently Professor of Contemporary Literature at the University of East Anglia. Visit the author's website: www.amitchaudhuri.com
Praise For The Immortals…
A New Yorker, San Francisco Chronicle, and Boston Globe Best Book of the Year

"Vivid and engrossing. . . . In the gloriously crowded world of modern Indian fiction, Chaudhuri stands out as a master craftsman. With exquisite wit and grace, he can depict a rapidly changing India in a single life and an entire life in a single detail."
—Boston Globe
 
"A masterwork. . . . Chaudhuri's characters evolve in subtle ways, through startling insights and observations. . . . Wholly absorbing. . . . Enchanting. . . . Impressive and rare. . . . Seldom has any contemporary author invested such detail in descriptions of place, behavior, and physicality. Chaudhuri is astonishingly precise."
—San Francisco Chronicle

"Chaudhuri's exquisite, highly-nuanced, often very funny novel . . . somehow took command of my thinking, my vocabulary, my sense of what's important and what should be. This kind of surrender is rare, and is what I always seek in fiction."
—Richard Ford

"Elegant. . . . Discerning. . . . Chaudhuri is a maestro of intimation. The Immortals confirms his reputation."
—The New York Times Book Review

"Chaudhuri lovingly evokes a fractious, contradictory city caught between tradition and modernization."
—The New Yorker

"A writer whose fiction is as beautiful as a classical ballet . . . a command performance. Even in the context of contemporary Indian writing in English, much of which is outstanding, Chaudhuri is the best."
—Irish Times
 
"The lyrical quality of [Chaudhuri's] writing is striking. The terrain of the novel is the battleground of art and materialism. In this it invites honourable comparison with Thomas Mann's Buddenbrooks."
—The Times (London)
 
"Chaudhuri is one of India's most distinctive literary figures. While lesser writers obsess over the heat and dust, he charts the by-ways of the Indian soul. . . . The Immortals is a memorable work—capacious, multi-faceted but intimate, it is Indian to the core but universal in its implications. . . . Superb."
—The Independent (London)
 
"There are two Indian writers who are quite unlike each other, but whose sentences are immediately identifiable. If just a few words of their prose are read out to you, you will confidently call out their names—one is Rushdie, the other is Chaudhuri."
—The National (Abu Dhabi)
 
"Chaudhuri's particular art lies [in] rendering beauty from normality. His characters linger in the mind; and his prose, with its exactness and elegance, its exquisite delineation of memory and emotion, has a strange, mesmerising grace."
—Financial Times
 
"An important novel. . . . There is a filigreed, Jamesian quality to [Chaudhuri's] work, an urbanity and aesthetic style not often associated with Indian fiction."
—The Times Literary Supplement (London)
 
"Amit Chaudhuri captures, as no one else can, the delicate, subtle emotions of people who inhabit an India of the past and the privileged. . . . His powerful evocations of people and places, his startling use of words and images and metaphors, leaves an impression that lingers in the reader's mind for many days, more like poetry than prose. The Immortals is his most beautiful and complex novel."
—Wendy Doniger
 
"I cannot speak here of the many-sided pleasure I have got out of reading the book. It's a truly wonderful novel, and helps me to think about the myriad ways in which classical Indian music makes life so meaningful for me. Nothing happens in the story in a rush or bustle to precipitate action; yet it generates a low-profile chain of events, that for all its apparent lack of theatricality affects the writing as a stillness full of movement and vibrancy."
—Ranajit Guha
 
"Chaudhuri's refined and elegant novels never overwhelm the senses with colors and spices. They never trade on cliché. Rather, they go about their business quietly, illuminating the mundane routines of daily life with the intense light of poetry. . . . His descriptions of Indian classical music are expertly, lovingly rendered."
—The Washington Times
 
"Beguiling and silently moving. . . . [Filled with] deeply-etched but subtly-drawn characters."
—India Abroad
 
"Beautifully composed. . . . Tenderly funny. . . . Chaudhuri exquisitely captures the poignancy of our endless search for meaning, complex response to change, and wonderment and terror in the presence of the immortal truths of love and death."
—Booklist (starred)
 
"In The Immortals the reason for most things happening or not happening is simply time, its shadows lengthening between people. Chaudhuri finds grace and meaning in these shadows… Judicious and delicate"
—London Review of Books
 
"Chaudhuri's prose has a luminous, unforced elegance which is consistently engaging and wholly delightful. . . . Its spheres of enquiry . . . possess universal appeal which resonates beyond the confines of this accomplished and absorbing novel."
—The Spectator
 
"An enchanting novel about the place of traditional music in a modernizing India and what it means to be an artist."
—Newark Star-Ledger