Bruno, Chief of Police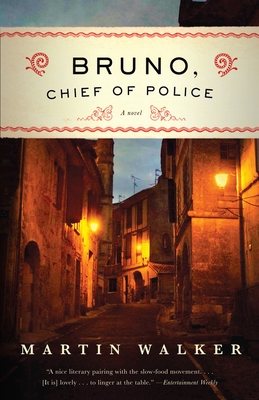 Bruno, Chief of Police
Vintage Books USA, Paperback, 9780307454690, 273pp.
Publication Date: April 6, 2010
* Individual store prices may vary.
Buy at Local Store
Enter your zip code below to purchase from an indie close to you.
or
Buy Here
Description
Meet Benoit Courreges, aka Bruno, a policeman in a small village in the South of France. He's a former soldier who has embraced the pleasures and slow rhythms of country life. He has a gun but never wears it; he has the power to arrest but never uses it. But then the murder of an elderly North African who fought in the French army changes all that. Now Bruno must balance his beloved routines living in his restored shepherd's cottage, shopping at the local market, drinking wine, strolling the countryside with a politically delicate investigation. He's paired with a young policewoman from Paris and the two suspect anti-immigrant militants. As they learn more about the dead man's past, Bruno's suspicions turn toward a more complex motive.
About the Author
MARTIN WALKERis a senior fellow of the Global Business Policy Council, a private think tank based in Washington, D.C. He is also editor in chief emeritus and international affairs columnist at United Press International. His previous novels in the Bruno series areBlack Diamond; Bruno, Chief of Police; The Children Return; The Crowded Grave; The Dark Vineyard; The Devil's Cave; Fatal Pursuit; The Patriarch;andThe Resistance Man, all international best sellers. He lives in Washington, D.C., and the Dordogne."
Praise For Bruno, Chief of Police…
"A nice literary pairing with the slow-food movement . . . [It is] lovely . . . to linger at the table." —Entertainment Weekly

"Enjoyable. . . . Martin Walker plots with the same finesse with which Bruno can whip up a truffle omelette, and both have a clear appreciation for a life tied to the land." —The Christian Science Monitor

"[A] wonderfully crafted novel as satisfying as a French pastry but with none of the guilt or calories." —Tucson Citizen's Journal
 
"Bruno is a delightful character and Walker's handling of long-held grudges is intelligent and sympathetic." —The Guardian (London)

"A roman policier . . . that the celebrated Simenon, creator of Inspector Jules Maigret, would have been proud to claim . . . Readers [will] effortlessly enter French consciousness through [this] perspicacious book." —Baton Rouge Advocate
 
"Highly satisfying." —The Boston Globe
 
"Absolutely amazing." —The Knowledgeable Blogger
 
"Such a pleasure to read that I can't help but suspect that Walker had equal fun writing it." —BookBrowse
 
"Charming and many pages of the book will have readers purring with delight. There is, however, a darker side. . . . The crime which disturbs the idyllic commune of St Denis has its origins in France's troubled past and provokes outbreaks of the politically inspired violence that simmers beneath the placid and agreeable surface presented to tourists." —The Scotsman (UK)
 
"Distinctive well-rounded characters and an intriguing mystery are a winning combination in Martin Walker's Bruno, Chief of Police. . . . Walker's relaxed style and good humour help to bring to life his engaging hero and his delightful home and make one of the most enjoyable books I've read in a long time." —Susanna Yager, Sunday Telegraph (UK)
 
"Martin Walker has not only written an engrossing roman policier, but he has written a book that goes to the very heart of what France–rural, small-town France–is like. It's a thriller, and full of surprises, but it will also appeal to anybody who loves France. Bruno, Chief of Police, is a wonderful creation." —Michael Korda, author of Charmed Lives

"Hugely enjoyable and absolutely gripping. Martin Walker has got off to a flying start in what promises to be a great series. Bruno will be the Maigret of the Dordogne." —Antony Beevor, author of Paris After the Liberation 1944-1949

"A splendid combination of a complex crime with tangled wartime origins that takes place in a lovingly described French village, and a totally original and sympathetic hero. Absolutely first rate. There must be more to come about Bruno!" —William Pfaff, author of Barbarian Sentiments: America in the New Century

"Martin Walker has found in Bruno a man rooted in the terroir of Perigord, who brings that quirky, lovable part of France alive. This novel is as tasty as a slice of Bruno's local foie gras, topped with a glass of his homemade vin de noix." —David Ignatius, author of Body of Lies