Life Would Be Perfect If I Lived in That House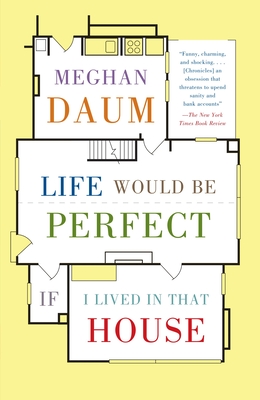 Life Would Be Perfect If I Lived in That House
Vintage Books, Paperback, 9780307454843, 245pp.
Publication Date: June 14, 2011
* Individual store prices may vary.
Buy at Local Store
Enter your zip code below to purchase from an indie close to you.
or
Buy Here
Description
In this laugh-out-loud personal journey, acclaimed author Meghan Daum explores the perils and pleasures of believing that only a house can make you whole. From her teenage apartment fantasies and her mother's decorating manias to her own hidden room dreams and the bungalow she eventually buys on her own, Life Would Be Perfect If I Lived in That House is the true story of one woman's quest for the four perfect walls to call home.
About the Author
Meghan Daum is the author of the essay collection My Misspent Youth and the novel The Quality of Life Report, a New York Times Notable Book. Her column on political, cultural, and social affairs appears weekly in the Los Angeles Times and is distributed nationally through the McClatchy news service. She has contributed to public radio s Morning Edition, Marketplace, and This American Life, and has written for numerous publications, including The New Yorker, Harper s Magazine, GQ, Vogue, Harper s Bazaar, and The New York Times Book Review. She lives in Los Angeles. Visit the author's official website: www.meghandaum.com"
Praise For Life Would Be Perfect If I Lived in That House…
"Funny, charming and shocking. . . . [Chronicles] an obsession that threatens to upend sanity and bank accounts. . . . Daum has a rare gift in her ability to keep readers laughing through her own tears. . . . Her spirit is generous, her writing is buoyant, and her heart is open to all the ways in which a house holds the key to happiness. Perfection has nothing to do with it."
—The New York Times Book Review

"Wonderful. . . . Like having a long, glorious, no-holds-barred conversation with your smartest, funniest friend about all the juicy topics: real estate, class envy, bad dates, family identity, and the discrepancies between the lives we aspire to and the lives we lead. I'm awed by Daum's honesty and talent."
—Curtis Sittenfeld

"A delightful dissection of the real estate obsession that's a hallmark of our age, recession or no."
—O, The Oprah Magazine
 
"Self-deprecatingly funny. . . . Daum uses her lifelong obsession with finding the ideal living space to probe domestic desire, a deeper restlessness than the search for quick profits."
—The Wall Street Journal

"Honest and endearing . . . richly drawn. . . . Daum captures the now-gone moment when real estate became a national obsession, chronicling the shared madness of those who could only take breaks from watching HGTV to discuss closing costs. . . . As she moves from coast to coast and in between, Daum is consistently relatable."
—Los Angeles Times Book Review
 
"Suffused with humor and desire. . . . Alternately whimsical, philosophical and psychologically probing. . . . [An] enchanting, compelling memoir on the impossibility of resisting an irresistible object of desire."
—The Miami Herald
 
"Daum tackles real estate—or, more pointedly, the fixation, anxiety and magical thinking that often accompany it—with wit and a gift for self-parody. . . . Her prose has smarts, style and personality, but never turns pretentious. . . . It's a pleasure to read this author as she revisits comic misadventures and wrangles with a hot-button topic."
—Time Out New York
 
"Vividly described. . . . Daum exposes the modern real-estate-mad female underground, where open houses (visited in rabid two-women teams) are a seasonal blood sport, Zillow is a verb, and where remodeling a collapsing farmhouse into a writer's retreat could instantly, we imagine, transform us into the George Plimpton of the prairie."
—The Atlantic Monthly
 
"Entertaining. . . . Like a romantic comedy in which Daum always seems to rent Mr. Wrong. . . . Don't be surprised if you race through Life Would Be Perfect in a single night."
—Richmond Times-Dispatch
 
"Daum is the essential Generation X-er. . . . She radiates the eternal youthfulness and the fear of commitment that define her cohort. . . . Life Would Be Perfect is the memoir of how the wandering Ms. Daum finally put down some roots. . . . A great book."
—The Philadelphia Inquirer
 
"Timely. . . . Daum [is] a fine writer—candid, reflective, stylish, fun and a bit prickly. Throughout the book, she offers an unflinching portrayal of her anxieties and her aspirations. . . . When she finally realizes that a house is not what will make her whole, you can't help but breathe a sigh of relief."
—Associated Press
 
"In this funny, horrifying (she came this close to buying a place near a roaring interstate because she was smitten with a landing), achingly honest memoir, Daum explores the way we wrap our identities in our surroundings, at one point wondering, 'Did the house look sexy on me?' Home truths, indeed."
—More