Valkyrie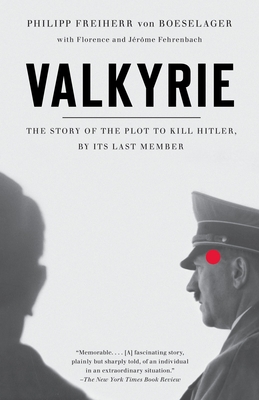 Valkyrie
The Story of the Plot to Kill Hitler, by Its Last Member
Vintage Books USA, Paperback, 9780307454973, 211pp.
Publication Date: June 1, 2010
* Individual store prices may vary.
Buy Now
or
Shop Local
Enter your zip code below to purchase from an indie close to you.
Description
When the Second World War broke out, Philipp Freiherr von Boeselager, then 25-years-old, fought enthusiastically for Germany as a cavalry officer. But after discovering Nazi crimes, von Boeselager's patriotism quickly turned to disgust, and he joined a group of conspirators who plotted to kill Adolf Hitler and Heinrich Himmler. In this elegant but unflinching memoir, von Boeselager gives voice to the spirit of the small but determined band of men who took a stand against the Third Reich in what culminating in the failed "Valkyrie" plot--one of the most fascinating near misses of twentieth-century history.
About the Author


Rendall is Professor of Romance Languages at the University of Oregon.


Praise For Valkyrie…
"Memorable. . . . This book deserves your time because of its fascinating story, plainly but sharply told, of an individual in an extraordinary situation."
—The New York Times Book Review

"Remarkable. . . . An astonishing memoir. . . . Of real significance to Second World War historians."
—Daily Telegraph (London)

"Boeselager's book doesn't tarry in the realm of might-have-been. Instead, it explores reality—the importance of making accessible to future generations the full truth of history."
—The Christian Science Monitor

"An extraordinary memoir. . . . A one-of-a-kind eyewitness account, essential for students of the Third Reich and all champions of freedom against tyranny."
—Booklist

"Celebrates a long-since-vanished generation of scholar-warriors. . . . von Boeselager [was] both intelligent and honourable."
—Daily Mail (London)

"[A] brisk, illuminating description of how one German solider struggled to reconcile his profound religious and moral sensibility with his cavalryman's patriotic code of honour and thereby became part of this conspiracy."
—Daily Express (London)