The Sheriff of Yrnameer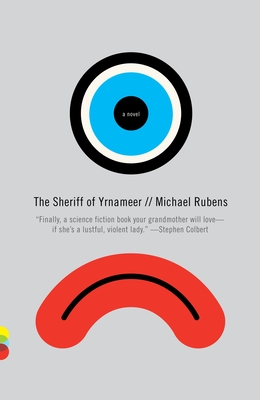 The Sheriff of Yrnameer
Vintage Contemporaries, Paperback, 9780307455147, 269pp.
Publication Date: August 10, 2010
* Individual store prices may vary.
Buy Now
or
Shop Local
Enter your zip code below to purchase from an indie close to you.
Description
In the spirit of Douglas Adams and Terry Pratchett, "The Sheriff of Yrnameer" is sci-fi comedy at its best--mordant, raucously funny, and a thrilling page-turner.
Meet Cole: hapless space rogue and part-time smuggler. His sidekick just stole his girlfriend. The galaxy's most hideous and feared bounty hunter wants to lay eggs in his brain. And the luxury space yacht Cole just hijacked turns out to be filled with interstellar do-gooders, one especially loathsome stowaway, and a cargo of freeze-dried orphans. Cole gathers a misfit crew for a desperate journey to the far reaches of the galaxy: the mysterious world of Yrnameer, the very last of the "your-name-heres"--planets without corporate sponsors. But little does Cole suspect that this legendary utopia is home to a band of outlaws bent on destroying the planet's tiny, peaceful community.
About the Author
Michael Rubens was a producer for several years for the award-winning Daily Show with Jon Stewart, writing and directing field pieces with Stephen Colbert, among others. Michael has also been a host, writer, and producer of several programs on the Travel Channel, and has written and produced for CNN, Oxygen, and other networks. He lives in Brooklyn, New York.
Praise For The Sheriff of Yrnameer…
"Finally, a science fiction book your grandmother will love—If she's a lustful, violent lady." —Stephen Colbert

"A top-tier genre novel. . . . Biting and incisive. . . . Rubens really has his own thing going here." —Seth Grahame-Smith, author of Pride and Prejudice and Zombies

"A silly, fun romp across the universe." —The Wichita Eagle

"A rocket-fast, knee-slapping narrative. . . . Lighthearted [and] adventure-filled. . . . Cole's ludicrous exploits keep the laughs coming." —Publishers Weekly

"[Rubens] pokes gentle fun at a few of SF's basic assumptions while exploring their acceptance as potential for entertainment." —The Seattle Times

"Rubens hits the jackpot with a zanily humorous parody of sf adventure, with tributes to space-opera and Western classics along the way. . . . Recalling the volatile and irreverent humor of Terry Pratchett's Discworld series, this madcap journey through space will appeal to Pratchett's readers and fans of such sf film parodies as Galaxy Quest and Space Balls." —Library Journal