Bad Chili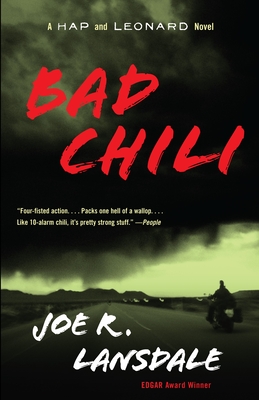 Bad Chili
Vintage Books USA, Paperback, 9780307455505, 292pp.
Publication Date: May 5, 2009
* Individual store prices may vary.
Shop Local
Enter your zip code below to find indies closest to you.
Description
With his trademark knack for gut-busting laughter and head-splitting action, Joe R. Lansdale serves up a bubbling cauldron of murder and mayhem that only he could create.
Hap Collins has just returned home from a gig working on an off shore oil rig. With a new perspective on life, Hap wants to change the way he's living, and shoot the straight and narrow. That is until the man who stole Leonard Pine's boyfriend turns up headless in a ditch and Leonard gets fingered for the murder. Hap vows to clear Leonard's name, but things only get more complicated when Leonard's ex shows up dead. To the police it is just a matter of gay-biker infighting, but to Hap and Leonard murder is always serious business, and these hit a little to close to home.
About the Author
Joe R. Lansdale has written more than a dozen novels in the suspense, horror, and Western genres. He has also edited several anthologies. He has received the British Fantasy Award, the American Mystery Award, seven Bram Stoker Awards, and an Edgar Award. He lives in Nacogdoches, Texas, with his family.
Praise For Bad Chili…
"Four fisted action. . . . packs one hell of a wallop. . . . Like 10 alarm chili, [its] pretty strong stuff."—People"Hilarious. . . . Lansdale is a terrifically gifted storyteller with a sharp country boy wit."—The Washington Post Book World"Colorful.... Lunatic.... Like a twister Lansdale's book has a lot of energy."—Chicago Tribune"One of publishing's best kept secrets."—Dallas Morning News"Funny.... Flashy.... True Art."—The New York Times Book Review