Tough Without a Gun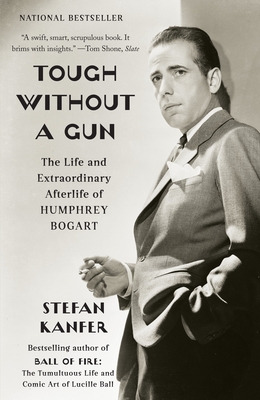 Tough Without a Gun
The Life and Extraordinary Afterlife of Humphrey Bogart
Vintage Books, Paperback, 9780307455819, 288pp.
Publication Date: February 21, 2012
* Individual store prices may vary.
Buy at Local Store
Enter your zip code below to purchase from an indie close to you.
or
Buy Here
Description
In this comprehensive biography of one of the great movie icons of our time, Stefan Kanfer, the acclaimed biographer of Lucille Ball, Groucho Marx, and Marlon Brando, illuminates the life and career of Humphrey Bogart. Along the way, Kanfer gives us a wide-reaching cultural appraisal of the movies many of us know and love as masterpieces of American cinema: The Maltese Falcon, Casablanca, To Have and Have Not, and countless others. He appraises each of the films with an unfailing critical eye, weaving in lively accounts of behind-the-scenes fun and friendships, including, of course, the great love story of Bogart and Lauren Bacall. What emerges in these pages is a portrait of a great Hollywood life, and the final word on why there can only ever be one Bogie.
 
About the Author
Stefan Kanfer's books include "The Eighth Sin," "A Summer World," "The Last Empire," "Serious Business," "Groucho, Ball of Fire, "and "Stardust Lost. "He was a writer and editor at "Time "for more than twenty years and was their first bylined film critic, a post he held from 1967 to 1972. A Literary Lion of the New York Public Library and recipient of numerous writing awards, Kanfer is currently in the Distinguished Writer program at Southampton College, Long Island University. He divides his time between New York and Cape Cod.
Praise For Tough Without a Gun…
"A swift, smart, scrupulous book. It brims with insights." —Tom Shone, Slate

"Terrific. . . . Kanfer is particularly good in sketching [Bogart's] lasting influence." —Los Angeles Times
 
"Evocative. . . . Gives the reader a palpable sense of the sadly truncated arc of [Bogart's] life." —Michiko Kakutani, The New York Times
 
"Insightful. . . . The value of this book lies in Kanfer's insights into and analysis of the way that Bogart worked " —Chicago Sun-Times

"There may be no better analysis of Bogart's mysterious and enduring appeal." —The Daily Beast
 
"Gracefully written. . . . [Kanfer] approaches the complicated and difficult man Katharine Hepburn called 'one of the biggest guys I ever met' with a fair, discerning eye. . . . Both sensitive and agile. . . . An insightful, compassionate portrait of a man who cared about his craft and, close friends said, camouflaged a kind and generous heart with a sardonic wit and snarl." —Dallas Morning News
 
"Excellent. . . . A moving, psychologically intimate portrait of an icon that leaves some of the mystique intact." —A.V. Club
 
"A readable and entertaining biography that reflects the author's delight in his subject and the world in which Bogart thrived." —Denver Post
 
"If you, like most of us, think of Bogart in Casablanca, The African Queen, and perhaps The Maltese Falcon, and you've always wondered what was behind the cool guy in the trench coat and the fedora, this book will tell you—in spades." —Providence Journal
 
"Numerous…apt descriptions of Bogart's film persona flow through Kanfer's [book]." —Courier-Journal
 
"Kanfer does a thorough job of taking us on a journey through the making of Bogart's other films. . . . Kanfer is at his best when framing Bogie's career against the social and cultural mood of each era, and exploring Bogie's flourishing cult status since his death in 1957." —Newsday
 
"[Kanfer's] skill with words is as smooth as the Scotch Bogart loved. . . . With this biography, just sit back and savour. Kanfer takes you enjoyably through stories." —Vancouver Sun
 
"It's the afterlife that matters, and the best part of Mr. Kanfer's account is his analysis of Bogart's role as what cultural historians call a "modal personality" of his time—and what a long time it has been." —The Wall Street Journal