Who Will Write Our History?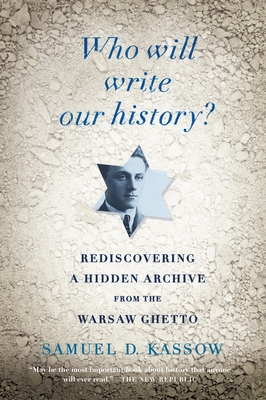 Who Will Write Our History?
Rediscovering a Hidden Archive from the Warsaw Ghetto
Vintage, Paperback, 9780307455864, 576pp.
Publication Date: January 6, 2009
* Individual store prices may vary.
Buy at Local Store
Enter your zip code below to purchase from an indie close to you.
or
Buy Here
Description
In 1940, in the Jewish ghetto of Nazi-occupied Warsaw, the Polish historian Emanuel Ringelblum established a clandestine scholarly organization called the Oyneg Shabes to record the experiences of the ghetto's inhabitants. For three years, members of the Oyneb Shabes worked in secret to chronicle the lives of hundereds of thousands as they suffered starvation, disease, and deportation by the Nazis. Shortly before the Warsaw ghetto was emptied and razed in 1943, the Oyneg Shabes buried thousands of documents from this massive archive in milk cans and tin boxes, ensuring that the voice and culture of a doomed people would outlast the efforts of their enemies to silence them. Impeccably researched and thoroughly compelling, Samuel D. Kassow's Who Will Write Our History? tells the tragic story of Ringelblum and his heroic determination to use historical scholarship to preserve the memory of a threatened people.
About the Author
Samuel D. Kassow est specialiste de l histoire russe et polonaise moderne. Excellent connaisseur du yiddish, il s est egalement impose depuis une dizaine d annees comme l un des meilleurs connaisseurs des sources yiddish de l Holocauste.
Praise For Who Will Write Our History?…
"This may be the most important book about history that anyone will ever read."
–The New Republic

"Brilliant. . . . Illuminating and heartbreaking. . . . A heroic act of synthesis and contextualization. . . . Kassow honors the efforts and restores the names of men and women who wrote though they knew their lives and those of their families and even their culture were doomed."
–Los Angeles Times

"A rich and complicated study. . . . Surprising and extraordinarily moving."
–Newsday

"Magnificent. . . . A stellar exploration of how history . . . can and should be preserved."
–Deborah Lipstadt, author of History on Trial

"If there is one book that should be read this year (or any year) about the Holocaust it is Who Will Write Our History?"
–Jewish Book World

"A gripping biography. . . . We should be grateful to Professor Kassow for allowing us to share in Ringelblum's heroic efforts."
–Jewish Ledger

"One of the most important books I've ever read. . . . Kassow has created a stunning and brilliant social history."
–Reform Judaism

"One of the most important studies on the Holocaust to have appeared in years."
–Zachary Baker, Curator of Judaica and Hebraica Collections, Stanford University

"A stunning revelation of the enduring spirit of the decimated residents of the Warsaw Ghetto."
–NUVO Weekly (Indianapolis)

"Without the faux romanticism or faux spirituality that often accompanies Holocaust historiography, Kassow is able to bring to life the tragic and moving story of these Jews doomed by Nazi fanaticism."
–Tikkun