Americanah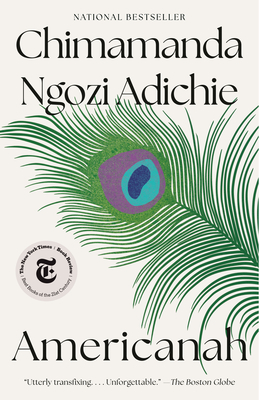 Americanah
Anchor Books, Paperback, 9780307455925, 588pp.
Publication Date: March 4, 2014
* Individual store prices may vary.
Buy at Local Store
Enter your zip code below to purchase from an indie close to you.
or
Buy Here
Description
The bestselling novel--a love story of race and identity--from the award-winning author of We Should All Be Feminists and Dear Ijeawele.
Ifemelu and Obinze are young and in love when they depart military-ruled Nigeria for the West. Beautiful, self-assured Ifemelu heads for America, where despite her academic success, she is forced to grapple with what it means to be black for the first time. Quiet, thoughtful Obinze had hoped to join her, but with post-9/11 America closed to him, he instead plunges into a dangerous, undocumented life in London. Fifteen years later, they reunite in a newly democratic Nigeria, and reignite their passion--for each other and for their homeland.
About the Author
Chimamanda Ngozi Adichie grew up in Nigeria. Her work has been translated into thirty languages and has appeared in various publications, including The New Yorker, Granta, The O. Henry Prize Stories, the Financial Times, and Zoetrope: All-Story. She is the author of the novels Purple Hibiscus, which won the Commonwealth Writers' Prize and the Hurston/ Wright Legacy Award; Half of a Yellow Sun, which won the Orange Prize and was a National Book Critics Circle Award finalist, a New York Times Notable Book, and a People and Black Issues Book Review Best Book of the Year; Americanah, which won the National Book Critics Circle Award and was a New York Times, Washington Post, Chicago Tribune, and Entertainment Weekly Best Book of the Year; the story collection The Thing Around Your Neck; and the essays We Should All Be Feminists and Dear Ijeawele, or A Feminist Manifesto in Fifteen Suggestions. A recipient of a MacArthur Fellowship, she divides her time between the United States and Nigeria. www.chimamanda.com
Praise For Americanah…
"Dazzling. . . . Funny and defiant, and simultaneously so wise. . . . Brilliant." —San Francisco Chronicle"A very funny, very warm and moving intergenerational epic that confirms Adichie's virtuosity, boundless empathy and searing social acuity." —Dave Eggers, author of A Hologram for the King"Masterful. . . . An expansive, epic love story. . . . Pulls no punches with regard to race, class and the high-risk, heart-tearing struggle for belonging in a fractured world." —O, The Oprah Magazine "[A] knockout of a novel about immigration, American dreams, the power of first love, and the shifting meanings of skin color. . . . A marvel." —NPR "A cerebral and utterly transfixing epic. . . . Americanah is superlative at making clear just how isolating it can be to live far away from home. . . . Unforgettable." —The Boston Globe"Witheringly trenchant and hugely empathetic . . . a novel that holds the discomfiting realities of our times fearlessly before us. . . . A steady-handed dissection of the universal human experience. " —The New York Times Book Review "Adichie is uniquely positioned to compare racial hierarchies in the United States to social striving in her native Nigeria. She does so in this new work with a ruthless honesty about the ugly and beautiful sides of both nations." —The Washington Post "Gorgeous. . . . A bright, bold book with unforgettable swagger that proves it sometimes takes a newcomer to show Americans to ourselves." —The Dallas Morning News"Part love story, part social critique, and one of the best [novels] you'll read this year. . . . Characters are richly drawn. . . . Adichie digs in deeply, finding a way to make them fresh." —Los Angeles Times"Brave . . . Americanah tackles the U.S. race complex with a directness and brio no U.S. writer of any color would risk. . . . [The novel] brings a cleansing frankness to an old, picked scab on the face of the Republic. It's not healing, and it's not going away." —The Philadelphia Inquirer "So smart about so many subjects that to call it a novel about being black in the 21st century doesn't even begin to convey its luxurious heft and scope. . . . Capacious, absorbing and original." —Jennifer Reese, NPR"One of the freshest pieces of fiction of the year. . . . Adichie's style of writing is familiar and personal. . . . An engrossing, all-encompassing read." —New York Observer "Superb . . . Americanah is that rare thing in contemporary literary fiction: a lush, big-hearted love story that also happens to be a piercingly funny social critique." —Vogue "A near-flawless novel, one whose language so beautifully captures the surreal experience of an African becoming an American that one walks away with the sense of having read something definitive." —The Seattle Times "An important book . . . its strength and originality lie with the meticulous observation about race—about how embarrassed many Americans are about racial stereotypes, even as they continue to repeat them, about how casual racism still abounds." —The Economist "Moving." —The Huffington Post"[Americanah] presents a warm, digressive and wholly achieved sense of how African lives are lived in Nigeria, in America and in the places between." —The Financial Times "Glorious. . . . Americanah provide[s] Adichie with a fictional vehicle for all kinds of pithy, sharply sensible commentary on race and culture—and us with a symphonic, polyphonic, full-immersion opportunity to think outside the American box." —Elle "Winning . . . [Adichie] is a writer of copious gifts . . . breath[ing] life into characters whose fates absorb us. . . . She shows us ourselves through new eyes." —Newsday"Adichie defines the sum of disparate cultures with new clarity, while questions of identity and love remain elusive as ever." —Interview magazine