The Widower's Tale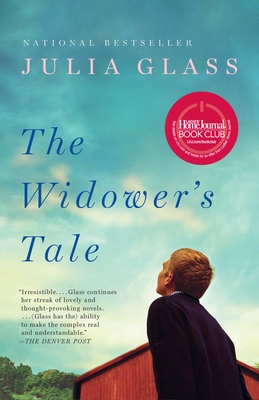 The Widower's Tale
Anchor Books, Paperback, 9780307456106, 466pp.
Publication Date: July 12, 2011
* Individual store prices may vary.
Buy at Local Store
Enter your zip code below to purchase from an indie close to you.
or
Buy Here
Description
Seventy-year-old Percy Darling is settling happily into retirement: reading novels, watching old movies, and swimming naked in his pond. But his routines are disrupted when he is persuaded to let a locally beloved preschool take over his barn. As Percy sees his rural refuge overrun by children, parents, and teachers, he must reexamine the solitary life he has made in the three decades since the sudden death of his wife. With equal parts affection and humor, Julia Glass spins a captivating tale about a man who can no longer remain aloof from his community, his two grown daughters, or to his great shock the precarious joy of falling in love.
About the Author
Julia Glass was awarded the 2002 National Book Award for fiction, the 2000 New York Foundation for the Arts Fellowship in fiction, and has won several prizes for her short stories, including three Nelson Algren Awards and the Tobias Wolff Award. "Collies," the first part of "Three Junes," won the 1999 Pirate's Alley Faulkner Society Medal for Best Novella. She lives with her family in New York City, where she works as a freelance journalist and editor.
Praise For The Widower's Tale…
"Marvelous. . . . A delicate, nuanced, socially conscious story of one family's near-destruction, and how a slew of seemingly bad moves reconnects it." —USA Today

"An enchanting story of familial bonds and late-life romance. Expect to be infatuated with Glass's protagonist … he of generous soul, dry wit, and courtly manners." —O, The Oprah Magazine

"Fans of Three Junes will find this fourth novel just as absorbing. It's like reading an involving letter from a long-lost friend." —People
 
"This energized, good-humored novel . . . approaches the ties of kinship with the same joyfully disruptive spirit that animated [Glass's] previous books. . . . Satisfyingly cleareyed and compassionate."—The New York Times Book Review

"Tremendously engaging. . . . It's a large, endearing cast, bursting with emotional and social issues, and Glass slips effortlessly between their individual and enmeshed dramas. As she well proved in her National Book Award-winning Three Junes, Glass crafts dense and absorbing reads that are as charming as they are provocative." —Entertainment Weekly
 
"Glass continues her streak of lovely and thought-provoking novels. . . . Irresistible."
—The Denver Post
 
"Glass propels her characters through a world that is sometimes dire but also sweetly normal and often joyful. . . . Once again, she's proved to be a master of milieu, an old French word that means 'middle place'—the place in which all her characters, young and old, continue to engage with the world and where she, a novelist in mid-career, keeps refining their stories." —The Washington Post Book World
 
"Beautifully sensitive. . . . The Widower's Tale is about the rub between old values and new times, and the importance of adapting. In the tradition of Jane Eyre, it builds to a conflagration, a crisis that shakes everyone out of their complacency. But Glass quickly smothers the flames of catastrophe, for her vision is essentially more hopeful than tragic." —Los Angeles Times
 
"Julia Glass knows how to create a good page-turner. . . . Another entertaining—and often wise—read." —Providence Journal
 
"Glass effortlessly ping-pongs between three dramas to show how everyday love and lies can make—or completely destroy—a life. This one's perfect for when you've got the night all to yourself and want to keep thinking long after the last page is turned."  —Redbook
 
"Compassionately written. . . . Both a knowing study of the complications presented by everyday life and a paean to the progress they can engender." —The Boston Globe
 
"A novel with richly layered drama." —The Miami Herald
 
"Both funny and heartbreaking, [Glass's] fourth novel will leave readers examining their own choices and priorities." —BookPage
 
"Richly detailed. . . . Too funny for soap operatics. . . . Best savored for the unshowy way Glass dramatizes the hum-and-thrum of the everyday and the compassion she brings to describing the painful recalibrations every character must make when that everyday explodes in their faces." —The Austin Chronicle
 
"Alluring descriptions, along with discerning characters, intricate plot lines, and the tackling of several complex issues offers an empathetic yet lively read." —The New York Journal of Books
 
"Reading Julia Glass's fourth novel . . . feels a bit like sinking into a just-right feather bed. The National Book Award-winner writes in a style that's literate without being pretentious, compelling without being in a rush, and emotional without turning sentimental." —Psychology Today
 
"Glass's novels feel a bit like looking out a tiny attic window onto a broad vista. At first, they seem like small domestic dramas, but they open up to consider expansive topics that might have seemed far outside their scope." —Bookreporter.com
 
"Beautifully written, full of quirky and entertaining characters, and filled with the complexities of everyday life. . . . It's a novel you read and immediately want to pass along to a friend." —The Post and Courier (Charleston, SC)
 
"Glass's perfect plot gives each character his or her due, in an irresistible pastoral tragicomedy that showcases the warmth and wisdom of one of America's finest novelists, approaching if not already arrived at her peak." —Kirkus Reviews (starred)
 
"Endearing characters . . . in a swirl of complications will keep Glass fans absorbed and win over new readers." —Good Housekeeping
 
"Glass spins a beautifully paced, keenly observed story in which certainties give way to surprising reversals of fortune. . . . A dramatic, thought-provoking, and immensely satisfying novel." —Publishers Weekly (starred)
 
"An admirable chronicler of the complex social webs that compose our common life." —San Francisco Chronicle
 
"Elaborately plotted and luxuriously paced, Glass's inquisitive, compassionate, funny, and suspenseful saga addresses significant and thorny social issues with emotional veracity, artistic nuance, and a profound perception of the grand interconnectivity of life." —Booklist (starred)
 
"An immensely satisfying and entertaining read. . . . Glass deftly handles each [plot thread] with keen observations and grace." —The Observer's Very Short List
 
"A masterful exploration of the secret places of the human heart. . . . There is no denying the author's grasp of human drama, as scenes and ideas return to the reader's mind at quiet times after the last page is turned. In the end, that which demands much gives much in return. As in our own lives, we recognize that the final scene is not the end of this story. We return to this place we call real life, enriched with new understanding." —Richmond Times-Dispatch