Ghost on the Throne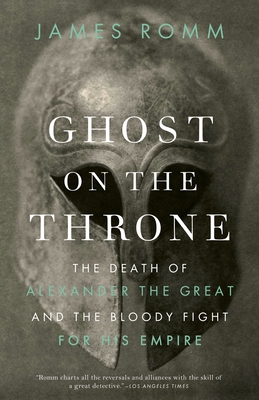 Ghost on the Throne
The Death of Alexander the Great and the Bloody Fight for His Empire
Vintage Books, Paperback, 9780307456601, 389pp.
Publication Date: November 13, 2012
* Individual store prices may vary.
Buy at Local Store
Enter your zip code below to purchase from an indie close to you.
or
Buy Here
Description
When Alexander the Great died at the age of thirty-two, his empire stretched from the Adriatic Sea in the west all the way to modern-day India in the east. In an unusual compromise, his two heirs—a mentally damaged half brother, Philip III, and an infant son, Alexander IV, born after his death—were jointly granted the kingship. But six of Alexander's Macedonian generals, spurred by their own thirst for power and the legend that Alexander bequeathed his rule "to the strongest," fought to gain supremacy. Perhaps their most fascinating and conniving adversary was Alexander's former Greek secretary, Eumenes, now a general himself, who would be the determining factor in the precarious fortunes of the royal family. James Romm, professor of classics at Bard College, brings to life the cutthroat competition and the struggle for control of the Greek world's greatest empire.
About the Author
James Romm is James H. Ottaway Jr. Professor of Classics at Bard College. He has received fellowships from the Guggenheim Foundation, the National Endowment for the Humanities, and the Dorothy and Lewis B. Cullman Center for Scholars and Writers. He has written two books on the ancient Greek world, "The Edges of the Earth in Ancient Thought" and "Herodotus," and edited Arrian's "Campaigns of Alexander, " part of the distinguished Landmark series of works by ancient Greek historians.

www.jamesromm.com
Praise For Ghost on the Throne…
"Romm charts all the reversals and alliances with the skill of a great detective." —Los Angeles Times

"Thrilling. . . . But Ghost on the Throne is [also] a careful work of fine scholarship." —The New Criterion

"Offering well-paced and often-dramatic narratives, up-to-date research, and thorough documentation. . . . [Romm] lends a vividness and passion to his narrative." —The Wall Street Journal
 
"Romm is a gifted storyteller as well as a respected scholar." —Choice

"[Romm has] mastered the knack that all classicists should have: He can get inside the sources and bring them alive. . . . This is history every reader should know, and this is exactly how it should be written." —Open Letters Monthly
 
"Romm's saga of the tumultuous years immediately following Alexander's relatively sudden death . . . becomes something of a thriller: [Who] will survive until the next chapter in this roller coaster of an imperial succession story?" —History Book Club
 
"Romm . . . is one of a few historians worldwide who can be numbered among the Alexander experts." —Westfair Online
 
"Written more as a thriller than a history tome." —The Daily Freeman
 
"Fast-paced and absorbing . . . Captivating  . . . A sterling account of a little discussed era in ancient history." —Publishers Weekly
 
"Lively. . . . [A] scholarly but colorful account of the toxic fallout from the untimely demise of a continent-striding conqueror. . . . Romm paints a vivid portrait of ancient politics." —Kirkus Reviews