36 Arguments for the Existence of God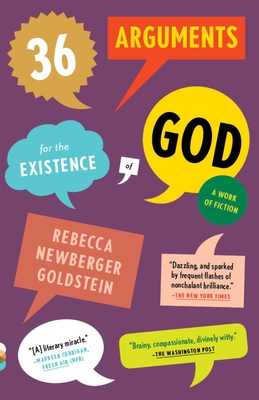 36 Arguments for the Existence of God
A Work of Fiction
Vintage Books USA, Paperback, 9780307456717, 506pp.
Publication Date: February 1, 2011
* Individual store prices may vary.
Buy at Local Store
Enter your zip code below to purchase from an indie close to you.
or
Buy Here
Description
From the author of "The Mind-Body Problem" a witty and intoxicating novel of ideas that plunges into the great debate between faith and reason.
At the center is Cass Seltzer, a professor of psychology whose book, "The Varieties of Religious Illusion," has become a surprise best seller. Dubbed the atheist with a soul, he wins over the stunning Lucinda Mandelbaum the goddess of game theory. But he is haunted by reminders of two people who ignited his passion to understand religion: his teacher Jonas Elijah Klapper, a renowned literary scholar with a suspicious obsession with messianism, and an angelic six-year-old mathematical genius, heir to the leadership of an exotic Hasidic sect.
Hilarious, heartbreaking, and intellectually captivating, "36 Arguments" explores the rapture and torments of religious experience in all its variety.
About the Author
Rebecca Goldstein is the author of four novels, including THE MIND-BODY PROBLEM, and a collection of short stories, STRANGE ATTRACTORS. Her work has won numerous prizes, including two Whiting Awards. In 1996, she was named a MacArthur Foundation Fellow. She holds a Ph.D. in philosophy from Princeton University, where her work was concentrated in the philosophy of science and was supported by a National Science Foundation fellowship. She resides in Cambridge, Massachusetts.
Praise For 36 Arguments for the Existence of God…
"Dazzling, and sparked by frequent flashes of nonchalant brilliance."—The New York Times

"Brainy, compassionate, divinely witty."—The Washington Post

"[A] literary miracle."—Maureen Corrigan, "Fresh Air," NPR

"Rebecca Goldstein is a rare find among contemporary novelists: she has intellectual muscle as well as a tender emotional reach." —Ian McEwan

"Deeply moving and a joy to read." —Jonathan Safran Foer, author of Extremely Loud and Incredibly Close
 
"Captivating, original, and at times riotously funny." —Commentary
 
"Compelling, heady . . . and laced with a deliciously dark wit." —Boston Globe
 
"Thoughtful, witty, and—I cannot stress enough—really entertaining." —Christian Science Monitor

"Goldstein can make Spinoza sing and Gödel comprehensible, and in her cerebral fiction she dances across disciplines with delight….36 Arguments radiates all the humor and erudition we've come to expect from Goldstein, and despite the novel's attention to the oldest questions, it has arrived at exactly the right moment. ... One of the funniest [academic satires] ever written. ...Goldstein doesn't want to shake your faith or confirm it, but she'll make you a believer in the power of fiction."—The Washington Post

"When Rebecca Goldstein, the American philosopher-novelist who looks like Rapunzel but thinks like Wittgenstein, was awarded the prestigious MacArthur Award (commonly known as the "genius award") in 1996, she was praised for her ability to "dramatise the concerns of philosophy without sacrificing the demands of imaginative storytelling". That is putting her achievements lightly. Her most recent book, 36 Arguments for the Existence of God, is a vast….which is nonetheless possessed of a steely intellectual coherence that is frighteningly impressive to behold."—The Times (London)

"36 Arguments for the Existence of God affirms Ms. Goldstein's rare ability to explore the quotidian and the cosmological with equal ease. ...The novel's bracing intellectual energy never flags. ... It affirms Ms. Goldstein's position as a satirist and a seeker of real moral questions at a time when silly ones prevail."— The New York Times

"Hilariously irreverent. . . . The draw of transcendental longings, Seltzer discovers, is not to be found in logical proofs but in the accumulated wonder of all that can be encountered in this life: love, family, the sheer privilege of being alive." —Financial Times (London)
 
 "400 pages of smarts….[36 Arguments] lays out a great range of witticisms, echoes and allusions."  —London Review of Books

"Like an answer to a fevered prayer. ... Part academic farce, part metaphysical romance, all novel of ideas, 36 Arguments for the Existence of God may not settle the question of whether God exists but it does affirm the phenomenon of literary miracles."—Maureen Corrigan, "Fresh Air," NPR

"A looping tale [with] affectionate irony about academic life, culture wars, and relationships in turn-of-the-millennium America….[With] the same engaging cocktail of philosophy, roman a clef fun, and scholarly soap opera that marked her earlier books….She shows off all her considerable smarts. . . . Playful, humane." —The Globe and Mail (Toronto)
 
"The best Jewish woman writing in America today....Her latest, 36 Arguments for the Existence of God is flat out the most gratifying novel—woman's, Jewish, American, whatever—this reviewer has read in many a long reading season. 36 triumphs in a whole bunch of literary subgenres….[It is] a novel whose manifold delights can only be hinted at in a review. 36 Arguments for the Existence of God is brimming with richly realized characters, brimming with ideas, brimming with life."—The Jerusalem Report

"[Goldstein] has taken on some of the deepest, philosophical questions of human existence and shaped them into a page-turner at once funny and heartbreaking and challenging and—yes—proves that there's no such thing as 'too smart' to write a terrifically engaging novel." —Moment Magazine
 
"When a writer is as clever as Goldstein, it does not seem fair that she should also write with charm, humour, and emotional acuity. But that is the package on offer in this ingenious and heartwarming novel. ... A delightful novel, which could be one of the literary hits of the year."—The Mail on Sunday (London)

"A remarkable novel—as entertaining as it is illuminating—savagely funny in its characterizations, brilliant in its contemplation of the self and the sublime. This is a timely and timeless book, and definitive proof of Rebecca Newberger Goldstein's protean intellect and engaging talent."—Jess Walter, author of The Zero

"An enjoyable feast of ideas that also serves as a very funny satire on the politics of campus life."—Times Literary Supplement (London)

"Thoughtful, witty, and—I cannot stress enough—really entertaining, 36 Arguments is part campus comedy, part romantic farce, part philosophical treatise. It is also, without question, the smartest kid in class…. Not since The Tao of Pooh has philosophy been so much fun."—Christian Science Monitor 

"Rebecca Newberger Goldstein does it all. She has written a hilarious novel about people's existential agonies, a page-turner about the intellectual mysteries that obsess them. The characters in 36 Arguments For the Existence of God explore the great moral issues of our day in a novel that is deeply moving and a joy to read."—Jonathan Safran Foer, author of Everything is Illuminated

"A tour de force showcasing Goldstein's intent intellect and vast knowledge."—The Daily Beast

"Goldstein's glorious novel celebrates the perils, pitfalls and profound joys of a life of the mind and spirit."—Jewish Chronicle (London)

 "Goldstein is a brilliant exponent of her subject, and she has crafted a story that is caustically irreverent, yet provocative and informative without being completely didactic. And….by the end, 36 Arguments is also deeply touching."—Boston Globe

"Satire with a soul."—Chronicle of Higher Education

"Triumphant….With wicked comic genius, the book masterfully manipulates philosophers and their principles, kabbalistic literature and its acolytes, and a whole series of paradoxical ideas that live, breathe, and take on lives of their own." —The Jewish Week  
 
"[36 Arguments] prove[s] that you can be both smart and funny, that Albert Einstein and Albert Brooks have a lot more in common than their first names. . . . The payoff is sublime." —Chicago Tribune
 
"In elegant and often hysterical prose. . . . [Goldstein] leaves us with a way to think about what having a soul might actually mean." —The American Prospect
 
"A charming story, deftly told, crackling with intelligence." —Huffington Post
 
"Highly entertaining. . . . Clever and witty. . . . [With] delightful characters. . . . 36 Arguments for the Existence of God will give you lots to laugh about as well as lots to think about." —Psychology Today
 
"Impressively succeeds in combining esoteric philosophical argument and laugh-out-loud humour. ... The cleverest and most entertaining novel I have read for a long time."—Robert Colbeck, Yorkshire Evening Post 

"Goldstein is, as always, a lovely and thoughtful writer. Her respect and understanding for her characters might well earn her the epithet 'philosophical novelist with a soul'."— New Scientist

"[A] greatly entertaining novel."—Daily Mail (London)

"A high-energy caper in which religion, relativism, passion, and primitivism meet in the brainy collisions and collusions of a best-selling scholar, ex-lovers, rabbis, cosmologists, and one tiny math prodigy."—Elle, "Trust Us: This Month's Quick Picks,"

"A hilarious novel that will add fuel to the debate that Richard Dawkins has made a million-pound industry. Rebecca Goldstein has penned a great story that will steal some of Dawkins' action….An intellectual delight." –The Bookseller (UK)

"This novel brims with ideas about the nature of religion and how humans interact with it….It's refreshing to read a novel so bursting with intellectual rigor." –The Big Issue

"A bonbon for both intellect and funny bone, 36 Arguments is a delicious entertainment." —Montreal Gazette
 
 "Fascinating. . . . Funny. . . . Effervescent and knowing. . . . A lovely dream." —Jane Smiley, Los Angeles Times