Foolproofing Your Life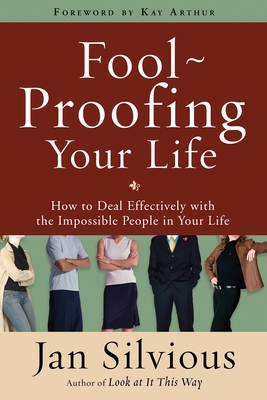 Foolproofing Your Life
How to Deal Effectively with the Impossible People in Your Life
Waterbrook Press, Paperback, 9780307458483, 228pp.
Publication Date: September 15, 2009
* Individual store prices may vary.
Buy at Local Store
Enter your zip code below to purchase from an indie close to you.
or
Buy Here
Description
The world is filled with difficult people. It is impossible to avoid them. (You may have one, in particular, in your life right now.) In dealing with such people, we often try a number of coping strategies. Unfortunately, our best attempts at making peace often fail. This is because the difficult people in our lives are often what the Bible calls "fools." And dealing with fools requires a special kind of biblical wisdom.
You've tried everything from confrontation to passivity. You've found out what doesn't work; now discover what "does. "Gain the tools you need to get along with others and conduct your relationships in a manner that honors God and preserves your sanity in "Foolproofing Your Life: Wisdom for Untangling Your Most Difficult Relationships." Learn how new insights from the book of Proverbs can help you respond to those relationships that seem hard to untangle.
About the Author
Jan Silvious has years of experience as a counselor and Bible teacher. She leads seminars for Moody s women s ministry, she has been a keynote speaker at Moody s Founder s Week, and she is a pre-conference speaker for Women of Faith. Her books include Understanding Women, The Five-Minute Devotional, Foolproofing Your Life, Moving Beyond the Myths, The Guilt Free Journal, and Look At It This Way. Jan and her husband, Charles, make their home in Chattanooga, Tennessee. They have three grown sons.

Kay Arthur is a four-time Gold Medallion award-winning author, member of NRB Hall of Fame, and beloved international Bible teacher. She and her husband, Jack, cofounded Precept Ministries International to teach people how to discover truth through inductive study. Precept provides teaching and training through study books, TV and radio programs, the Internet, and conferences in over 180 countries and 70 languages.